**Odyssey Craft** - RPG Pack [32x32] [1.7-1.7.9]
Views,

3

today
Downloads,

0

today
296694
Posted on
2/8/2012
: 2/8/12 1:44 pm , last updated: 05/13/14 1:23:36 am
About Odyssey Craft
Odyssey Craft is an RPG style Texture Pack that I started off making for my own enjoyment. After awhile It really started to come together and now I've turned it into a way to have fun with Minecraft. Personally after years of playing Minecraft survival I've gotten way bored of that so now all I really focus on is this pack.
Follow me on Twitter by clicking this link:
https://twitter.com/Not_Geo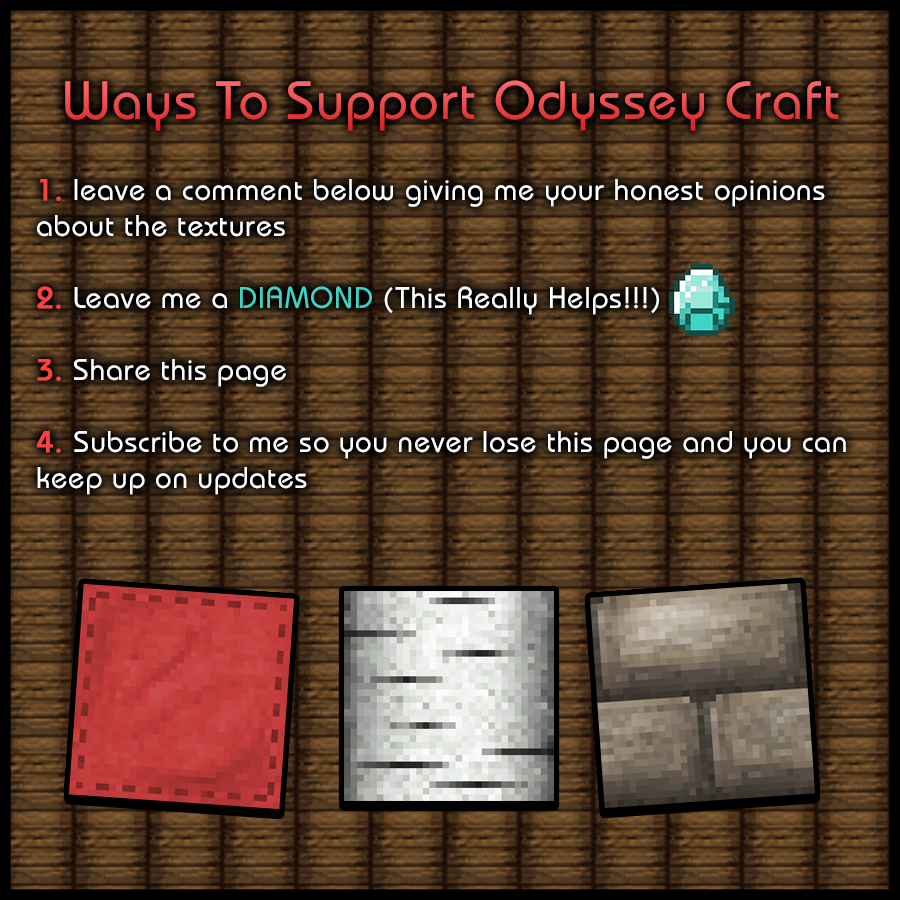 Updates
I update about 2-3 times a week (that's my goal) usually with many blocks per update. Click the Tab above to visit the update log page and see what I did in the most recent update.
Additional Notes
Progress:
60% Complete
Game Version:
Minecraft 1.7.8
Resolution:
32x32
Note: Showing last 25 of 28 logs.
Update #28 : 05/13/2014 1:23:36 am5/13/14
Retextured Cobblestone

Retextured Mossy Cobblestone

Retextured Oak Log

Added Log Tops for each type of wood

Added Big Oak Wood

Update #27 : 12/23/2013 5:36:48 pm12/23/13
Added Lapis Lazuli Block

Added Lapis Lazuli Ore

Updated Ladder Texture

Updated Oak Leaves texture (Still working on those)

Added Bedrock

Update #26 : 12/21/2013 8:09:44 pm12/21/13
Retextured Wood Door




Added Dead Bush




Added Emerald Ore




Deleted many unused files to reduce the file size




Added Farmland wet and dry




Retextured Iron Block



Update #25 : 12/20/2013 10:05:19 am12/20/13
Added wool and every color variation



Update #24 : 12/19/2013 6:34:36 pm12/19/13
Retextured the four main types of wood planks




Added Birch Trees




Added Iron Ore




Added Diamond ore




Added Diamond



Update #23 : 12/16/2013 12:18:53 am12/16/13
Added a new pack image




Added a New Gravel Texture




Added Clay




Added Snow




Added Grass with Snow




Added Sand



Update #22 : 12/14/2013 11:21:25 pm12/14/13
Added Stone Bricks




Added Cracked Stone Bricks




Added Mossy Stone Bricks




Added Mossy Cobblestone



Update #21 : 12/13/2013 7:52:51 pm12/13/13
Updated for 1.7.4




Added Dirt




Added Grass




Added Stone




Added Cobblestone



Update #20 : 10/26/2012 8:03:26 pm10/26/12
Quick fix to get the pack updated for 1.4

Update #19 : 10/15/2012 7:23:31 pm10/15/12
Retextured all wood

Retuxtured all stone Bricks

Retextured leaves and changed jungle leaves

Retextured Spruce Leaves

Retextured Grass, Dead Grass, and Ferns

Retextured Netherack

Update #18 : 10/04/2012 11:27:15 pm10/04/12
Finally completed ALL Wool

Redid Sand

Redid Birch Tree

Update #17 : 10/03/2012 6:05:01 pm10/03/12
Updated for Minecraft 1.3.2

Added Redstone Torches

Fixed regular Torches

Added White Wool

Update #16 : 07/25/2012 3:28:59 pm7/25/12
Updated leaves on regular trees

Updated Dead Bush

Updated Gravel

Took out the Troll drawing on the new sandstone block :D

Update #15 : 07/15/2012 12:48:51 pm7/15/12
FINALLY added in the 2 new sandstone blocks! (sorry about the wait)

updated Lapis Lazuli ore

updated ferns

Update #14 : 07/07/2012 5:44:23 pm7/07/12
Updated wooden door

Updated tall grass

Sorry about the long wait guys but i finally have my computer back so i can begin to do regular updates!
Update #13 : 05/04/2012 12:24:45 pm5/04/12
Added Iron Doors

Retextured Gold Ore and Coal Ore

Update #12 : 05/01/2012 8:24:07 pm5/01/12
Finally fixed MC logo. Changed my name from x sevens o to x stevens o

Fixed stone bricks again (Final version)

Fixed broken stone bricks

Fixed mossy stone bricks

Made grass blend better

Minor fixes to ladders

Update #11 : 04/28/2012 1:02:13 pm4/28/12
Funace

Lit Furnace

Custom Water

Custom Lava

Cleaned up Tall Grass a little

Update #10 : 04/23/2012 10:44:46 pm4/23/12
Sry I havent updated in awhile but ive made a ton of changes and I cant even remember everything so you're going to have to find everything new yourself!!

Update #9 : 03/08/2012 5:35:42 pm3/08/12
Update #8 : 03/06/2012 2:21:00 pm3/06/12
Added Soul Sand

Added New Stone Bricks

Added Dead Bush

Fixed Netherack

Added Stone Sword. (Check it out and tell me what you think!)

Update #7 : 03/05/2012 4:42:51 pm3/05/12
Added Lights

Added Netherack [WIP]

Added a few more pictures

Tex pack is %50 Done =D

Update #6 : 03/03/2012 2:07:15 pm3/03/12
Made compatible with 1.2.3 (for the most part)

Fixed and added saplings

Jungle Wood

Jungle leaves

Update #5 : 02/18/2012 9:42:24 pm2/18/12
Add obsidian

Fixed tall grass

Fixed wood planks

Fixed lilypads

Add stone bricks

Add mossy stone bricks

Add broken stone bricks

Update #4 : 02/18/2012 1:03:36 am2/18/12
Add lilypads

Add crafting bench

Fixed tall grass

Add red & brown mushrooms

Add logo

Add background

Fixed name

tracking
557043
odyssey-craft-557043
1,165079,329,3672,559826,842002,140820,64651,214207,460644,625964,356071,290694,895971,1030646,15493,171513,336698,476982,98449,817406,1293715,209568,526780,296694