Talabrek
Level 35
:
Artisan Engineer
Posted 06/14/12 6:09:37 pm , last updated: 03/09/14 5:15:54 am
06/14/12
Server Info
| | |
| --- | --- |
| | |
| Status: | Online! Pinged: 03/10/14 |
| Game Version: | 1.7.4 |
| Connect With: | |
| Players: | 12/500 |
| Location: | United States |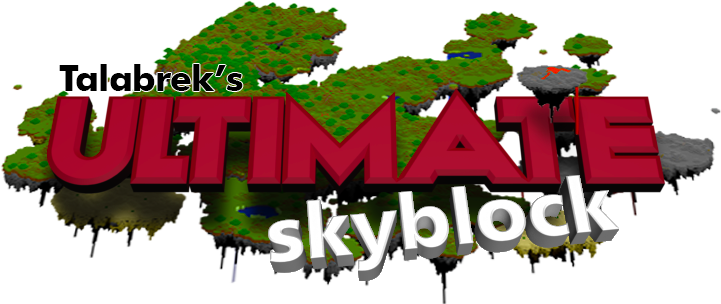 Skyblock IP: ultimate-mc.net
Skygrid IP: skygrid.ultimate-mc.net
Creative IP: creative.ultimate-mc.net
The Ultimate Minecraft Network is a group of servers with skyblock at the core. We are in the process of expanding and we currently have:
Skyblock:
This is the official server of the uSkyBlock plugin running a custom version not available anywhere else. All the features you would expect from skyblock and more!
Skygrid:
Enjoy the ultimate skygrid experience. Complete challenges while trying to survive in a factions based world.
Creative:
A custom creative plugin provides a unique building experience. Everyone gets a 200x200 protected area where they can build alone or with friends. Allow others to warp to your area, or completely lock everyone out...it's up to you. Show off your creations to others and get votes to become the top builder!
PvP Arenas:
We have several PvP arenas where you can battle it out with others to earn cash that you can spend in the other worlds. More arenas are being added and the experience is being improved every day.
Bonus Areas:
Extra games like parkour, casinos, and dungeons are waiting for you to find and explore.
Like the server? Consider giving us a PlanetMC diamond and 'favorite' us!
Additional Notes
The ultimate skyblock and skygrid experience. Work together and complete challenges in both worlds. Can you survive to build an empire in the sky?
| | |
| --- | --- |
| Tags: | Skyblock, PvP, Dungeons |
Update #5 : 12/25/2012 9:40:40 am12/25/12
Creeper Santa has visited the city of Sanconia to spread his holiday cheer (or to blow you up, if you get too close)!
From today until Friday, January 4th there will be a holiday event taking place in Sanconia (the island in the middle of the skyblock world, use /hub to get there).
Use /holiday to see a list of special holiday tasks to complete! Finish them all for a special title only available during this event.


Complete Creeper Santa's Christmas Tree Parkour and get a special gift from Creeper Santa himself!


Snowballs are cheaper during the event, so pick up a few stacks from the snow piles in Sanconia and fight with your friends!


The item shop has been improved and expanded to a third floor with perks/titles. Buy the new Lord title or the new Dungeon Master perk that makes it so that you don't lose your inventory when you die in the dungeon world.

and more to come...!
Update #4 : 08/03/2012 1:39:28 pm8/03/12
The server has been updated to 1.3

with the update there are 3 new tasks to take advantage of the new items added:
Cookielover - requires cookies (made from cocoabeans)
potionmaker - requires potions and rewards a villager egg (so you can get emeralds)
villagetrader- requires emeralds and rewards a lot of skybucks.
Update #3 : 06/24/2012 4:30:54 pm6/24/12
Now with SkyGrid!
Update #2 : 06/18/2012 2:56:43 pm6/18/12
Changed some minor things in the donor info.
Update #1 : 06/16/2012 8:35:07 am6/16/12
Added some more pictures and fixed some of the information.
tracking
1003481
talabreks-ultimate-skyblock-100-slots16gb
1,165079,188,3672,140820,329,16250,54387,2009,11149,467,21491,1422,64651,41476,153751,9670,138013,145834,110512,379343,292218,327741,574798,111554,444560,16494,14575,265688,96250,179719,214207,16575,559826,2304,8661,85626,460644,937130,186332,139121,559277