Views,

1,832

today
Downloads,

735

today
disco_
Level 105
:
Transcendent Creator
Posted 08/28/11 6:37:23 am , last updated: 11/02/13 6:12:21 am
08/28/11
Got OCD? Get oCd Pack!! (87.65% complete XD)
1.7.2 ready! (Place in your resourcepacks folder)
Disco-fied

Highly simplified

Slightly stylized

Obsessive, Compulsive; and not the least bit Disordered.
Was a personal texture pack, but after uploading my redstone creation videos on youtube a lot of people wanted the pack.
The packs theme is basically:
Default pack inspired.
No noise.

No harsh colors.

All angles @ 90 degrees. (even the rails/grass etc XD)

All spacing even... OCD even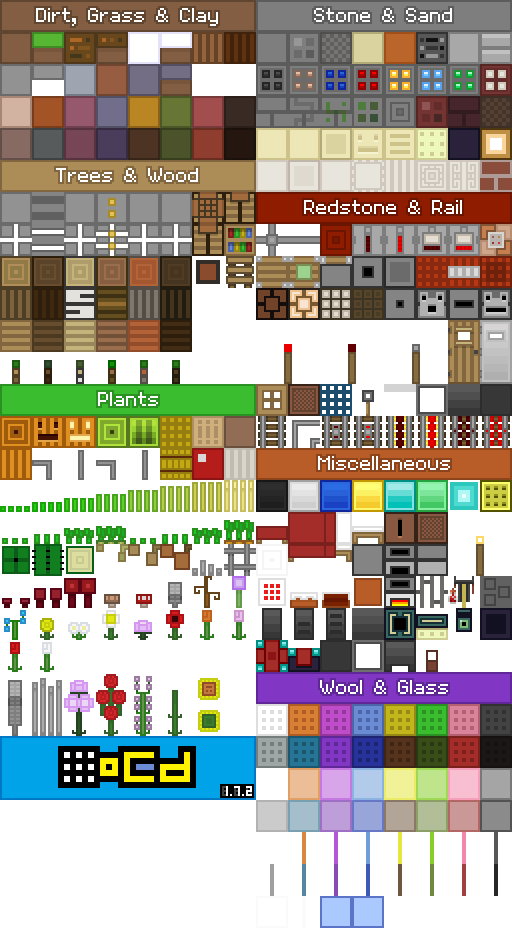 OCD texture pack:http://www.ocddisco.com/ocdpack/
Website:http://www.ocddisco.com/
Twitter:http://twitter.com/ocddisco
Facebook:http://facebook.com/fvdisco
Twitch:http://twitch.tv/fvdisco
Additional Details
If you use this texture pack on Youtube, please add a link to the official video or this page in the description. You may modify this texture pack for personal use only, please do not distribute modified versions.
Progress:
Game Version:
Minecraft 1.7.2
Resolution:
16x16

Environment

GUI

Items

Misc

Mobs

Terrain

Tags:
OCd, Disco, Pack, Simplistic, Environment, Terrain, Mobs, Misc, Items, GUI
Update #11 : 11/02/2013 6:12:21 am11/02/13
Massive overhaul
Updated all 1.7 blocks
Revamped a lot of old textures
Added animated blocks
Added biome colors
Custom Water / Lava
Update #10 : 07/01/2013 10:50:23 am7/01/13
Update #9 : 03/13/2013 2:02:02 pm3/13/13
Added Quartz
Added Redstone Block
Added Comparator
Added Daylight Dector
Added Hopper
Added Dropper
Added Activator Rail
Changed Sign
Changed Dispenser
Changed Chest
Changed Repeaters
Small Tweaks
Update #8 : 10/23/2012 4:17:10 pm10/23/12
Added Item frames
Added Command block
Added Beacon
Added Anvil
Added Pot Plant
Added Carrot/Potato plants
Update #7 : 08/01/2012 5:23:59 pm8/01/12
Added Emerald Block
Added Emerald Ore
Added Enderchest
Added Tripwires
Added Cocoa
Update #6 : 03/23/2012 8:14:24 am3/23/12
Added New woodplanks
Updated Netherrack
Updated Sandstone
Updated Hieroglyphs
Update #5 : 03/14/2012 5:35:11 pm3/14/12
Added oCd Pocket edition link
Update #4 : 03/04/2012 9:32:21 pm3/04/12
Added Jungle trees
Added Lamps
Added ? Sandstone blocks
Update 1.1 : 01/30/2012 7:18:53 pm1/30/12
New Cobblestone
New Glowstone
New Bedrock
New Gravel / Soulsand
Compatible with biome smoothing
Language button
Lots of color tweeks
Update 1.0.0 : 11/24/2011 9:49:31 pm11/24/11
Terrain file complete for 1.0.0
Fixed invisible items bug
Tweaked brick textures
Updated GUI a bit
Update #1 : 09/15/2011 5:48:09 am9/15/11
Updated
1.8 terrain.png
1.8 chests
1.8 interface
1.8 pig snouts
tracking
141309
ocd-pack
1,165079,188,3672,140820,16250,54387,2009,11149,467,21491,1422,64651,41476,153751,9670,303490,138013,110512,379343,292218,327741,574798,111554,444560,16494,14575,265688,96250,179719,214207,16575,559826,2304,8661,85626,460644,937130,81587