Male Christmas Elf (Christmas Special Series)
18 diamonds
Views,

7

today
Downloads,

2

today
MasaoMoon
Level 50
:
Grandmaster Prince
Posted 12/18/12 9:10:38 pm
12/18/12
Happy Christmas Everyone!
The fifth skin has finally come for my Christmas Series! Sorry it took so long, been busy and all that. Christmas is fast approaching and I'm trying to get every skin I've had in mind out there so that you could all celebrate with the skin you want. The next skin I have in mind will be a really hard one, just keep an eye out :).
These particular Elves help Santa build all of the toys and gifts they give out. They also attend Santa to help him in meeting the Children to find out what they want!
It took me about 2 hours to make him.
Thanks for checking it out everyone and goodnight Moonlights!
Here's a picture for those without a previewer!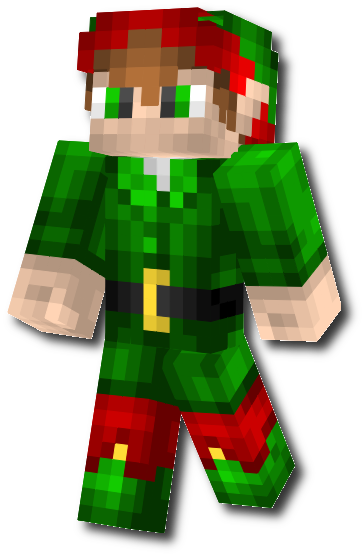 All the good toys to make for all the awesome people :D
| | |
| --- | --- |
| Progress: | |
| Gender: | Male |
| Format: | Universal Skin 64x32 |
| Tags: | Male, Christmas, Elf, Elves, Special, Holiday, Bell, Bells, Belt, Suit, Short, Brown, Hair, Green, Red, White, Black, Gold, Candy, Cane, Toys, Toy, Famous People |
More Skins by MasaoMoonView All
tracking
1759024
male-christmas-elf-christmas-special-series
1,165079,188,3672,140820,329,16250,54387,2009,11149,467,21491,1422,64651,41476,153751,9670,138013,145834,110512,379343,292218,327741,574798,111554,444560,16494,14575,265688,96250,179719,214207,16575,559826,2304,8661,85626,460644,937130,186332,139121,50099