Sam & Max (VGC Contest Entry)
67 diamonds
Contest Finalist! This Skin is in the Video Game Character Skin Contest contest, now Complete!
See the Final Leaderboard!
Views,

1

today
Downloads,

0

today
DrThresh
Site Moderator
Level 35
:
Artisan Architect
Posted 01/12/12 6:08:15 am , last updated: 04/14/12 10:31:01 am
01/12/12
Sam & Max from the series of the same name by LucasArts. An anthropomorphic dog and rabbit detective team characters, or as they called themselves, Freelance Police, from the classic point and click games that had a lot of memorable humour to it.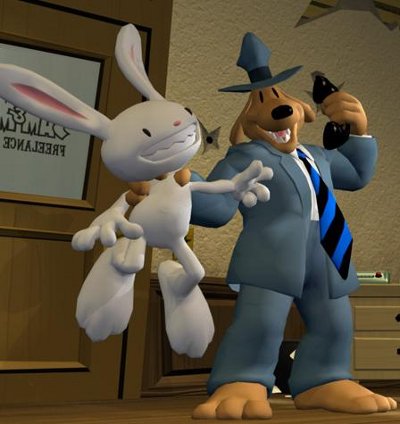 I chose to have both of them together as they are, well, an inseparable crime fighting duo. They've got each other's back.
This was also a test for me to see if I could CALM THE F- DOWN and not push to get a ridiculous amount of detail in the skins. Simple, nonlinear shading and highlighting. I'm pleased with the result.
Comments, criticism welcome!
Update:Â Reverted bottom faces back to pre-release version until this viewer is updated.
Updated for new viewer that now complies with current Minecraft version Woohoo!
Additional Details
| | |
| --- | --- |
| Progress: | |
| Gender: | Male |
| Tags: | Sam, Max, LucasArts, Humor, Funny, Dog, Rabbit, Detective, DrThresh, Gaming |
More Skins by DrThreshView All
Update #8 : 04/14/2012 10:31:01 am4/14/12
Updated for new viewer that now complies with current Minecraft version Woohoo!
Update #7 : 03/07/2012 9:36:24 pm3/07/12
Can't take it any more! Reverted back to pre-release with the bottom faces in the old orientation until this viewer is corrected, whether by myself or someone else. lol
Update #6 : 02/10/2012 9:16:06 am2/10/12
Oh and Woo, I got 4th place!
Update #5 : 02/10/2012 4:03:13 am2/10/12
Edited to conform with new 1.0 specs, with the bottom faces in the correct orientation.
Update #4 : 01/19/2012 7:28:13 am1/19/12
Made some edits that were eating at my brain for a while lol


Mainly some highlighting and shading tweaks.
Update #3 : 01/13/2012 8:47:46 am1/13/12
Added other reference pic
Update #2 : 01/12/2012 11:48:08 am1/12/12
Another minor edit.
Update #1 : 01/12/2012 6:14:32 am1/12/12
Just a few edits ^_^
tracking
478757
sam-max-vgc-contest-entry
1,188,165079,502,3830,5760,16250,54387,73897,2009,11149,467,21491,1422,3672,140820,64651,41476,159533,153751,9670,103039,303490,138013,379343,180654,292218,327741,111554,444560,14575,182181,265688,96250,260146,214207,16575,131993,13377,317779,559826,2304,8661,182181