Contest Participant! This Skin is in the Original Heroes vs Villains Skin Contest contest, now Complete!
See the Final Leaderboard!
Views,

3

today
Downloads,

0

today
snipper4561
Level 24
:
Expert Artist
Posted 03/29/12 7:48:45 am , last updated: 06/01/12 1:35:08 pm
03/29/12
 Make sure to leave a Diamond!!!
Server ip - mc.justicecraft.net
 The hood ontop has three blocks that stick up like so on top here is a image how it will look when you put the skin on because some reason it doesn't show up on the image shown in the planet minecraft image.
  Also goto http://justicecraft.net for the most game experience of Minecraft in your gaming with 500 slot server running 24/7 with an INSANE amount of Gigabytes of RAM to run the server. Almost 300-200 players on each day so what's waiting you up grab that mouse and press the link to visit our site if you ever need a place to stay and play.
Here is what the skin looks like if the Skin Viewer Can't Get The Full Skin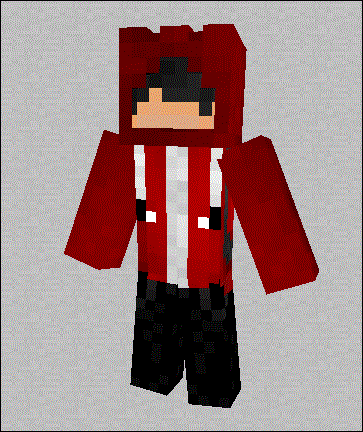 Additional Details
| | |
| --- | --- |
| Progress: | |
| Gender: | Male |
| Tags: | Snipper4561, JusticeCraft, Hero, Alchemist, Justicecraft, Minecraft, Planet, Planetminecraftcom, Skins, Cool, Brandon, Famous People |
More Skins by snipper4561View All
Update #4 : 06/01/2012 1:35:08 pm6/01/12
Added ip to JusticeCraft
Update #3 : 04/17/2012 8:27:50 am4/17/12
Added Picture Of Full Skin
Update #2 : 04/09/2012 9:19:55 am4/09/12
Added Pockets
Fixed Shading
Update #1 : 04/09/2012 8:40:19 am4/09/12
Added Smoother shading processes to the skin for much more contrast :D
tracking
720947
snipper
1,188,165079,502,3830,5760,16250,54387,73897,2009,11149,467,21491,1422,3672,140820,64651,41476,159533,153751,9670,103039,303490,138013,379343,180654,292218,327741,111554,14575,182181,265688,96250,260146,214207,16575,131993,13377,317779,559826,2304,8661,6073