St. Basil's Cathedral (With schematic download)
45 diamonds
Views,

5

today
Downloads,

1

today
Meblin
Level 37
:
Artisan Artist
Posted 07/22/12 7:05:21 pm , last updated: 08/24/12 8:04:23 pm
07/22/12
This is my recreation of the St. Basil's Cathedral! This is a very large project, it's height almost reaches from the bottom of the minecraft world space to the top. Also, like it's exterior the interior is fairly accurate to the real St. Basil's Cathedral and is created with complex architecture and design. I used the floor plans for the actual cathedral to build this cathedral so although it is not perfectly accurate it is pretty close and stays true to the basic design of the cathedral. The building has two floors which contain ten different small churches inside. Each church has an individual style which I have recreated in my minecraft version of the cathedral. 
The screenshots and video does not do this project justice so please download the schematic to view my creation! 
Also I have created a texture pack specifically for this project and I suggest downloading it before you view the cathedral so everything looks how it is supposed to.
If you like my build please don't forget to give it a diamond! Comments and suggestions appreciated also!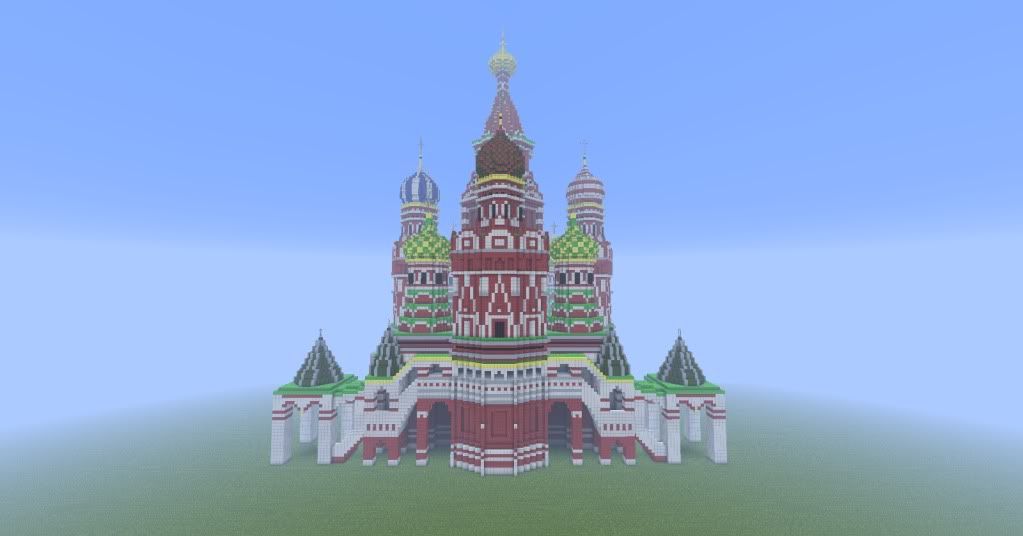 Additional Details
I will upload a schematic and a view of the inside of the cathedral when I have completed it!
| | |
| --- | --- |
| Progress: | |
| Tags: | Minecraft, Cathedral, St Basils, Moscow, Complex, Large Structure, Recreation, Creative Mode, Technical, Art History, Building, Russia |
| Credit: | I alone have worked on this project. Other names I go by: Meren, Merencopter, and Meblincopter. |
More Projects by MeblinView All
Update #22 : 08/24/2012 8:04:23 pm8/24/12
I have decided that I will be adding this to my upcoming adventure map called "Dreaming about Insomnia" Where you play a character who has been stuck inside of a dream and is working through all his/her different dreams to get out and wake up.
Update #22 : 08/22/2012 2:46:37 pm8/22/12
3D render is up, I will add more when I get back
Update #21 : 08/15/2012 11:17:34 pm8/15/12
I am on vacation ATM but I added a 3d render of my project before I left
Update #20 : 08/14/2012 4:49:36 pm8/14/12
I can't wait to get back to work on touching up this project (especially the texture pack). Although the contest is fun it is sure distracting me from what I was doing.
Update #19 : 08/09/2012 9:03:49 pm8/09/12
Soon I will be uploading a few 3d renders of the cathedral!
Update #18 : 08/08/2012 8:00:43 pm8/08/12
If you have any comments or suggestions about my cathedral and would like to share it with me I would appreciate it. I love making my builds as perfect as possible so ideas are helpful.
Update #17 : 08/07/2012 7:10:08 pm8/07/12
I am like half way done with my contest entry now! I don't want to post my entry to early to give anyone good ideas but so far it is one of my favorite builds ever! I hope to get it done and posted soon so I can get back to working on other projects.
Update #16 : 08/06/2012 5:12:47 pm8/06/12
Although the cathedral is pretty much completed I am sure I will be coming back to it in the near future after I complete this new contest entry project. (the project is looking amazing by the way.)
Update #15 : 08/05/2012 2:53:10 pm8/05/12
There is probably going to be a bit of a delay on that new video for my cathedral. I am working on a submission for that new sky world contest thing so I am busy with that atm.
Update #14 : 08/04/2012 4:45:52 am8/04/12
YAY! Finally my cathedral is uploaded and ready to download along with the texture pack. Soon I will be adding a new video featuring both the outside and the inside but until then you can download the schematic and texture pack to check out the creation first hand.
Update #13 : 08/03/2012 10:49:40 pm8/03/12
I am now done with the cathedral! I will upload a schematic, cathedral map layout, texture pack, and I will be adding a new video which is a lot better quality and includes a walking tour of the interior part of the cathedral.
Update #12 : 08/03/2012 1:49:00 am8/03/12
And now I got almost all of the hallways done I am cruising a long tonight. Might get close to completing the whole cathedral tonight!
Update #11 : 08/02/2012 11:40:10 pm8/02/12
Only ONE more church left! I have completed all of them but the largest church. All I have left to do is 1. complete the central church 2. Fix my texture to be up to date 3. Take new screenshots and edit the photos 4. Make a new video. YAY the end of this project is in sight! For one person it is quite an accomplishment it has been months in the making!
Update #10 : 08/02/2012 7:19:48 pm8/02/12
One more church completed! I don't have enough room to post of the screen shots so I am having to delete older ones to make room for new ones. Soon enough Ill have a new video, uploaded schematic, and texture pack and edited photos posted so it will be much easier to see all the detail inside and out! I can't wait to share this creation with everybody.
Update #9 : 08/02/2012 1:40:30 am8/02/12
I just completed 3 more of the second floor churches! Woot! I am half way done with the churches!
Update #8 : 08/01/2012 2:48:53 am8/01/12
I just completed the first second floor church in my cathedral! I added new pictures if you would like to look at my progress.
Update #7 : 07/31/2012 3:24:21 pm7/31/12
So I got A LOT done recently! I have completed the first floor and also I have a basic layout of the second floor completed! Be checking back in for updates this week because I may have it completed soon and ready for an upload for you all to check out.
Update #6 : 07/30/2012 2:23:48 am7/30/12
I have almost completed the first floor now! I am excited to start working on the second floor because that floor contains 8 of the 9 churches.
Update #5 : 07/28/2012 4:12:49 pm7/28/12
I have pretty much completed my texture pack with custom made paintings that are actually in the cathedral. Also I have completed a few more of the interior rooms!
Update #4 : 07/26/2012 6:29:02 pm7/26/12
I am currently working on a texture pack for this project. I realized partway through that the original texture pack was not going to cut it for the interior of the cathedral. I have gotten all the colored blocks the way I want them now I just need to work on all of the paintings.
Update #3 : 07/26/2012 4:14:29 am7/26/12
I completed one of the 9 churches that are within the cathedral today! I hope I can complete the first floor soon!
Update #2 : 07/24/2012 10:55:24 pm7/24/12
I have completed the base model for the first floor! This floor of the cathedral includes the museum shop, the crypt, and the Church of Vasil the Blessed (one of the 9 small churches that are in St. Basil's.)
Update #1 : 07/22/2012 9:40:41 pm7/22/12
I have just added some more screen shots of my cathedral so you can see it better!
tracking
1184876
st-basils-cathedral
1,188,165079,502,3830,5760,16250,54387,73897,2009,11149,467,21491,1422,3672,140820,64651,41476,159533,153751,9670,103039,303490,138013,379343,180654,292218,327741,111554,14575,182181,265688,96250,260146,214207,16575,131993,13377,317779,559826,2304,8661,665057