Views,

50

today
Downloads,

5

today
Kefka
Level 70
:
Legendary Ghast Rider
Posted 12/11/12 3:28:32 pm , last updated: 08/06/13 12:38:44 pm
12/11/12
Did another "Cool" character, this time based on my favorite Minecraft food. Water Melon!
Leave me a comment if you want to see another character based on something in Minecraft and d
on't forget to leave a diamond if you like it. Enjoy!
Featured on the Minecraft Monday Show! here is the
Link

<-
Original download (right click and "save as")
Also check out my other Cool Skins!
Additional Details
| | |
| --- | --- |
| Progress: | |
| Gender: | Male |
| Tags: | Food, Green, Red, Fruit, Water, Melon, Eat, Mouth, Teeth, Sunglasses, Glasses, Shades, Guy, Boy, Man |
| Credit: | juirox |
More Skins by KefkaView All
Last updated 05/29/13
by Kefka
Posted 2012-09-01 14:30:41
by Kefka
Update #1 : 08/06/2013 3:43:32 pm8/06/13
added 3D glasses and a red mouth
Update #2 : 08/06/2013 1:02:52 pm8/06/13
red to the mouth
Update #1 : 08/06/2013 12:38:44 pm8/06/13
gave him 3D glasses, original below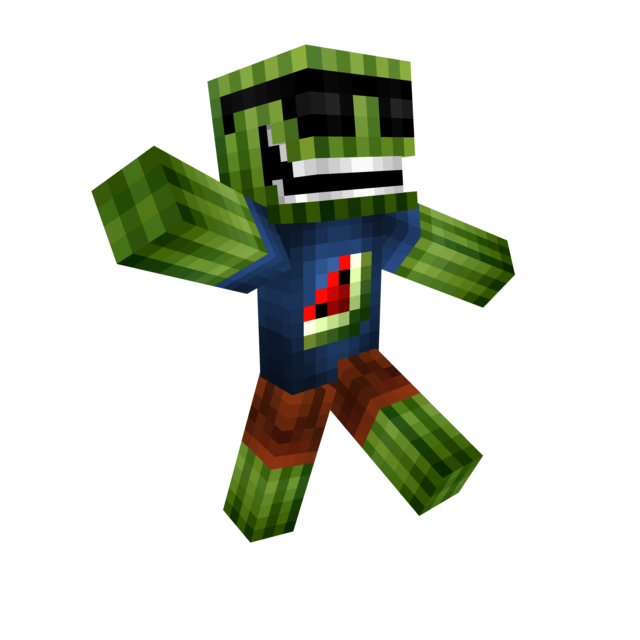 tracking
1734553
cool-melon
1,165079,188,3672,140820,16250,54387,2009,11149,467,21491,1422,64651,41476,153751,9670,303490,138013,110512,379343,292218,327741,574798,111554,444560,16494,14575,265688,96250,179719,214207,16575,559826,2304,8661,85626,460644,937130,395530