Hi, so I am the creator of a resource pack called Pixagraph, and I have been exploring the ability to have randomized textures for blocks/entities/etc. However, I am not very educated when it comes to the .json files and how exactly they work, I have followed a lot of tutorials on how to do with, however most were for 1.12 and I haven't been able to get much help for 1.13 and up.
Texture Files:

Model Files:
(Listed as "block/bookshelf1" and "block/bookshelf2" in respective files)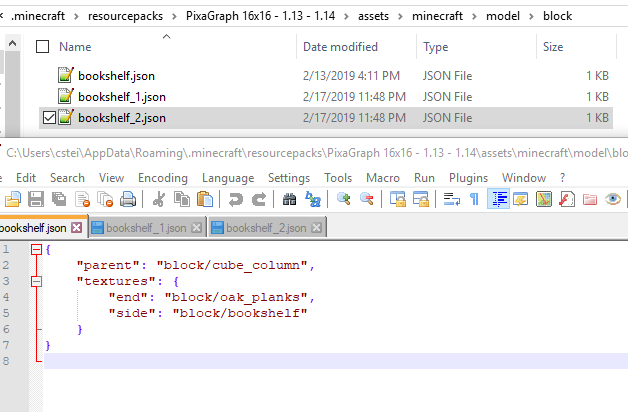 Blockstates: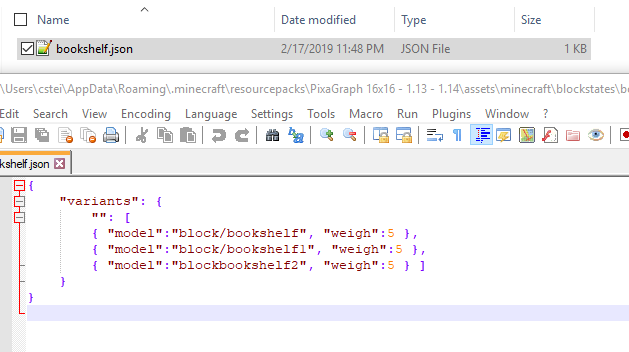 In game: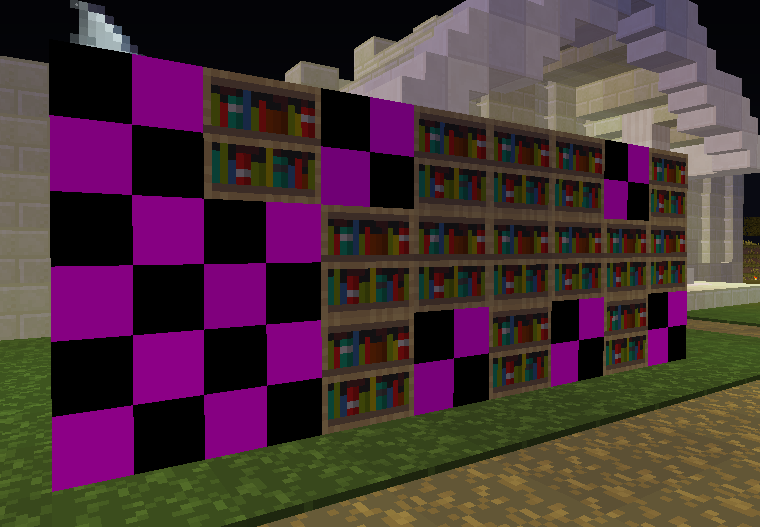 If I could get some help with this that would be wonderful!
Posted by
Amzahr
Level 54
:
Grandmaster Artist
02/18/2019 2:45 am
MasterOfSpasms
The bookshelf json looks like the biggest issue to me. "Weigh" I believe needs to be "weight". It also refers to incorrect names. You have the models "bookshelf", "bookshelf_1", and "bookshelf_2" but the blockstate file is searching for "bookshelf", "bookshelf1", and "bookshelf2". Pick a format for naming conventions and stick with it.
02/18/2019 10:53 am
Level 54
:
Grandmaster Artist
Amzahr
Ah, my dyslexia will always been the end of me, and the naming conventions are now the same was an accident left over from my old resource pack.

However, while those things are now fixed, the issues still is coming up where bookshelf1 and bookshelf2 appear as missing textures.
02/18/2019 12:40 pm
Level 57
:
Grandmaster Artist
oakar258
Try turn on output log in launcher settings and search for the errors
(
launcher settings tab/"Open output log when game starts
")
02/18/2019 5:21 pm
Level 54
:
Grandmaster Artist
Amzahr
AH! Thank you! I was actually able to figure out what the issue was due to it trying to find a file from a path that didn't exist, that would be on my end, i named the file 'model' and not 'models'