Published
Jul 17th, 2013
, 7/17/13 1:46 pm
3,043

views,

0

today

542

downloads,

0

today
kingjason
Level 61
:
High Grandmaster Paladin
Hope you like it and if you do
Like
it how about giving it a
Diamond
or a
Favorite
?
Personality
He is an apathetic, isolated, friendless boy. Hachiman firmly believes that "youth" is an illusion created by hypocrites, for hypocrites, born from the ashes of past failures. He even says "fuck you, youth".
[14]
Shizuka describes his personality as rebellious and loner prone. She also says that he has the nature of petty criminal which Yukino instantly agrees with. Yukino describes his personality as rotten, like Shizuka said, and he has a sour attitude.
[15]
[16]
[17]
She hates how Hachiman accepts and affirms weakness by loyalty to status quo. Yui says that the way he acts in class is "totally gross" or "disgusting".
[18]
In fact both Yukino and Yui often used words such as "gross" and "disgusting" to describe Hachiman.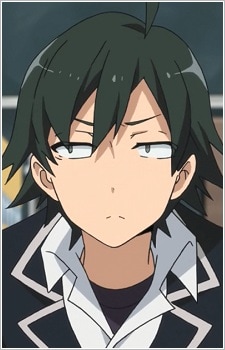 Appearance


Hachiman is a teenage boy with short black hair, and slim ('dead fish') gray eyes. He is seen wearing his school uniform.


Yahari Ore no Seishun Love Come wa Machigatteiru:
| | |
| --- | --- |
| Gender | Male |
| Model | Steve |
| Tags | |
1 Update Logs
Update #1 : by kingjason 07/17/2013 2:15:28 pmJul 17th, 2013
Testing if this one is showing up Live = -="



tools/tracking
2323142
5
hachiman-hikigaya-yahari-ore-no-seishun-love-come-wa-machigatteiru