Updated on Nov 22nd, 2012, 11/22/12 11:01 pm |
2 logs
Published
Nov 18th, 2012
, 11/18/12 4:32 am
ihatemimes
Level 31
:
Artisan Artist
NOTE: If you are playing 'Skylands' on a server, make sure that you have the 'Command Blocks' activated in your server properties
To be able to use this block in multiplayer, you must replace
false
by
true
on line
enable-command-block
in

server.properties
.

If this line doesn't exist, you'll have to add it.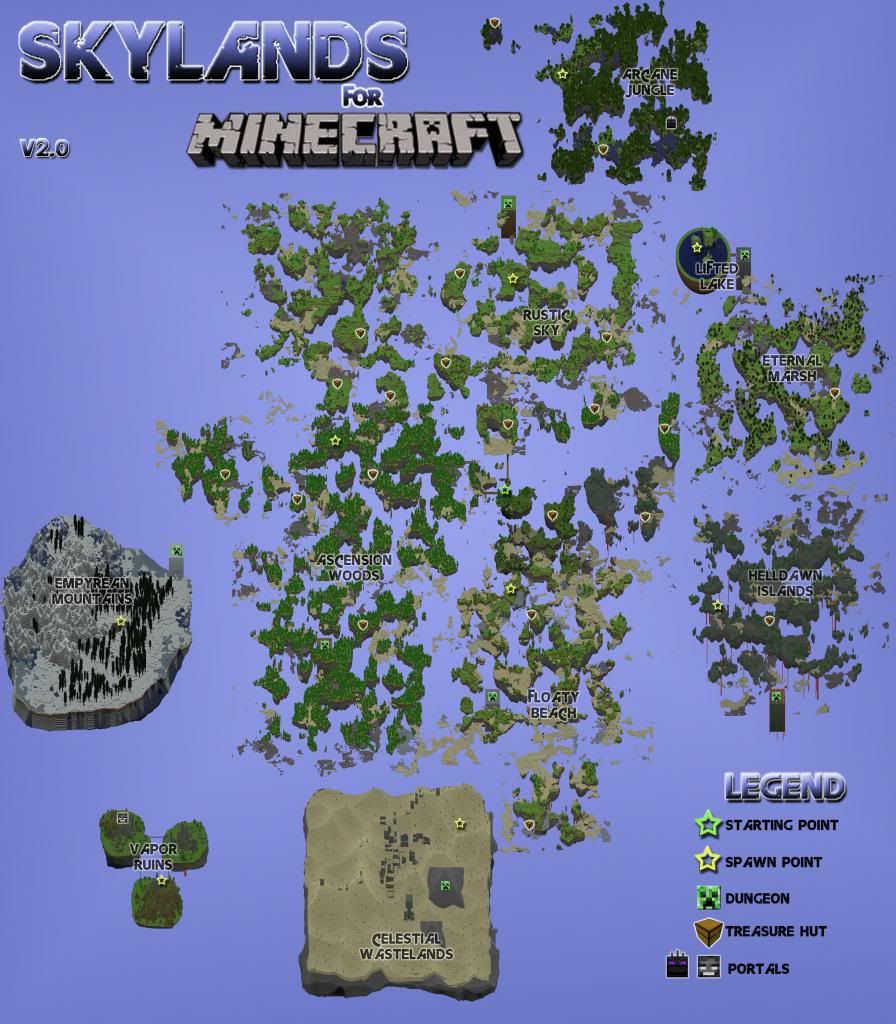 With all the love map makers have been given over the last few updates, I decided it was about time to update a classic, which unfortunately the original author had abondoned, so I give you...Skylands v2.0!
This is a complete overhaul using a heap of the new features.

Turned the map into a giant CTM style map where, instead of collecting passwords for the old broken 'Password Tool', you collect Monument blocks to complete a Monument




A whole new spawn system using the new command blocks




Massive dungeons with their own one-of-a-kind treasure and custom mobs




Finished the incomplete 'Wet Skylands', now the Arcane Jungle with many secrets




Custom trading with Villagers




The End and Nether Islands with their own boss battles




and more...




Only place Monument Blocks you get from dungeons or trades inside the Monument Room





Only enter dungeons through the roof entrance





You can only destroy the blocks you have placed when inside a dungeon





Only use the portals provided





Do not break any items frames you have not placed





Do not break any blocks inside the Monument Room or the Rules Room





Do not break any Spawn Room iron doors.



Map Downloads:
v2.0
Mediafire(RAR):
http://www.mediafire.com/?ur5qywpcv9yt13b
Mediafire(ZIP):
http://www.mediafire.com/?wxih2yfqnnnmf49
v2.01
Mediafire(RAR):
http://www.mediafire.com/?q98jpnbcpdqtbjt
Mediafire(ZIP):
http://www.mediafire.com/?fp3u31ebx44za8n
Installation Instructions:
1. Download the map from the link
2. In the start menu of your computer, type in %appdata%
3. Navigate to AppData > Roaming > .minecraft > saves
4. Open the folder you saved the download to and find, Skylands v2.01.rar (or
Skylands v2.01.zip depending on which you downloaded).
5. Now, using an unzipping tool, extract the .zip or .rar file and turn it into a normal folder.
6. Open Skylands v2.01 folder, which contains the save and a reference map, and drag the 'Skylands v2.01' save into the 'saves' folder
7. Open minecraft and play 'Skylands v2.01'
Thank you to everyone who downloads Skylands.
If you enjoy it or find problems, please leave a comment.
| | |
| --- | --- |
| Progress | 100% complete |
| Tags | |
2 Update Logs
Update #2 : by ihatemimes 11/22/2012 11:01:56 pmNov 22nd, 2012
v2.01
Minor Update
-Rules Room and Monument Room are now MushroomIsland Biomes so mobs stop spawning there.

-Made it harder to enter the final area without cheating

-Changed starting area so cheats are now turned off by default
LOAD MORE LOGS
tools/tracking
1653544
2
ctm145-skylands-v20---complete-overhaul-for-145