Published
May 26th, 2019
, 5/26/19 11:49 am
5,187

views,

2

today

185

downloads,

1

today
Captain_JEK
Level 85
:
Elite Deity
Hello,
this is my entry for the Preserving World Heritage contest.
It features the Landwasser Viaduct, the Lehnen Viaduct and short parts of the Landwasser Tunnel and the Zalaint Tunnel.
The train on the track consists of a Ge 4/4 I locomotive, 4 Einheitswagen (standard coaches) and a Gepäck-/Postwagen (luggage/mail car).
The river flowing under the Landwasser Viaduct is the Landwasser after which the viaduct and the adjacent tunnel were named.
The Rhaetian Railway (RhB) is a private transport company in Switzerland. Its most famous lines are the Albula and Bernina Railway which were added to the list of UNESCO World Heritage Sites in 2008.
The Landwasser Viaduct is the RhB's landmark. So, if I was searching for something to represent the entire Rhaetian Railway it would most likely be this viaduct.
The Landwasser Viaduct is 136 meters long and 65 meters high spanning the Landwasser between Schmitten and Filisur in the canton of Graubünden. It has six arches, only a single track and is built from limestone. It is part of the Albula Railway.
Being built between 1901 and 1902 makes it over 117 years old and it still is in use today which is quite impressive given that about 60 trains cross it every day.
I chose this World Heritage Site because I can only really build vehicles. So, I wondered if there was a World Heritage Site containing one or some vehicles. When I found the Rhaetian Railway I knew immediately I was going to build it.
That was because I like trains (pun intended) and because a friend of mine used to talk excitedly about the Glacier Express some time ago but back then I had no idea what that was all about.
When I did my research on the Rhaetian Railway I found that the Glacier Express is one of the trains crossing the Landwasser Viaduct, heading to Filisur and then going to either St. Moritz or Davos (a famous skiing area). Well, then I had a personal connection to it.
I don't have very much experience in making landscapes so I tried to keep the terrain as small as possible. I decided to only build the terrain in close proximity to the railroad. Still, I wanted it to be as realistic as possible and thus used many photographs and Google Maps. You know, you can actually use Google Street View on the Albula and Bernina Railway and ride along the track virtually.
Since the contest is called "
Preserving
World Heritage" and not just "World Heritage" I tried to make my build look like an exhibit in a museum so that even in a future when the Landwasser Viaduct might be destroyed for some reason people will still be able to take a look at it.
It was so much fun to build and I really took my time in doing so. Although I had to cope with architecture and landscapes it was a calm and relaxing building process. I enjoyed it very much.
The landscape forced me to use more reference images than ever before because depending on the weather and the season it always looked different. Also, landscapes are not symmetrical, so I needed a photo of every spot around the viaduct. For vehicles it often is enough to have an image of one side because the other side looks exactly the same if it is symmetrical (which often is the case). This also encouraged me to only build the landscape close to the railroad. Otherwise I would have needed insanely many photos and would probably not be finished by now.
For all the guys crazy about scaling: I built the viaduct, train and landscape on a 1.1:1 to 1.3:1 scale. The train is a little bit wider than it should be but it was not possible otherwise because the collectors and upper headlights of the locomotive had to be in the center of it. And somehow it just looked fine.
Okay, enough talk for now. Since I used the gallery completely for screenshots I am going to put the reference images here.
During construction: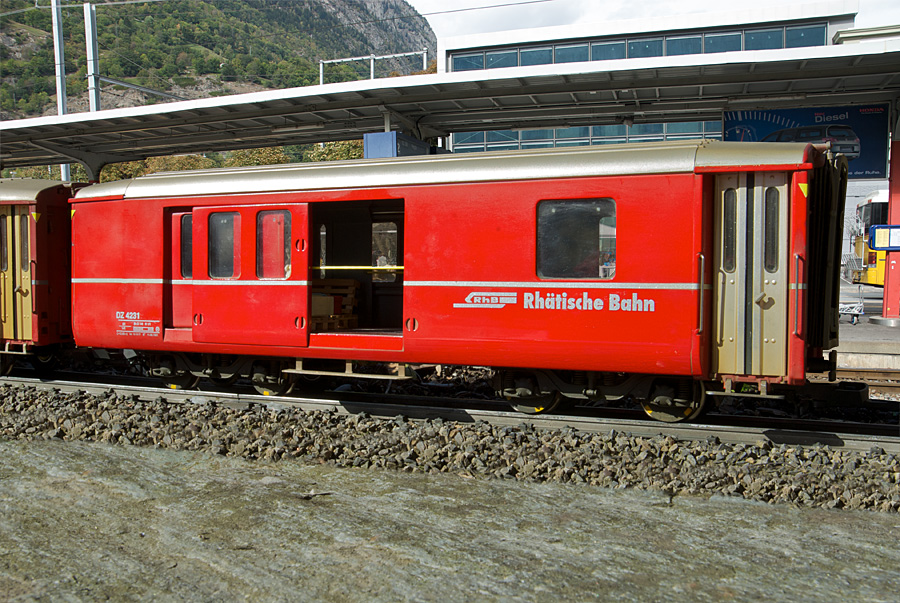 Enjoy!
| | |
| --- | --- |
| Credit | Credit to the people who initially came up with the 3x3 letter and number designs. |
| Progress | 100% complete |
| Tags | |
tools/tracking
4313348
2
the-rhaetian-railway