nerdcrafteria---home-of-the-nerdfighters247-survivalbukkitsimpleregionmarketchestshopminestatsinfiniteplotscreative-worldamazing-staff
Nerdcrafteria - Home of the Nerdfighters!
playlist_add

1059254
Published on
2/14/2013
- 2/14/13 11:58 am , last updated: 02/13/18 1:45:13 pm
Server Info : RID
1896375
| | |
| --- | --- |
| | |
| Status: | Online! Pinged: 02/21/18 |
| Location: | United States |
| Game Version: | Minecraft 1.12 |
| Connect With: | |
| Players: | 1/250 |
| | Submit your project |
Home of the Nerdfighters and started by the vision of Hank Green himself (of the Vlogbrothers, of course!) this server is geared towards the AWESOME nature of the Nerdfighteria community! We focus on harnessing the powers of community and togetherness to create a welcoming and versatile environment where literally NO ONE can be excluded! If you're ever interested in joining a server where you can buy a plot next to Hank Green's house, build a massive castle in Creative, or even join our members-only FTB server to play one of the various tri-annual FTB Seasons (on differing packages) that we have set up, then come by today and sign right up!

Family Friendly Server with tons of plugins and achievable perks! Choose from one of the many towns to buy a plot in, and show off your survival skills! Creative mode available as well! :)
Note: Showing last 25 of 28 logs.
Update #28 : 12/11/2017 1:04:36 pm12/11/17
Some recent news since our last update:
- We have updated to 1.12, and colorful new blocks and parrots abound!
- A new player town, Drakerberg, is in the process of being built! We still have spaces on the map for some new player town concepts, and we look forward to seeing what you guys come up with!
- Santa's llamas have gone missing, and it's up to you guys to help us find them! They've found their way on the server, the forums, maybe even our social media... Help us find all of them, and Santa may have a special gift~ More info
here!
Update #27 : 08/27/2017 12:49:55 pm8/27/17
Hey guys! Some recent updates:

- Our new player town, Nouveau Batiment, opened a couple of weeks ago, and there's plenty of plots for the taking!
- We've got a few days left in our Llama Build Contest - it ends on August 31st! More details in the contest thread in the forums~
- Like building and want to help other players with their build projects? We've just started a Builder's Guild for interested players! There's an application thread on the forums if you'd like to join!
- Our 5th birthday is coming up! Time flies, eh? Who knows, there may be some festivities on the horizon...

Make sure to check out our Twitter and Tumblr for immediate updates~ Hope to see you soon! DFTBA!
Update #26 : 07/07/2017 12:20:40 pm7/07/17
Another quick update for you~

-Our shiny new staff town, Scythian Peaks, just opened a couple weeks ago, and it's got plenty of plots open that could become your new home!
-The Summer Carnival is up and running, and will be ongoing until July 14th~ Earn tickets playing games, and exchange them for prizes!
-We recently reset our Survival and Skyblock servers! Survival is extra-dangerous this season - be careful, lest you get a little sick! As for Skyblock, it's a custom season this round, with new challenges and islands to start from!

Make sure to keep an eye on our Twitter and Tumblr for updates! Can't wait to see you guys in-game!
Update #25 : 06/11/2017 12:08:35 pm6/11/17
Hello friends! It's been a while, so here's a snippet of what we've got going on:

-We've recently updated to 1.11! Llamas for everybody!
-Our Pride Month event is ongoing throughout the month of June! Head to the forums for more details~
-We've recently opened a new VIP town, Viridian Isles, for players with Lifetime VIP! We're also opening a new staff town, Scythian Peaks, in a couple of weeks!
-There's also a new player town, Nouveau Batiment, which is currently in the building stages! Interested in getting a player town started yourself? We've still got plenty of slots open, and YOUR town concept could be the next one that opens!

As always, keep an eye out for events and all the fun things happening~ Hope to see you soon!
Update #24 : 03/05/2016 6:53:38 pm3/05/16
Hey there! We've got ourselves a MASSIVE update - we got a brand new Economy Server map!
That's right - the former economy server map was about 3 1/2 years old, and at this point we decided it was best to retire it and start ourselves afresh with a brand new one. So, we built it from scratch, and it's a heck of a map, I have to tell you! Four times as much square meterage, three pre-built staff towns with one more planned down the road, and TWELVE slots for player towns anywhere on the current map! If you're interested in checking out what we've got to offer, and seeing about getting your own town ideas inserted into the brand new map, feel free to check things out at
http://nerdcrafteria.com/forums
to start gathering yourself a building team!
We've also got a whole host of new plugin/world updates, and some more new ones coming in the near future:
- Citizens/Denizens (Pretty soon, we'll have city guards patrolling and quests set up for new players to learn how to use the server!)
- Survival is coming back up soon! We transferred it to our other box because it was just getting so incredibly hammered with all of the users on it. Anyway, that should be restored within the next 24-48 hours, so keep an eye out for that!
- A new mail plugin will be coming that allows transfer of XP from player to player. Sell your levels!
- The plugin SignShop has replaced our old ChestShop plugin, and it has FAR more flexibility than the latter. You guys should check /warp faq to see the new features it offers.
Anyway, there's plenty more as always. Check the news posts for more info, and we'll see you on Nerdcrafteria!
Update #23 - A New Main Map! : 03/04/2016 12:32:54 am3/04/16
We've JUST opened up our new main map! After 3 and a half years and tens of thousands of players, we've started over from scratch! Well, not quite.
Join us at
mc.nerdcrafteria.com
 and use /server Nerdcrafteria to try to buy the first plot!
Update #22 - Merry Christmas! : 12/24/2015 2:12:19 pm12/24/15
Hey, folks! As thanks for the many, many things you guys do during the year to make our job worth it each day, we wanted to provide a set of neat Buycraft perks for you to take advantage of, especially considering what's coming around the corner.
First, we've gone ahead and 
lowered the price of all vanity tags, particle effects, vanity pets and pet effects by 20%
! We'd like you guys to go ahead and pick up as many of those tags as you can, since we'll likely be weeding out the ones that aren't very popular pretty soon and replacing them with others that folks have requested over the ages. That weeding out process will likely start in mid-January, so you only have a few more weeks left to get that tag you might have been putting off for awhile - and with this discount, it's been cheaper than ever! As for the particles, we just want you guys to see the neat new options you have available, and to let us know if this is a particle plugin worth keeping. Soon, tons of new particle effects will be added in, and you'll even be able to score some neat gadgets and mounts as well for use in Hub world!
Secondly, in anticipation of our upcoming perk of WorldEdit in VIP world and Creative for Lifetime VIPs, we're 
lowering the cost of Lifetime VIP by 25%
! We're going to get WorldEdit functional for VIPs on those two worlds within the next month, and should have a training course put together and ready to send players through shortly after that. Which one of you will be the first ones to pick up the VIP Worldedit donation pack and earn yourself some neat worldshaping tools with which to carve your mark into the land? Those worldedit donation packs will be opened up as soon as we've got them ready to go, so keep on the lookout in the donation store!
Finally, we've put on for sale a series of Survival-specific packages that our intrepid explorers have unearthed during their travels. Alchemist's satchels, warrior's crates, and more await those who are looking for a leg up in this crazy world. These packages will be offered on a per-season basis, and will be tweaked each season for balance purposes. As a special bonus for those who choose to donate for any of these, 
a temporary server-wide bonus to mining and fighting will be applied as well
! For the Alchemist's satchel and the Farmer's seed wagon, a resource collection boon will be applied for one hour, and for the warrior's package, a fighting boon will be granted for one hour. This won't last long, so donate quickly for these packages to take advantage of the special boon!
We've already busted through our donation goal for this month, but how about we go out with a bang and really kick it up a notch? If you guys can get to $3000, we can score ourselves a sweet server upgrade that we DESPERATELY need because of our increasing size, so if you feel up to it, chip in to charity and make your server better in the process. These special sales are going on until January 15th, after which the bonus boons will go away and prices will go back to normal, so snap these up quick!
How to donate: 
http://donate.nerdcrafteria.com/
Update #21 - Skyblock! : 12/14/2015 6:25:25 pm12/14/15
Hey guys, got some Very Exciting News for you all!

Nerdcrafteria now has a Skyblock Server! Just join as you normally would (mc.nerdcrafteria.com) and use /server skyblock, and join a friend's game or start your own! See you soon, Space Cowboys!
Update #20 : 12/08/2015 2:57:14 pm12/08/15
We've just released a MAJOR overhaul of the server and everything surrounding it. New plugins, new features, a BungeeCord expansion, new gamemodes - anything you can possibly imagine, we've probably got it now!
We've got Skyblock and Minigame worlds coming down the pipeline as well, so I'd encourage you to log on and spend some time hanging out with your fellow nerdfighters here. In the meantime, keep an eye on our forums at
http://nerdcrafteria.com/forums
 for more information and news regarding the recent changes. DFTBA!
Update #19 Its Getting Spooky in Here! : 10/04/2015 6:58:25 pm10/04/15
With Halloween just around the corner, we are happy to annoucne that we will be hosting an Auction on October 17th themed on some of your favorite Dinsey Villains! Join us in game then!

And on Halloweeen we'll be hosting our spooktacular Halloween Party! We'll announce more info as we approach the date, but get your spook on!
Update #18 Its (almost) Our Birthday! : 09/07/2015 11:41:34 pm9/07/15
Its that time of year again! Time to gather up your friends, to DFTBA, and to have a fun little party! So, lets celebrate this birthday with some fun! 

~~~~~~~~~~~~~~~~~~~~~~~~~~~~~~~~~~~~~~~~~


Td_ReYYaiXo


~~~~~~~~~~~~~~~~~~~~~~~~~~~~~~~~~~~~~~~~
To really help drive home the fun, we have a few in game activities for you to enjoy, such as Parkour, Mini Golf,Musical Chairs Blocks, Guess the Amount, Hide and Seek, Treasure Hunts, and a few other fun presents for you to enjoy!

~~~~~~~~~~~~~~~~~~~~~~~~~~~~~~~~~~~~~~~~~
As well as in game activites, we'll be holding trivia games on our Twitter and Tumblr each day until the 21st. Being the first correct answer on 
Twitter 
will earn you 100 FBP, and being the correct answer on the 
Tumblr 
will earn you 10,000 llamas!
~~~~~~~~~~~~~~~~~~~~~~~~~~~~~~~~~~~~~~~~~
We also have some fun Buycraft news for you! Right now, we have a Pay-What-You-Want (aka free) 
Birthday Vanity Tag
 up for you to grab on Buycraft, and a 20% off code on your entire Buycraft basket! Just enter NC3Yearswhen you go to check out!
~~~~~~~~~~~~~~~~~~~~~~~~~~~~~~~~~~~~~~~~~~~~~~~~~~~~~~~~
We'll be celebrating Nerdcrafteria's Third Birthday with you all from the 8th until the 21st. After reset on the 22nd, everything will return to normal, and the free tag and buycraft code will disappear, so don't let them slip away from you! 
LET'S PARTY!
Update #17 - Auction Announcement! : 08/11/2015 6:17:20 pm8/11/15
Dear friends, we would like to introduce to you all...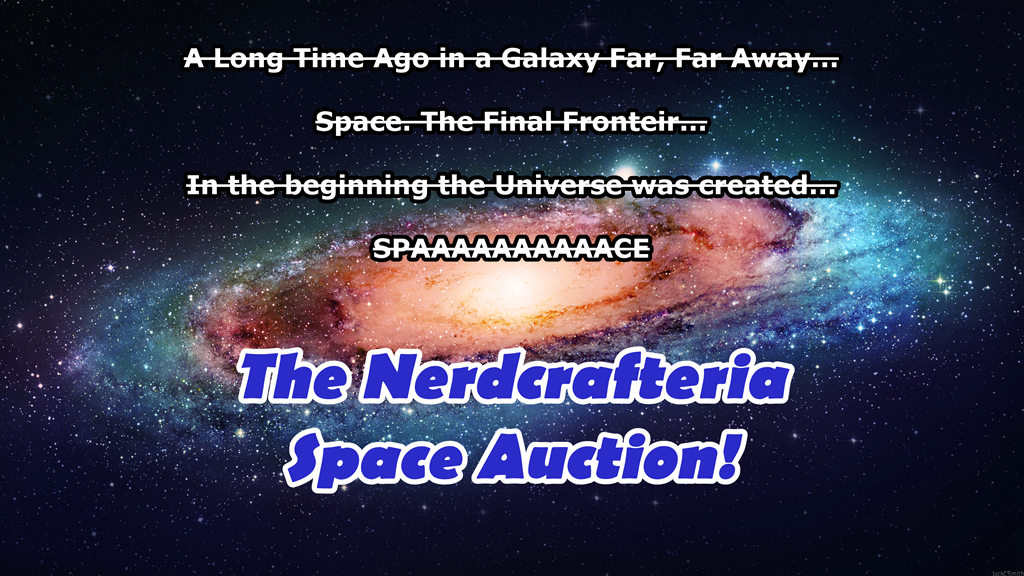 http://bit.ly/1gxJUtG
---------------------------------------------------------------------
The Staff would like to announce a Space Auction that will be occurring on
August 29, 2015
at
4 PM EDT
-------------------------------------------------------------------
Feel free to start gathering beforehand at 
/warp auction
 to pick up an Auction House Handbook and get ready to bid! We will be making plenty of announcements on the day of the auction so there will be no confusion as of when to arrive.
Some important points to be aware of:
​
All bids must be sent via private message. It will be made clear as to who you should message your bid to for each chest. Failing to send bids through pm may result in you being muted.​

Bids must increase by at least 250 llamas per bid, if the bidding gets high enough 5k will be broadcasted to change the increments from 250 llamas.​

Make sure you have the amount of money you plan to bid in your account at the time! If you can't pay when asked, your chest will be sold to the second highest bidder.​

--------------------------------------------------------------
We hope to see you all there to join us in the many adventures through 
the Planets in our Solar System 
(sorry Pluto)!
Sincerely,
~Staff of Nerdcrafteria
Update #16 : 08/03/2015 2:09:38 pm8/03/15
Hey everyone! We've got a lot of stuff going on! 
We've got a Player Survey going on! Let us know what you think about Nerdcrafteria and where you want to see us go! 

Our Youtube has been updated with a new Server Tour video! Check it out to get an idea on our towns and world. Maybe buy a plot and help the Awesome grow!

We have a new plugin: Vote Shop! by voting for us here on PMC, you can acquire FBP (or Fishing Boat Proceeds), and use /vt shop in game to buy animal spawn eggs, Monthly VIP, FTB Whitelist Access, and so much more!

We also have two building competitions going on. The Main Spawn competition uses an entire 256x256 Creative plot for players to design a new spawn for everyone to enjoy! You can enter individually or as a team, and you have until September 9th to get those submissions in, as we want to show it off for the Server's birthday! Also we are resetting Creative VERY soon, and want some fancy new roads. Design a road and enter it today!

So much news and so little time! Join us in game today!
Update #15 : 12/29/2014 5:52:57 pm12/29/14
We've updated to 1.8! Come check us out next time you get a chance! :)
Update #14 : 11/15/2014 12:02:43 pm11/15/14
After a great deal of work getting the server stabilized post-transfer, there are a whole mess of projects going on that need to be talked about. I'll go over them in some detail here:
- The Server Birthday (2 years old!) was a huge success. There were plenty of celebrations to be had, and several Buycraft deals to go along with it. :)
- The Halloween event this year was protecting the Hogwarts Castle (or what's left of it, rather) from the assaults of the enderdragons that break through the barriers which separate our world from theirs! These barriers seem to conveniently break every Halloween, so maybe we need to talk to the Doctor about getting those repaired...
- Christmas is beginning to ramp up, and with it comes a million different events! There will be a snowbrawl tournament this year, a reignition of our Secret Llama tradition, and plenty of winter wonderland events to enjoy. If you have anything you'd like to see Christmas-related show up this year, let us know - we incorporate things from many different holidays from this time of year, not just Christmas!
Please check out our forums at
http://nerdcrafteria.com/forums/
 for more information on these and more events in the near future. DFTBA!
Update #13 : 09/05/2014 10:04:27 pm9/05/14
We've just changed hosts on our FTB and Main servers! We've also doubled the size of our available resources (RAM, CPU power, etc.) and as a result it's given us a huge boost in performance. Come check us out today and see the amazing improvements we've garnered!
Update #12 : 05/31/2014 3:23:32 am5/31/14
Maintenance is done, and we're updated to 1.7.8 as part of it! Feel free to rejoin us on our main server once more! :)
Update #11 : 05/29/2014 6:40:08 pm5/29/14
We're undergoing maintenance right now, which has brought our main server down - however, our Creative and FTB servers are still up, so feel free to join us on there! The main server should be fully functional once more within the next 3 or 4 days maximum. :)
Update #10 : 12/29/2013 8:23:39 pm12/29/13
1.7.4 is coming to Nerdcrafteria, after ALL of this time! Sorry for the slow update, Bukkit (and by extension, Spigot) took their sweet time to make sure everything was nice and hunky-dory for us when we updated. The good news is, though, we'll be updating very soon. There might be some kinks to work out and we might be switching back and forth for a couple of days while we fix the major problems, but we'll be there soon enough. Check out the news section of the forums at
nerdcrafteria.com/forums
for more details!
Update #9 : 12/23/2013 7:06:12 pm12/23/13
Christmas is around the corner, and with it comes all kinds of Buycraft deals! Make sure to check out
dft.ba/-XmasSale
to see all of the wonderful coupons and discounts we've managed to score from Santa's sack just for you to take advantage of! :)
Update #8 : 10/07/2013 7:02:43 am10/07/13
A short update today: After much deliberation, the staff has decided to forgo the concept of player towns in lieu of a much more creative-centric, player-focused method of town creation that puts the mundane creating of the actual town (regioning plots, etc.) to the moderator's responsibilities, thus freeing up the players to create and build anything and everything they want for the towns they feel like building for. A whole host of creative competitions will be coming out over the next few weeks for those of you to test your creative mettle and really show off what you're capable of building!

DFTBA folks! :)
Update #7 : 10/01/2013 2:29:52 am10/01/13
A lot has been happening in Nerdcrafteria lately, not the least of which has been our update - we're on 1.6.4 now!
If you've been waiting for the server to update, you can now update your client. In order to get a better idea about how to do that, go to dft.ba/-1six4 to see instructions on how to change the version number in your client so you can get on the server again. Remember, you can change versions freely between servers, so if you still have a server you play on that's 1.6.2 or some snapshot, you simply have to set different profiles for different servers or modify your version in the profile each time you want to get on Nerdcrafteria in order to get on. Much simpler than switching out .jars like before! :P
Some holiday events are coming up pretty soon that we'll be announcing more about later once we get closer, but the first Halloween Creative Competition will be up and running shortly! RoryTheRoman94 will be hosting a competition to see who can build the scariest and most frightening houses in Minecraft, some of which will be featured along the boardwalk in Old Nerdcrafteria for people to trick-or-treat at on the day of Halloween! Cool redstone tricks to create haunted house-type atmospheres, lighting changes, biome changes, you name it - we'll help you create the scary environment you need in order to truly frighten the pants off of your fellow Nerdfighters. So get to building!
Christmas is coming up as well, and we've got scores of Buycraft deals that'll come along with that - keep an eye on the news posts as well as our social media sites for more info about that, and you'll be able to score yourself some neat discounts and possibly even freebies through Buycraft this Christmas as a gift from us to you. :)
See you guys soon, and DFTBA!
Update #6 : 09/20/2013 8:46:44 pm9/20/13
We've got a lot going on lately - the birthday celebrations (after the restart) went off without a hitch, and pictures for that will be uploaded here shortly. Thanks to everyone who came by to celebrate, and hopefully you found yourself a server you can stick around for awhile!
In the meantime, we've got a lot of new stuff coming up shortly - some cool fall events (including a sweet Halloween event, just like last year) as we move into the chilly season.
We're not updated to 1.6.4 yet, but be patient - we'll be updated there soon, in preparation for the 1.7 update. And once we get the next set of updates, we'll look into using the special new generator to make those HUGE mountains we've seen in the snapshots for Mineworld.
As an additional note, the Donation link has been moved to the very top of the forums (
nerdcrafteria.com/forums/)
and an additional link has been put under it - the VOTE link! It'll take you directly to the voting page here on PMC for you to vote quickly and efficiently.
DFTBA!
Update #5 : 09/16/2013 8:12:39 pm9/16/13
We've had a bit of a setback as far as the server birthday is concerned - due to some malfunctions within Spigot related to our java setup and the mySQL database we have, there was a temporary outage that lasted several hours.

The good news is, we're back up! We're going to postpone birthday celebrations until tomorrow, though, in order to give everyone a chance to get back on their feet, as well as letting the admins take a look through the plugins to make sure that we don't have a repeat of what happened earlier.

Sorry for the downtime - we didn't plan it, we promise. Come join us tomorrow for all-day birthday events and fun! DFTBA!
Update #4 : 09/14/2013 7:18:36 pm9/14/13
We've finally hooked up the Votifier connection between PlanetMinecraft and this server, which will allow you guys to earn diamonds as a direct result of voting our server up on PMC! Hopefully this will bring more awesome Nerdfighters our way looking for a good server, and in the process you guys get to earn more of those sweet, sweet diamonds. ;)

The birthday is coming up in just two days, and there's going to be a HUGE birthday bash - if you haven't already been by spawn, go check out the birthday decorations we've put up and help us celebrate the wonderful, AWESOME nature of the playerbase that has allowed us to exist and thrive for an entire year.

There are still PLENTY of donation deals going on, so it's important that you guys grab what's here quickly before it goes away. There's currently a discount on every single item in the store, which when combined with various coupons can earn you some neat discounts at checkout whenever you donate for stuff on the server.

Drop by today, and don't forget to vote!
tracking
1896375
nerdcrafteria---home-of-the-nerdfighters247-survivalbukkitsimpleregionmarketchestshopminestatsinfiniteplotscreative-worldamazing-staff
1,165079,329,3672,559826,842002,140820,64651,214207,460644,625964,356071,290694,895971,1030646,15493,171513,336698,476982,98449,817406,1293715,209568,526780,928263,1263961,2177557,1059254