Updated on Mar 27th, 3/27/22 2:19 pm |
9 logs
Published
Dec 20th, 2013
, 12/20/13 2:43 pm
20,525

views,

2

today

103

server score

0

Votes this month
runelynx
Level 31
:
Artisan Architect
Status
Online! Pinged: 07/06/22
Location
United States
Game Version
Minecraft Java BungeeCord 1.8.x-1.18.x
MOTD

RunicUniverse! Survival, Skyblock, Minigames & more!
Now on 1.18! Come and experience the Dreamgate!

Connect With
Players

0/100

RID
2644860

SERVER IP:
PLAY.RUNIC-PARADISE.COM
Runic Paradise is an old Minecraft SMP community, dating back years and years! Luckily, new and fresh stuff has kept coming in over the years to keep the spark of excitement alive!
So, what is Runic Paradise about?
Runic Paradise is what you make of it!
Relaxing time working on your hut in the woods? We've got you covered!
Challenging puzzles to keep your mind and imagination sharp? Plenty in store!
Looking to grind your way to the top of the leaderboards? Give it your best shot!
✅ Survival map with plenty of space to build on!
✅ Economy plugins to buy, sell, and run your own store!
✅ Optional survival content plugins, including McMMO and Slimefun!
✅ Skyblock and Creative play-modes!
✅ A rank ladder to climb up and unlock new perks along!
✅ Effective anti-griefing measures!
✅ Lots of custom content and minigames, including Mob Arena and Block Hunt!
✅ Friendly Staff with several years of experience!
Our priorities are fair play and a friendly social environment! Griefing is not tolerated and language filters are in place. Otherwise... everyone is welcome! Bring your friends, there's plenty of space in Paradise!
Watch our new trailer: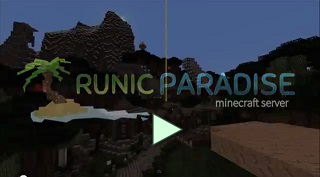 Visit our website at
www.runic-paradise.com
A link to our discord channel is available in-game!
SERVER IP:
PLAY.RUNIC-PARADISE.COM
9 Update Logs
Projects shared by members of this server
tools/tracking
2644860
3
runic-paradise