Updated on Nov 23rd, 2015, 11/23/15 3:12 am |
1 logs
Published
Nov 1st, 2015
, 11/1/15 5:38 am
1,628

views,

3

today

253

downloads,

0

today
Gaarafan14
Level 62
:
High Grandmaster Batman
Hi guys, Gaarafan14 here with another minecraft skin!
Previously, I made a Natsu skin. Ever since I've decided I'll do somewhat of a Fairy Tail skin series. Anyway, this is Erza Scarlet. She's an S-class requip mage from the Fairy Tail guild and a member of team Natsu. She is also known as Titania/ the Fairy queen. She comes from an unkown village and when she was small she was taken away and grew up as a slave in the Tower of Heaven where she was part of a project known as the R-system to ressurect Zeref.
However she managed to escape by rebellion together with her friends and ended up at Fairy Tail. Now, a lot of people ship Jellal x Erza but I don't. Why? Well Jellal treated her like crap and I believe the person who desserves Erza the most is Gray. So yea, I ship Grayza. If you like this skin, don't forget to diamond, download, favourite, subscribe (if you haven't yet) and never EVER be shy to leave a comment.
Yours truly,
Gaarafan14
PS. Erza REALLY loves cake.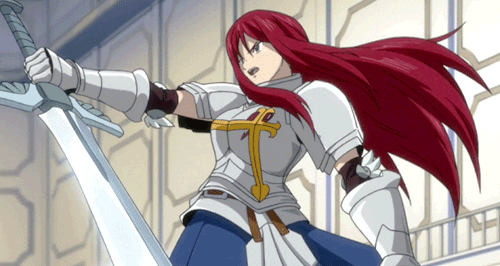 | | |
| --- | --- |
| Credit | Gaarafan14 |
| Gender | Female |
| Format | Java |
| Model | Steve |
| Tags | |
1 Update Logs
tools/tracking
3504681
5
fairy-tail-erza-scarlet-