Views,

421

today
Downloads,

19

today
654506
Published on
7/19/2012
- 7/19/12 5:14 am , last updated: 11/06/17 12:17:14 am
Official resource pack of the Pumpkin Patch Server! Come say hello!


---
If you'd like to help keep this project alive, click here to check out my Patreon page! There you can donate a few bucks and get some cool rewards while you're at it!


>>> I want to be a supporter! <<<
---
Hi there! The Pumpkin Patch Resource Pack is a project I've been developing over the last few years. When I started, it was only a collection of pumpkin headed textures for various creatures... but I got a little carried away and here we are.
But I'm still not done! Mojang keeps adding new things and I keep having new ideas so be sure to check back regularly for the newest version!
So far, I've made this resource pack entirely on my own, with the exception of the music. That's being made by my friend.
If you're not already, please please please please use mcpatcher or optifine with this resource-pack. You'll be missing out on a lot if you don't use one of these. They're easy to install, so GET MCPATCHER/OPTIFINE NOW!!!



---
Latest: Pumpkin Patch Resource Pack LINK

Pumpkin Patch Resource Pack for 1.9: LINK

Pumpkin Patch Resource Pack for 1.8: LINK

Minecraft Forum Page:
LINK


---
If you'd like to use my pack in your videos, feel free! Just make sure to provide a visible link back to this page.
Subscribe to these people cuz they deserve it!
Progress:
100% Complete
Game Version:
Minecraft 1.12.2
Resolution:
32x32

Armor

Art

Environment

Font

GUI

Items

Misc

Mobs

Particles

Terrain
Note: Showing last 25 of 248 logs.
Update #248 : 11/06/2017 12:17:14 am11/06/17
"Shiny Time"
Well well well. We meet again. So I know I just released an update not super long ago and said something along the lines of "PAINTINGS AND MUSIC NEXT UPDATE", but I decided to not do that. Instead I revamped a bunch of old textures that I had begun to despise. Next update WILL have new music and paintings, so look forward to that I guess.
- New emerald textures (all around) (animated)
- New diamond textures (all around) (animated)
- New weighted pressure plate textures
- animated prismarine item textures
- new redstone
- new pumpkin pie
- new quartz item
- new red dye
- new sugar
- new Endcrystal
- new enderpearl
- new apple
- new slime
Update #247 : 10/17/2017 10:02:55 pm10/17/17
"BIG OL' 2017 HALLOWEEN UPDATE"
Alrighty then! So it's nearly spookytown funk day and I almost didn't get this done before going out of town, but ALMOST wasn't good enough. Cuz I did get it done. Finally finished all the major 1.12 nonsense and added some additional magic into the mix. With this, the amount of 'catching up with Mojang's random rainbow shenanigans' I have to play has dropped drastically, so I can finally focus on other things... like paintings and music. SO that's probably what the next update will consist of. I'll composing most of the new music myself! Until next then, have a kickass Halloween.
- glazed terracotta
- terracotta
- llamas
- llama blankets
- parrots
- several new paintings
- end crystal
- fixed button texture
- new gold blocks! (and retouched gold items)
- new gold apples
- random texture for quartz ore
- new optifine texture for iron bars
- new song for the nether
Update #246 : 08/06/2017 10:06:15 pm8/06/17
"ALMOST A RAINBOW"
WOAH! It's been a long time since I last updated! I turn around for just 7 months and Mojang goes and adds a billion new things. I had almost caught up too! Oh well, here's some of the new stuff. The important part of this update is the GUI stuff, but I've added in some of the new rainbow barf stuff as well as tweaked a few old stuff. Still working on llamas and parrots and all that terracotta nonsense. That'll probably come next update. (Release date UNKNOWN!)
- Colored beds
- Changed stained clay to "concrete"
- concrete powder
- 2 new paintings
- retouched books
- GUI 1.12 updates!
- retouched obsidian
- retouched iron blocks
- random quartz ore textures
Update #245 : 01/24/2017 8:42:10 pm1/24/17
"BEAR NAKED"
HEY! More new stuff hot off the photoshop for you! And some more old stuff hot re-off the photoshop for you! EAT IT UP.
- Retouched Pumpkins
- New "red" netherbrick (again)
- Polar Bears!
- Fixed Wolves
- Fixed Cobblestone and mossy cobblestone for optifine users
- New Cobblestone wall and mossy cobblestone wall for optifine users
- New item frame
- Retouched Netherbrick
- New Netherbrick stairs
Update #244 : 01/03/2017 4:10:46 pm1/03/17
"THE BIG DUMP"
HOT DAMN! IT has BEEN a while, hasn't it? Well whatever. I figured I had let the buildup get bad enough that I needed to do something. I also had some textures I've been working on that needed implementation and there were some textures that were apparently borken hard. So yeah, I think that's most everything from the new updates (barring llamas and polar bears... They come next) As always, let me know if I made any horrible mistakes.
- Vindicator
- Evoker
- Vex
- Husk
- Stray
- Totem
- Shulker
- Shulker box
- Shulker shell
- iron Nugget
- Observer
- Bone Block
- Tweaked Endstone bricks
- Tweaked Endstone
- Netherwart
- Netherwart blocks
- Magma
- FIXED sideways logs !!!!
- Tweaked chiseled stone brick
- "Red" Netherbrick
- Command blocks
- Fixed Cauldron
- Tweaked Snowball
- Added some status icons
- Tweaked spawn egg texture
- Fixed some GUI screens
Update #243 : 05/19/2016 2:32:12 pm5/19/16
"SEVERAL PLANTS"
Whooo! This update is a combination of fixes for old broken textures and new stuff! And I dare say I'm drawing quite close to having all the 1.9 stuff finished!
- Chorus flowers and plants
- chorus fruit and popped
- beets!
- updated tall grass
- fixed fence models
- fixed stair models
- updated chiseled stone brick
- new model for bookshelves (fewer polygons to improves performance)
- horse health icon
- attack cooldown icon
Update #242 : 04/19/2016 1:31:54 pm4/19/16
"BOATS OF A FEATHER"
I'm not sorry for the title. We got a bunch of new stuff in 1.9 and I've been working my butt off trying to get to it all. I'm not quite finished yet, but I'm almost there! I got to some pretty important things this time though! So here you go!
- new boat textures
- new boat textures (items)
- shields and shield flags!
- Elytra!
- Lingering Potions
- Spectral arrows (animated!? WOW)
- Potion tipped arrows
- Dragon's breath!
- combat swipes
Update #241 : 03/20/2016 2:16:53 am3/20/16
"THIS IS NOT THE END"
(but it is the end update)
Wowee! Back again with some new stuff! Who's surprised? Probably exactly nobody. Anyway, this is the first part the a multipart series of updates for all the 1.9 stuff. Coming up next update are shields and elytra and more! WOWEE! But for now, here's what we got:
- all the purpur brick stuff (I really hate the name though..)
- end brick
- end rods (and particles)
- frostwalker ice!
- updated end stone
- grass path
- some more minor GUI changes
Update #240 : 03/04/2016 4:45:36 pm3/04/16
This is a flash fix to correct all the textures/models that were breaking when used in 1.9. Though I did actually add a number of new textures, I'll just list them in the next update which will hopefully be out some time this week. It will be the one with all the new 1.9 textures and such. :D

For now, enjoy the Pumpkin Patch Resource Pack working smoothly in 1.9.

P.S. I may not have found everything that was broken, so if you happen across something I missed, please let me know!
~staples
Update #239 : 01/27/2016 4:38:12 pm1/27/16
"NO THEME PARTY!"
WOO YEAH! It's time for another update of unrelated textures! Really, these are things which needed to be replaced because they were so old/bad they made me sick to look at. There's still a few things left like that, but I suspect that the next update will be heavily focused around getting out some 1.9 textures, some of which I already have finished (I just can't put them in the official pack until 1.9 actually comes out.) I'm working on some pretty neat paintings too. Anyway, here ya go!
- New Quarts Pillar Top (it's usable now)
- New daylight sensor
- new Mob Spawner
- new random birch log textures (optifine not needed)
- Fixed the problem where leaves from certain mods were showing broken textures. (didn't even know about this one until I started playing Thaumcraft recently)
- new gunpowder
- new name tag
- new redstone dust
- new glowstone dust
- new brick / netherbrick
- new boat texture
- new shears
Update #238 : 12/23/2015 8:52:39 pm12/23/15
"Time to Dye!"
WHEW! Just in time for the holidays it's time to dye. Because I redid all the dyes. Previously they were just a bunch of rainbow dust in bowls and that was both boring and stupid because some of the dyes (lapiz, bonemeal, ink sacks, cocoa beans, cactus pulp) didn't really make sense to be like that. While the rest of the dyes are made from flowers, so I figured... you know... let's make them flowers. More on the way as always!
- redid maps (empty and filled)
- recolored fireballs
- bonemeal
- lapiz chunks
- ink sacks
- cocoa beans
- the rest of the dyes
- another 4x4 painting! WOO!
- some minor GUI fixes
Update #237 : 10/31/2015 10:19:04 pm10/31/15
"IT'S HALLOWEEN!"
AAAAAAAAAAAWW YEAH! It's Halloween! And also the 3 year anniversary of the Pumpkin Patch Resource Pack! So this time I've got an extra spooky update for you. I was hoping to finish the pack entirely by today but paintings just take too long. (I basically only have paintings left to do before everything is done) But I'll definitely have them all finished soon. So in the meantime, we'll just say the pack is like 98% done (if we exclude all the 1.9 stuff which I'll get to next (and probably all in one update)) Anyway, here we go!
- skeleton horse
- new creepers
- new paintings (more on the way soon!)
Update #236 : 10/12/2015 8:05:18 pm10/12/15
"BOOM! STATUS EFFECTS!"
Ello again. We got some effects this time. 2 more of those to go for 1.9 completion, but we'll worry about that later. Also, some other things happened. See you next time.
- explosion animation
- more status effects
- fixed the lower case 'e'
Update #235 : 09/19/2015 1:54:19 am9/19/15
"SHINY THINGS... MOSTLY."
Yo. Back again. This time we got a ton of stuff (with more on the way) to celebrate a recent victory of mine. IT FEELS GOOD.
- new chain-mail armor
- chain-mail armor (item)
- new buckets
- new diamond
- new emerald
- new feather
- new ender pearl
- new ender eye
- new paper
- quiver
- tweaked wood pickax
- status effect icons for strength, weakness, haste, fatigue, speed, and slowness. More on the way.
Update #234 : 09/09/2015 9:09:46 pm9/09/15
"WOW! PAINTINGS!"
Helloo again! This week I made something really special for you all. PAINTINGS! More of them, I mean. (not all of them, still working on it) Some of these maybe be changed in the future, but the idea is that they will all depict a person/place/thing/event from Pumpkin Patch Lore. These paintings will probably be released in small batches as they take ages to actually make. I'll also probably mix them in with other changes.
-some new paintings
-added a cloth texture to banners
-organization
Damn. These things really take forever.
Update #233 : 08/29/2015 7:37:58 pm8/29/15
"IT'S ALIVE!"
Whoop! More stuff that I've been putting off forever has finally been completed! There's still some left to do, but I'm on a roll, man. It's go time. But before that, here's this!
-new villagers
-new Steve
-new Alex
-fixed sheep and pigs
-updated bats
-new witch
-ENDERDRAGON YES (finally)
-some minor GUI fixes
Update #232 : 08/20/2015 9:33:43 pm8/20/15
"MOSTLY ARMOR"
Aaaaalrighty then! So I finally got to horse armor. Let's all just sit and take that in for a moment. Wow. I also happen to have completely overhauled leather armor, thus, granting this update it's mostly deserved title. I did some other things too. Eat up.
- MOTHAFLIPPIN HORSE ARMOR! Finally. I've been putting it off for quite a while.
- New stone tools
- New Leather armor (body and inventory)
- New cookie?
- New XP orbs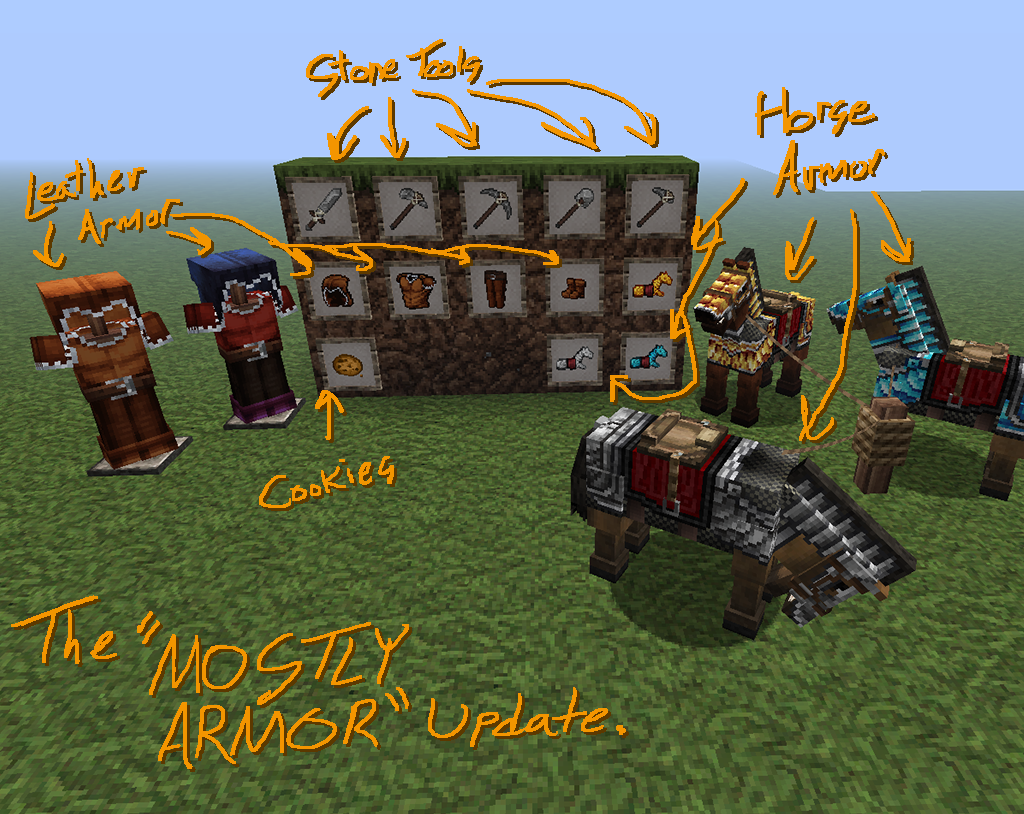 Update #231 : 08/07/2015 3:05:52 am8/07/15
"HEAR THE CALL"
Hey there again! SOooo it looks like I've pretty much completely abandoned the whole thematic updates thing. Oh well. From now on (or at least until I happen to update a bunch of similar things at one time) we'll all just have to make due with random combinations. Like this one.
- New netherstar
- new potion bottles
- Fire (in the inventory view. It's not quite as annoying and in your face now.)
- A PAINTING! Woop! Expect more to come. I also added frames on all the deafult paintings because why not?
Update #230 : 07/31/2015 8:40:10 pm7/31/15
"THINGS LOOK DIFFERENT"
Wow! An update! The picture below only shows one of the changes since I can't exactly show you all the new UI screens in one image. Well I could but I won't. You'll just have to make due with downloading the pack and seeing for yourselves.
- fixed glowstone (smoother animation)
- fixed rotten meat (no longer chicken leg)
- GUI overhaul (EVERYTHING IS DIFFERENT)
Update #229 : 07/19/2015 3:33:13 pm7/19/15
"THERE IS NO DISCERNIBLE THEME HERE"
Helloo again! This time, the stuff that's changed is just a bunch of random things I've been meaning to do for a while. There's still a few more things that I'd like to change before the 1.9 snapshots start, so expect more updates full of random things soon.
- Chiseled stone brick now has a connected texture like iron blocks or chiseled sandstone. Huzzah. (Yes I know its spelled wrong in the picture. Bite me) (optifine users only - if you don't use optifine you can still enjoy a new texture that sucks less than the old one)
- iron tools now carry themselves with a regal composure similar to their gold counterparts.
- dark oak, birch, and jungle planks now have side borders to make'm look purdy. (optifine users only)
- Beacon beam now has a sassy personality. It may offend you, but try to understand. It's new to this.
That's all for now! More on the way...
Update #228 : 07/11/2015 5:34:42 am7/11/15
"I HATE TAKING SCREENSHOTS OF ANIMALS"
Helloo. Animals don't stop moving and it sucks. So the image for today's update contains just a shit ton of them. So lets get right to it.
- Chickens are now crows. Deal with it. (they sound like crows too)
- the wither is a thing now
- guardians are spooky smile-fish. (I did elder guardians too, but I had enough trouble taking pictures of these things so go look for yourself)
This picture sucks. But it's 4:30 am so you can JUST DEAL WITH IT!
Update #227 : 06/28/2015 4:50:19 am6/28/15
"Sing with all the colors of these stone blocks"
Yep. I changed some colors hard. Nericu noticed that all my stone blocks clashed like hell so I recolored aaaaaaaall of them and it took forever and you should be impressed. I also did some other things.
- Recolored all the stone brick stuff (also edited the texture of plain stone brick a little)
- recolored all the cobble (it hurt)
- recolored stone slabs
- recolored andisite, diorite, and granite slightly.
- brought back the good ol' chissled stone brick block for optifine users.
- new trap doors
- new birch planks
- new textures for stone and wood buttons
- Changed lightmap so torches flicker (optifine only)
- probably some more things I forgot to put here
Update #226 : 06/01/2015 9:05:30 pm6/01/15
"THERE ARE PLANTS AND SOME NOT-PLANTS THIS TIME"
Okay so here we have some plants. And also we have some things that are presumably not plants. There are also things that used to be plants but not for a long time. I think this is probably the most appropriate title I could have given this update.
- new prismarine bricks
- new prismarine blocks
- newish prismarine also bricks
- new coal blocks
- new clay blocks
- new (and by new I mean old) white wool. It used to be this annoying wall looking thing. It's now just white wool. I know many of you are probably very excited about this but try to contain yourselves.
- new mycelium (I'm butchering the spelling on purpose I promise)
- new little mushrooms
- new big mushrooms
- bookshelves now have 3D random variation
- all leaves now have a certain bushiness
- new 3D reeds
Update #225 : 05/14/2015 10:11:00 pm5/14/15
"THIS UPDATE IS SO METAL!"
Woah! Watch out everybody! Here comes another update jam packed full of -- wait! come back!
-new iron texture (the ctm version is optifine only, I'm afraid)
-new dispensor
-new dropper
-new hopper
-new anvil
-pretty much just a bunch of new iron stuff. I won't include it all since most of it is just recolored to match the new iron block.
Update #224 : 05/08/2015 10:11:32 pm5/08/15
The "I DONT KNOW HOW TO INSTALL OPTIFINE" Update
WOW! So it's been a while because of school and other horrible things but I've finally got an update ready! I've been working on this one for a while.
The main thing here is that I've taken all those random textures and stuff that you can see if you use optifine and made them work in vanilla Minecraft. (Because 1.8 was a thing I can do this. Also it takes forever.)
- all those planks now have random textures. (This includes slabs and stairs)
- fences now have textures
- stonebrick stuff now has random textures. (including slabs and stairs of course)
- netherbrick now has random textures.
- bricks now have random textures.
- whatever, a ton of **** has random textures now. (More to come in the future! -looking at you cobblestone-)
- New stained clay textures. (different for both vanilla and optifine)
- probably some other things I forgot about because I've been working on this for like a month on and off. Get off my back.
tracking
1167896
pumpkin-mobs
1,165079,329,3672,559826,842002,140820,64651,214207,460644,625964,356071,290694,895971,1030646,15493,171513,336698,476982,98449,817406,1293715,209568,526780,928263,1263961,2177557,654506