[1.6.4] [FORGE] [SSP/SMP] MrCrayfish's Furniture Mod v3.2.5 - Christmas Update!
2140 diamonds
Views,

1,487

today
Downloads,

434

today
mr_crayfish
Level 79
:
Legendary Modder
Posted 01/23/12 10:31:37 pm , last updated: 11/24/13 4:04:02 am
01/23/12
###############################
DELETE YOUR CONFIG IF YOU ARE UPGRADING TO THE ELECTRONIC UPDATE!
###############################
UPDATE:What is Electronic Update+?Click here
This mod adds in what Minecraft has been missing for years, furniture! It includes over 30 pieces of furniture to decorate your bedroom, kitchen, living room and even your garden! It doesn't take the vanilla feel away from Minecraft as it would be coded in the same way as Mojang would do it. So if you are into decorating, I strongly recommend this mod to you!
List of Furniture:
Bedside Cabinet
Wooden Table
Wooden Chair
Cabinet
Wooden Coffee Table
Fridge
Freezer
Couches (White, Green, Brown, Red and Black)
Blinds
Curtains
Lamp
Stone Chair
Stone Table
Stone Coffee Table
Oven
Oven Range Hood
Hedge (Oak, Pine, Birch and Jungle)
Bird Bath
Stone Path
Picket Fence
Water Tap
Mail Box (includes Envelope and Package)
TV (NEW)
Computer (NEW)
Printer (Includes Ink Cartridge) (NEW)
Fire Alarm (NEW)
Stereo (NEW)
Electric Fence (NEW)
Ceiling Light (NEW)
It also includes an API so you can add support from your mod to this!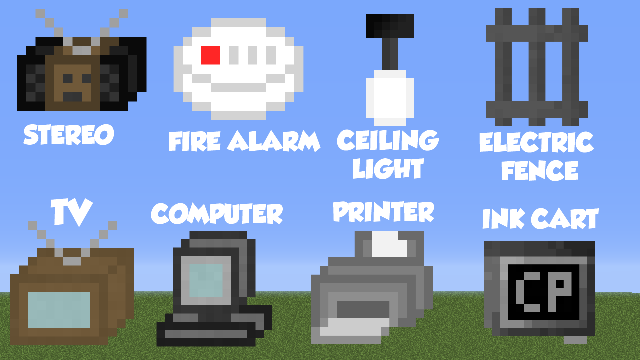 [FORGE]
[1.6.4] Furniture Mod 3.2.5 (Christmas Update) -Download

(NEW)
[FORGE]
[1.5.2] Furniture Mod 3.1 (Electronic Update) -Download

(NEW)
[FORGE]

[1.5.1] Furniture Mod 2.8.2:Download
[ModLoader][1.5.1] Furniture Mod 2.7:Download
[ModLoader][1.4.5] Furniture Mod 2.5.1:Download
[ModLoader][1.2.3] Furniture Mod 2.4:Download
[ModLoader][1.1] Furniture Mod 2.1.1:Download
API(NEW)
[FORGE][1.6.2] FurnitureAPI -Download- Make your items cook-able and freeze-able with my mod.
=============================================
Install Forge for 1.6.2 on your client by downloading the installerhere.
Download the mod above and put that in your mods folder in your .minecraft
Install Forge for 1.6.2 on your server.
Download the mod above and put that in your mods folder where you server files are located.
=============================================
(UPDATED)
RELOCATED TO THE WIKI!
http://mrcrayfishs-furniture-mod.wikia.com/wiki/Crafting_Recipes
This mod (plugin, a patch to Minecraft source, henceforth "Mod" or "The Mod"), by the terms ofhttp://www.minecraft.net/copyright.jspis sole property of the Mod author (, henceforth "Owner" or "The Owner"). By default it may only be distributed on minecraftforums.net, planetminecraft.com. It may only be mirrored or reposted with advance written permission of the Owner. Electronic Mail is fine if you wait for a response. URL shorteners or other attempts to make money off The Owner's Mod are strictly forbidden without advance written permission
Additional Details
| | |
| --- | --- |
| Progress: | |
| Game Version: | Minecraft 1.6.4 |
| Tags: | Furniture, Mod, Chairs, Chair, Table, Tables, Fridge, New Content |
| Credit: | PhasedTG, HDA Viirus, Teken |
More Mods by mr_crayfishView All
Note: Showing last 25 of 33 logs.
v3.2.5 : 11/24/2013 4:04:02 am11/24/13
+ Added Tree
+ Added Red and Green Presents
~ Improved Icons
~ You get more ceiling lights when crafted.
~ Removed debugging code.
v3.2 : 10/10/2013 11:27:42 pm10/10/13
+ Fridge, Oven, MineBay and Printer now get configuration from server instead of client.
+ Added config options to add custom recipes to Oven, Freezer and Printer.
+ Added new option to change quantity of item sold in MineBay in config.
+ Added Welcome Message (Can be disable in config)
* Fridges can now only store food.
* Various bug fixes
If you find any bugs, let me know!
: 09/24/2013 4:38:58 am9/24/13
Updated to Minecraft 1.6.4
No Changes.
v3.1.1 : 09/19/2013 3:15:57 am9/19/13
* Fixed many critical crashes
v3.1 : 09/19/2013 3:15:44 am9/19/13
+ Added Ink Cartridge recipes
* Fixed texture bugs
* Fixed crash with cabinet.
* Fixed crash with printer.
* Fixed bug with MineBay item info
v3.0 : 09/16/2013 8:46:47 am9/16/13
+ Added TV
+ Added Computer
+ Added Printer
+ Added Ink Cartridge
+ Added Fire Alarm
+ Added Stereo
+ Added Electric Fence
+ Added Ceiling Light
+ Added Hopper support for Bedside Cabinet, Cabinet, Fridge, Oven and Printer
+ New Config. Can add custom Items to computer (MineBay)
- Modified Oven Overhead, Oven, Fridge render.
- Nerfed Oven cook time. Was too OP before.
* Fixed shift click problems in most GUIs.
* Fixed Bug: Mail boxes could be accessed through hoppers even if its not yours.
*Fixed other bug fixes. I cant remember XD
v2.9.2 : 07/19/2013 2:20:16 am7/19/13
~ Fixed bedside cabinet not facing In right direction when placed.
~ Fixed texture bug when running on some furniture.
~ Stone paths can no longer be placed in the air. They also break off if no block is under them.
v2.9.1 : 07/14/2013 8:25:27 pm7/14/13
~ Fixed Bug with Freezer and Oven
~ Fixed GUI not showing up in Cabinet.
I also did some code clean up :)
v2.9 : 07/14/2013 10:23:10 am7/14/13
Updated to 1.6.2
+ Added Envelope
+ Added Package
+ Added Door Bell
+ Added Hammer
- Removed Carpets (due to 1.6 Carpets)
~ Fixed Rendering Bug
Lite Version! : 07/04/2013 7:40:32 am7/04/13
Added lite version!
- This version contains all the simple furniture. None of this oven and fridge stuff :P
1.6.1 support coming soon!
v2.8.4 : 05/06/2013 3:03:46 am5/06/13
~ Fixed version info (in mod class and mocmod.info file)Â 
v2.8.3 : 05/03/2013 10:21:33 am5/03/13
Updated to Minecraft 1.5.2
+ Added API
~ Fixed Lamp not turning off when powered by redstone
~ Fixed Curtain and Blind hit boxes
~ Fixed Curtains and Blinds not updating in SMP
v2.8.2 : 04/08/2013 3:00:21 am4/08/13
~ Fixed Carpet Break Particle
~ Fixed Server Crash on Load
~ Fixed Mail Box Render
~ Fixed Bedside Cabinet not turning redstone off if Lamp is off.
v2.8.1 : 04/07/2013 7:43:14 am4/07/13
~ Fixed Optifine Bug
~ Fixed Mail Box Drop
v2.8 (The Garden Update) : 04/06/2013 9:29:02 pm4/06/13
NEW GARDEN UPDATE!

+ Forge Supported
+ Hedges (Oak, Pine, Birch, Jungle)
+ Picket Fences
+ Stone Path
+ Bird Baths
+ Water Tap
~ Various Bug Fixes
v2.7 (BIG UPDATE) : 03/26/2013 6:46:20 am3/26/13
Updated to Minecraft 1.5
+ Added Ovens
+ Added Oven Overheads
+ Added Bedside Cabients
~ New rendering method for Couches, Cabinets, Fridges, Blinds and Curtains.
~ Mod is fully texture pack supportive!
~ Various Bug Fixes
v2.6 : 12/05/2012 4:45:31 am12/05/12
+ Updated to 1.4.5
+ Added Stone Chairs, Tables and Coffee Tables.
+ Tables now have a new render method.
+ Fridges, Freezers, Cabinet and Lamps are now texture pack compatible.
+ Lamps now require a redstone power to work.
- Sitting is removed due to a bug since 1.3.2
v2.5.2 : 07/05/2012 11:06:16 am7/05/12
Removed SetTime function from Couch. (People were complaining)
v2.5.1 : 05/27/2012 6:04:21 am5/27/12
Fixed bug with Fridge in SMP
v2.5 : 05/25/2012 1:31:40 am5/25/12
Bugs Fixes Including,
GUI fix in SMP. You can now store stuff in cabinet, chest and use freezer properly.
Couch Fix
Properties File now works!
v2.4.1 : 04/10/2012 10:35:16 am4/10/12
Updated to 1.2.5
Added properties file. (.minecraft/config/mod_FurnitureMod.cfg)
GUI's work in SMP now! (Except for freezer. You can still open, just it wont work)
v2.4.1 : 03/29/2012 5:54:42 am3/29/12
Updated to 1.2.4
Fixed Freezer Bug.
Freezer now returns bucket.
GUI's in SMP are disabled still.
v2.4 : 03/20/2012 12:49:30 am3/20/12
SSP and SMP is just one mod now!
Fixed couch bug.
v2.3 : 03/08/2012 11:40:58 pm3/08/12
You can now un-cook food with Freezer!
Block and Item ID's are now configurable! txt file located in .minecraft folder
Fixed Couch Bug
Known bugs:
Jungle texture are overriden by fridge (needs confirmation)
v2.2.1 : 03/07/2012 4:32:42 pm3/07/12
Fixed fridge bug when only breaking bottom fridge.
tracking
479606
11-furniture-mod-v10-simple-addtion
1,165079,188,3672,140820,16250,54387,2009,11149,467,21491,1422,64651,41476,153751,9670,303490,138013,110512,379343,292218,327741,574798,111554,444560,16494,14575,265688,96250,179719,214207,16575,559826,2304,8661,85626,460644,937130,156991