11-furniture-mod-v10-simple-addtion
[1.8/1.7.10/1.7.2/1.6.4] MrCrayfish's Furniture Mod v3.5.2 - MIrrors! (The 1.8 Update)
Views,

5,483

today
Downloads,

3,088

today
156991
mr_crayfish
Level 90
:
Elite Modder
Posted 1/23/12 10:31 pm , last updated: 11/20/15 2:03:42 am
1/23/2012
New Community Version coming soon! Click the picture to find out what it's about!



NOW AVAILABLE ON THE POCKET EDITION OF MINECRAFT! (CLICK PIC)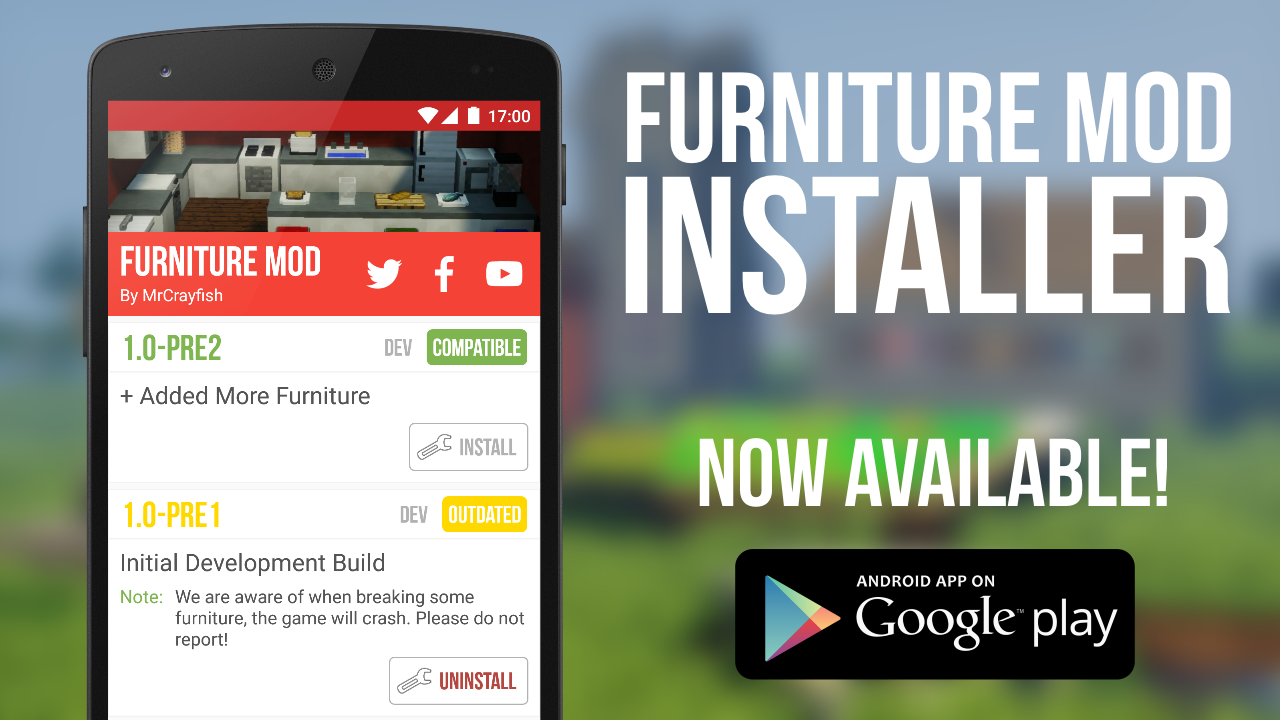 About
This mod adds in what Minecraft has been missing for years, furniture! It includes over 40 pieces of furniture to decorate your bedroom, kitchen, living room and even your garden! It doesn't take the vanilla feel away from Minecraft as it would be coded in the same way as Mojang would do it. So if you are into decorating, I strongly recommend this mod to you!

Video:

QnrTu6Yc2MQ
Modpack Information
I've had so many personal messages sent to me asking for modpack permission and I thought its time to settle this and create a section in my forum post with the rules.
If you want to release your modpack (with this mod included) to the public, you must:
1. Link back to this forum post.
2. Not make money off it without permission.
If you are creating a private modpack, you do not need permission. As long as mod pack download link is not available to the public. If it is, it falls under the rules above. 
Legal Stuffs
This mod (plugin, a patch to Minecraft source, henceforth 'Mod' or 'The Mod'), by the terms of http://www.minecraft.net/copyright.jsp is sole property of the Mod author (, henceforth 'Owner' or 'The Owner'). By default it may only be distributed on minecraftforums.net, planetminecraft.com. It may only be mirrored or reposted with advance written permission of the Owner. Electronic Mail is fine if you wait for a response. URL shorteners or other attempts to make money off The Owner's Mod are strictly forbidden without advance written permission.
| | |
| --- | --- |
| Progress: | 95% Complete |
| Game Version: | Minecraft 1.8 |
| Tags: | Furniture, Mod, Chairs, Chair, Table, Tables, Fridge, New Content |
| Credit: | PhasedTG, HDA Viirus, Teken |
Note: Showing last 25 of 63 logs.
v3.5.2 : 11/20/2015 2:03:42 am11/20/15
* Fixed crash with Dishwasher and printer GUI
## WANTED ##
Translators to update language files. New blocks and items have been
added. Please submit pull requests on 
GitHub
v3.5.1 : 11/09/2015 10:07:56 am11/09/15
+ Improved Login Message
* (Hopefully) Fixed a render issue with mirror
* Fixed chopping board,  microwave, and washing machine not rendering item.
- Removed debugging code
## WANTED ##
Translators to update language files. New blocks and items have been
added. Please submit pull requests on 
GitHub
v3.5 (The 1.8 Update) : 11/04/2015 11:21:40 pm11/04/15


Change Log:
+ Added Mirror
+ Added Dark Oak and Acacia Hedge types
+ Added Comparator output for; Basin, Bath, Blender, Chair, Chopping
Board, Cookie Jar, Dishwasher, Freezer, Fridge, Mailbox, Microwave,
Oven, Printer, Stereo, Toilet, and Washing Machine.
+ Freezer and Oven have a brand new GUI!
+ You can now hang ornaments on the Christmas Tree!
+ Added various mouse over inforamtion in GUIs. (Tells you stuff like
progress, ice levels, etc).
+ TV channels have changed, and now include sounds. This can be
overridden with a Resource Pack.
+ Ceiling light now has modes; Right Click Mode and Redstone Mode.
+ Lamps can now be stacked to create tall lamps.
+ Added every possible colour for presents, not just green and red.
+ RecipeAPI has been updated. More easier for developers to understand.
+ Particles are now produced when the oven is cooking.
+ Some blocks can now be locked if you are using MrCrayfish's Key Mod.
The blocks that can be locked are; Bedside Cabinet, Cabinet, Kitchen
Cabinet, Dishwasher, Freezer, Fridge, Microwave, Oven, Printer, Wall
Cabinet, and Washing Machine.
+ Most functional blocks can be used with hoppers for automation.
+ Added Easter Egg

~ Reduced Electric Fence damage.
~ Present GUI has slightly changed.
~ Printer progress has been switched with ink remaining in the GUI.
~ Stone path now uses Minecraft's random system. (Looks better IMO)
~ Minor lang file changes

* Fixed bug with bedside cabinet redstone output
* Fixed achievements not saving.
* Fixed bug where presents could be extracted with hoppers

## WANTED ##
Translators to update language files. New blocks and items have been
added. Please submit pull requests on GitHub
1.8 Update Teaser : 09/20/2015 10:37:45 am9/20/15
Hey guys!
So it's been a long journey, but the full update for 1.8 will be coming out really soon. If you are unaware, I post progress videos on YouTube channel. So before any updates are released, you can find out what is going to be in them. Today I'd like to share the latest video I have post, which goes over some new features. I hope you enjoy!
Also, I'd like to thank you all for getting my mod to be first EVER mod to reach 1,000,000 downloads. It means a lot, and I never expect to get here when I first started creating this mod. Thank you all.
b0QHfh5fAa4
v3.4.8 (1.7.10) : 08/04/2015 8:11:09 am8/04/15
So I said in the last update that I would be posting an update for 1.7.10. This fixes a major exploit, and if you are a server owner, I definitely suggest you upgrade to this version. I've also added a secret feature, can you found out what it is?

Change Log:
+ Added secret feature
* Fixed exploit

'+' = Addition
'-' = Removed
'~' = Modification
'*' = Bug Fix
v3.4.8 (for 1.8, 1.7.10 version coming soon) : 07/11/2015 10:20:07 am7/11/15
Note:
The 1.8 version is a development build and might contain bugs, use at own risk.
+ Added all present types
+ Added more missing furniture
* Fixed bugs
* Fixed exploit
utT53c8qgqo
Open Source! : 12/18/2014 8:01:16 am12/18/14
I've finally put the source code to the mod on GitHub. You can find the source code
here
. Feel free to submit pull requests.
1.8 Development Build : 12/13/2014 9:20:18 pm12/13/14
Hey guys!
I have added a new 1.8 development build, which you can test out. It adds in the majority of features but not all. Report only crashes. Do not say "The <insert furniture> function doesn't work", it is most likely not completely added. Also please ignore the missing models errors on start up. That is beacuse I haven't added all models yet.
http://www.mrcrayfish.com/furniture.php?p=3
Enjoy!
v3.4.7 : 12/12/2014 12:15:26 am12/12/14
* Fixed mailbox bug where if your world is reloaded you couldn't access your mail box even though you own it.

'+' = Addition
'-' = Removed
'~' = Modification
'*' = Bug Fix
v3.4.6 : 12/09/2014 6:12:52 am12/09/14
+ Added way to have spaces in drink names for Blender when configuring custom drinks in config. Use an underscore.
+ Added ability to format drink names. Eg &4Chilli_&cDrink
~ Change variable payment-item-metadata to payment-metadata
* Fixed crash in recipe book when looking at blender recipes on server
* Fixed Blender not showing animation when used on server.
* Fixed presents display name when wrapped
* Fixed drink names removing spaces on servers
* Fixed Recipe Book displaying chopping board recipes wrong if there were more than 8
* Fixed Microwave render

'+' = Addition
'-' = Removed
'~' = Modification
'*' = Bug Fix
v3.4.5 : 12/07/2014 9:06:53 pm12/07/14
+ Added way to turn off RecipeAPI debug messages (use config)
+ Added Danish, Norwegian and Swedish Translations (Thanks to @niko111199 on Twitter)
~ Knifes can now be used as a weapon. They will take durability when hitting mobs. They also take durability when chopping up food.
~ Knifes are now stone and use a stone block instead of iron ingot for crafting recipe. This solves a crafting confliction with Chisel Mod.
* Fixed bug where blender recipe ingredient would be limited to only one if registered from another mod
* Fixed Toaster and Blender not syncing correctly
* Fixed colour variable using 'rbg' instead of 'rgb'
* Fixed crash when people would join server

'+' = Addition
'-' = Removed
'~' = Modification
'*' = Bug Fix
v3.4.4 : 12/02/2014 9:19:42 pm12/02/14
* Fixed Recipe Sync Error

'+' = Addition
'-' = Removed
'~' = Modification
'*' = Bug Fix
v3.4.3 : 12/02/2014 9:19:15 pm12/02/14
+ Added comments to config
~ Knifes only stack to 1
* Fixed bug where you couldn't use blocks on chopping board
* Fixed recipe sync issue with dishwasher and washing machine
* Fixed server sending recipes to client two times

'+' = Addition
'-' = Removed
'~' = Modification
'*' = Bug Fix
v3.4.2 : 12/01/2014 7:09:47 am12/01/14
* Fixed iron tools not being registered for the dishwasher
* Fixed config (Wasn't saving, therefore couldn't change settings)
* Fixed Printer not copying items
* Fixed Shower not removing fire from player
* Fixed plates not holding metadata
* Fixed dishwasher only repairing the first 4 slots. It now repairs all 6.

'+' = Addition
'-' = Removed
'~' = Modification
'*' = Bug Fix
v3.4.1 : 11/29/2014 6:09:49 pm11/29/14
* Fixed NullPointerException with Blender
* Fixed OutOfBoundsException with Washing Machine

'+' = Addition
'-' = Removed
'~' = Modification
'*' = Bug Fix
v3.4 (The Kitchen Update) : 11/29/2014 7:35:42 am11/29/14
+ Added Kitchen Counters (Normal and Sink), Kitchen Cabinet, Dishwasher, Washing Machine, Blender, Toaster, Cookie Jar, Microwave, Chopping Board (includes knife), Bar Stool (Can dye)
+ Added Plate and Cup
+ Added Soap, Soapy Water and Super Soapy Water (Used for Dishwasher and Washing Machine)
+ Added new foods! Bread Slice, Toast...
+ Added Recipe Book. (to discover recipes registered in the RecipeAPI)
+ Updated Mailboxes to use UUID. Mailboxes now to need to be claimed after placing. This method works better than before and should hopefully resolve the void mailbox bug people were having.
~ Changed how couches work. There is only one couch now but you can dye it any colour!
~ Redesigned the MineBay GUI
~ Retextured the table rander
~ Modified the cabinet render.
* Fixed Achievement Bug
- Removed Donaters Features. I'm redesigning how this will work :P

'+' = Addition
'-' = Removed
'~' = Modification
'*' = Bug Fix
The Kitchen Update is imminent! : 11/28/2014 8:06:23 pm11/28/14
1.8 Development Build! : 11/16/2014 10:37:08 am11/16/14
Website is back up! : 10/15/2014 7:55:17 pm10/15/14
Hello, it's MrCrayfish again.
My website is back up now and you can downlaod the mod as you normally would. Thank you for your patience. For the people that read these logs, here is a sneak peak of the next
update
.
Website is down! : 10/10/2014 11:26:22 pm10/10/14
Hello, it's MrCrayfish!
My website has decided to go down temporarily, which holds all the downloads links for my mods. Not to worry, I have put mirror links on the main page.
You can only download for 1.7.2 or 1.7.10 at the moment.
Please understand! My website will be back up shortly to resume normal downloads.
Thank you <3
v3.3.5 (1.7.10/1.7.2) : 08/13/2014 9:06:10 pm8/13/14
+ Added support for Waila
~ Sounds have been converted to Mono. I was notified that it was a problem figuring out the direction of the fire alarm.
~ Changed cooked flesh icon
* Fixed Achievements
* Fixed Oven shift click crash
* Fixed Bedside Cabinet crash
* Fixed bug where you could fart on any sittable block.

'+' = Addition
'-' = Removed
'~' = Modification
'*' = Bug Fix
v3.3.4 (1.6.4) : 07/03/2014 5:40:44 am7/03/14
~ Sounds have been converted to Mono. I was notified that it was a problem figuring out the direction of the fire alarm.
~ Forget to add custom item sprites for achievements. Its now added.
* Fixed Oven shift click crash
* Fixed white sky with Waila Mod

'+' = Addition
'-' = Removed
'~' = Modification
'*' = Bug Fix
v3.3.3 (1.6.4) : 06/16/2014 4:35:51 am6/16/14
* Fixed server crash

'+' = Addition
'-' = Removed
'~' = Modification
'*' = Bug Fix
v3.3.2 : 06/13/2014 12:30:38 pm6/13/14
+ You can now take water out of basin and bath with glass bottle.
* Fixed Bird Bath Icon
* Fixed server crash when breakign fridge in MCPC (Cauldron)
* Fixed server crash when using the shower head.
* Fixed shift click crash in Oven
* Fixed mail box overriding items.
* Fixed presents not saving items
* Fixed canUpdate performace message for MCPE (Cauldron)
* Fixed problem with mod.info file.
- Removed animation block from creative gui.
- Removed System.out debugging.

'+' = Addition
'-' = Removed
'~' = Modification
'*' = Bug Fix
v3.3.1 : 06/13/2014 12:30:07 pm6/13/14
* Fixed Shower and Bath not breaking correctly
* Fixed crash on server startup because of KeyBinding
* Fixed shower crash when looking at it.
* Fixed bug where Shower would override above block

'+' = Addition
'-' = Removed
'~' = Modification
'*' = Bug Fix
tracking
479606
11-furniture-mod-v10-simple-addtion
1,165079,188,3672,842002,329,2009,467,140820,64651,41476,303490,110512,379343,180654,574798,111554,16494,221182,14575,265688,96250,214207,16575,559826,8661,85626,460644,356071,290694,895971,1030646,336698,1489237,1477538,476982,156991