Published
Apr 3rd, 2013
, 4/3/13 11:02 pm
9,339

views,

1

today

985

downloads,

0

today
th0mas_87
Level 40
:
Master Modder
---
This mod adds stack-able o slabs to the game! :D
There is a corresponding o slab for almost every full block (not partial blocks like slabs) in the game excluding bedrock, furnaces, pistons, dispensers, and droppers.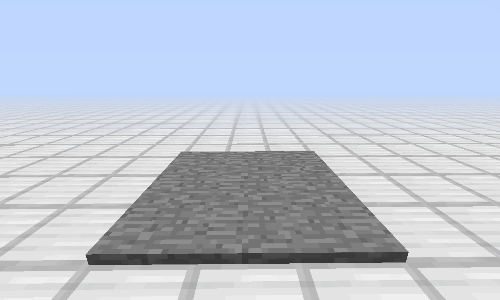 Each o slab is stack-able, and when the 8th o slab is placed, the corresponding block replaces it.
To break an o slab, the tool required to break the corresponding full block must be used. Example: Iron Pick is required to break a slab of Iron Ore
When a slab is broken, the number of o slabs that make up this slab will be dropped.
The crafting recipe for any eight o slabs is as follows:
You can replace the Block of Iron with a block of your choice to create o slabs of that type. However, the axe MUST be iron. The recipe is shapeless so you can place the iron axe and block of choice anywhere within the crafting grid.
Finally, o slabs inherit features of their corresponding full block. For example, o slabs of Redstone Blocks give off power, o slabs of Sould Sand slow down the player, etc.
Note, the lighting is very glitchy and not very good if you do not have smooth lighting turned on. To turn on smooth lighting:
2. Select the Video Settings option in the Pause GUI
3. Turn the Smooth Lighting option onto Maximum
---
Check out THE_BERK, the regular mod reviewer for me, and his awesome YouTube Channel :D
Also, check out his awesome Tri-Pyramid Survival Games Map:-)
---
Finally, please go check out my friends' skins here and here. They're just starting up so they could do with some views and downloads xD
Remember,

Diamond

if you like it!
Comments are appreciated too :D
And, finally, Subscribe for more!
| | |
| --- | --- |
| Credit | cooltext.com - Cool Text Images, imgflip.com - GIF Images, postimg.org - Image Hosting |
| Progress | 100% complete |
| Game Version | Minecraft 1.5 |
| Tags | |
tools/tracking
1860193
7
151-slab-mod-modloader