trio-gems-mod-reborn-125--scmowns
[1.2.5] Trio Gems Mod -Revived- V2.0 [SSP] Working On SMP! 100+ Items! New Armor! Grenades!
Views,

4

today
Downloads,

1

today
139068
SCMowns
Level 63
:
High Grandmaster Wolf
Posted on
5/21/2012
: 5/21/12 10:54 pm , last updated: 07/06/12 4:53:02 pm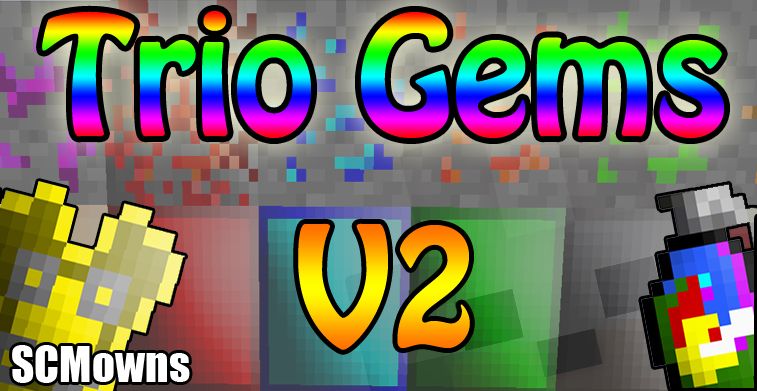 Trio Gems mod was a really fun SSP and SMP mod for Minecarft 1.7.3. The Mod hasn't received any updates since it was first posted, and the Mod creator is inactive. Months ago i send a message asking for permission to update his Mod, without the source code. I haven't got a reply but instead i just gave it a shot and started from scratch and created the Trio Gem Mod. There are many updates to come, making the trio gems stronger, and making this mod SMP supported. I appreciate all your feedback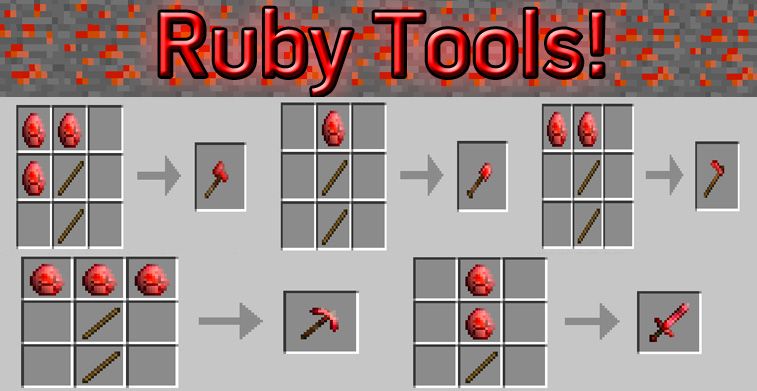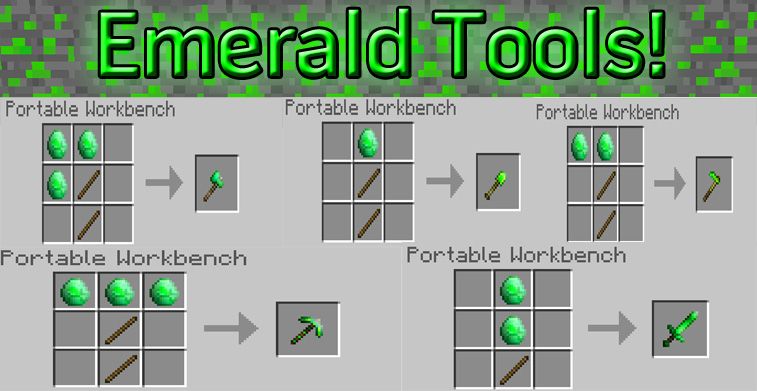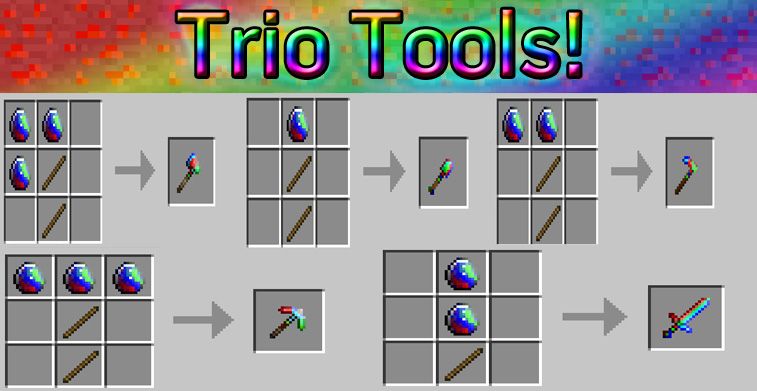 ( More Crafting Pictures Soon! )
( Each Update will change the properties of each gem / tool / armor )
There are 13 different Gems:
Stronger then gold, Little less durability then the Diamond, Generates in the world like Iron

Equivalent as the Ruby, But has a bit more durability. But isn't as strong as the Ruby.

Stronger then Diamond, Ruby and Sapphire. Durability is higher then diamond, and mines .3 seconds faster then Diamond. Emerald ore generates in the world like diamond ( hard to find )

Trio Gem: (Crafted using Ruby, Sapphire, and Emerald )
Has 2x more durability then the Emerald.

(more pictures soon)
( can be placed in any order )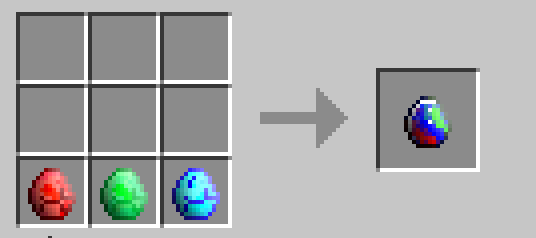 Trio Gems Mod V2.0 for Minecraft 1.2.5: (SSP)
**REQUIRES!!!**
Modloader 1.2.5
*SMP coming soon!*
-Old Downloads-
1. Locate your ".minecarft" folder ( Run > %appdata% > ".minecarft" )
2. Once in your ".minecraft" folder locate your minecraft.jar ( .minecraft > bin > minecraft.jar )
3. Open the Minecraft.jar with Winrar or any 7zip opener.
4. DELETE META-INF
5. Drag and drop Modloader 1.2.5
6. Drag and drop the files in the "SCMowns" folder into your minecraft.jar
7. Done, Close everything and Enjoy!
Copyright Information:
TERMS AND CONDITIONS
0. USED TERMS
MOD - modification, plugin, a piece of software that interfaces with the Minecraft client to extend, add, change or remove original capabilities.
MOJANG - Mojang AB
OWNER -
, Original author(s) of the MOD. Under the copyright terms accepted when purchasing Minecraft (
http://www.minecraft.net/copyright.jsp
) the OWNER has full rights over their MOD despite use of MOJANG code.
USER - End user of the mod, person installing the mod.
1. LIABILITY
THIS MOD IS PROVIDED 'AS IS' WITH NO WARRANTIES, IMPLIED OR OTHERWISE. THE OWNER OF THIS MOD TAKES NO RESPONSIBILITY FOR ANY DAMAGES INCURRED FROM THE USE OF THIS MOD. THIS MOD ALTERS FUNDAMENTAL PARTS OF THE MINECRAFT GAME, PARTS OF MINECRAFT MAY NOT WORK WITH THIS MOD INSTALLED. ALL DAMAGES CAUSED FROM THE USE OR MISUSE OF THIS MOD FALL ON THE USER.
2. USE
Use of this MOD to be installed, manually or automatically, is given to the USER without restriction.
3. REDISTRIBUTION
This MOD may only be distributed where uploaded, mirrored, or otherwise linked to by the OWNER solely. All mirrors of this mod must have advance written permission from the OWNER. ANY attempts to make money off of this MOD (selling, selling modified versions, adfly, sharecash, etc.) are STRICTLY FORBIDDEN, and the OWNER may claim damages or take other action to rectify the situation.
4. DERIVATIVE WORKS/MODIFICATION
This mod is provided freely and may be decompiled and modified for private use, either with a decompiler or a bytecode editor. Public distribution of modified versions of this MOD require advance written permission of the OWNER and may be subject to certain terms.
Support and Thanks!
thank you for
checking
out this mod! your comments and suggestions are much appreciated! There will be future updates to come! Adding in more ores, more tools and best of all SMP support! I will even try to make it Bukkit compatible!
Future Plans:
- SMP Support
o - Different material Golems
- Bukkit Support
- Special Effects / Element Swords

Trio Gem Mod by SCMowns and
SlyFoxPuppy
is licensed under a Creative Commons Attribution-NonCommercial-NoDerivs 3.0 Unported License
Only Minecraftforum.net is able to host any of my material without my consent.
It may not be placed on any web site or otherwise distributed publicly without advance permission.
This mod isn't open source.
Thank you for the Diamond!
Credit:
SCMowns SlyFoxPuppy
Progress:
80% Complete
Game Version:
Minecraft 1.2.5
Version 2 : 07/06/2012 4:53:02 pm7/06/12
- Adds in 13 New Gems
- 12-13 New Ores
- 1 New Mob "Oyster"
- 13 New Tool Sets
- 4 New Grenades
- 4 Trio Gems Total
- 13 Sets of Armor
- Many Bugs Fixed
- Solid Blocks
- Works with Too Many Items
- Fixed Ore Generating in Overworld
- New Ore in Nether
5/25 : 05/25/2012 3:47:26 pm5/25/12
Version One Works with Too Many Items
tracking
916240
trio-gems-mod-reborn-125--scmowns
1,165079,329,3672,559826,842002,140820,64651,214207,460644,356071,290694,895971,1030646,15493,171513,336698,476982,817406,526780,139068