urecord--add-your-own-music-into-minecraft
Views,

2

today
Downloads,

0

today
168208
Posted on
11/17/2011
: 11/17/11 8:14 pm
Have You ever wanted your favorite song added into Minecraft? Well that dream is about to come true! With this Mod, you can add any Music file into the game.
I STRONGLY SUGGEST WATCHING THE VIDEO IF YOU WANT TO KNOW HOW TO CONVERT SONGS INTO
.OGG FILES AND INSTALL THE MOD CORRECTLY, BECAUSE IT IS VERY COMPLEX. BUT, HERES WRITTEN CONSTRUCTIONS SO I CAN SHOW YOU WHAT I MEAN.


To do this, you will need a program called Arial CD Ripper.
Download it here:
www.xrlly.com/cd-ripper.htm
I also cover how to use this tool inside the video.
1. Convert your audio files to .ogg vorbis files.
2. Navigate to .minecraft>resources>mod>streaming
3. Name your audio file to what matches an available record. (See Below)*
4. Drag and Drop (or Copy and Paste) your audio file to the location in step 2.
5. Start Minecraft. If you have an error, submit it on the forum.
* You MUST name your audio file the EXACT same as one of the following:
- Blue Record
- Light Blue Record
- Lime Record
- Pink Record
- Red Record
- Orange Record
- Brown Record
- Purple Record
Exclude the hyphen (-) from the name. Your file must match case and spacing as well.
Pictures:
Crafting: (Also shown in Video)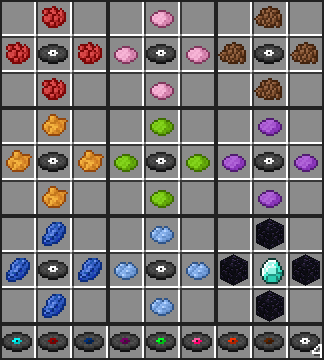 1. Install Risugami's ModLoader AND AudioMod (Check his page for rntutorial.)
2. Drag the files from "Add to minecraft.jar" into rnminecraft.jar. If you are unaware how to get there, you probably shouldn't be rninstalling this mod.
3. Drag and drop the contents of "Add to resources" rninto the resources folder. If it asks to merge, click yes to all. Don't worry. rnThis won't affect any other mods you have.
4. You should see a text file rnentitled "How to add music" inside resources>mod>streaming. Open that to rnlearn how to add music.
Note: If you choose not to add music at this rnmoment, the game will not crash. However, if you try to play one of the records rnin my mod, you will not hear any music.

Credits:
Byus, who had the idea of the mod. I helped very little but i supplied him with the video and more clear intructions.

Progress:
100% Complete
Game Version:
Minecraft 1.8 beta
tracking
340902
urecord--add-your-own-music-into-minecraft
1,165079,329,3672,559826,842002,140820,64651,214207,460644,625964,356071,290694,895971,1030646,15493,171513,336698,476982,98449,817406,1293715,526780,168208