Updated on Mar 5th, 3/5/22 6:33 am |
62 logs
Published
Apr 29th, 2016
, 4/29/16 11:06 am
66,964

views,

85

today

2,496

downloads,

12

today
Adventquest
Level 63
:
High Grandmaster Artist
---
---
---
---
---
---
---
---
---
---
Minecraft's RPG Adventure Map even wider than the previous one.
Based on an original idea of

Thunderstruck

and

Piccomaster

.
Project's beginning

:
22 Avril 2015


Release date planned :
December 16,

2

020

RULES

:
- The map is compatible only with version 1.18.2 of Minecraft.
- Install and activate the resource pack "Across The Time II - Resource Pack 1.18.zip" before starting to play.
- Stay in Adventure gamemode.
- Render Distance (Chunk vision) Minimum : 10

- Solo playable but possibility of cooperative play: 1 to 3 players advised, Maximum 5 players.
- Always keep the same Minecraft nickname with which you started to play the map.
- The "OptiFine" mod is recommended for playing "Across The Time 2":
1. Download (in 1.18.2): optifine.net/downloads
2. Go to your download folder and open the downloaded file.
3. Click on "Install".
- Solo playable but possibility of cooperative play: 1 to 3 players advised, Maximum 5 players.
MULTI

:
- You have to install a server. To do this, many tutorials are available on the internet like this: minecraft.gamepedia.com/Tutorials/Setting_up_a_server
- You must assign yourself the administration of the server by writing this command in the server terminal: /op [​playername]
- Do not use plugins with "Spigot", "Bukkit" etc...
- Enable the command block.




IMPORTANT

!
If there is a crash problem when launching Minecraft or freeze when playing the map, you have to allocate enough RAM to your Minecraft game.


- Recommanded required (1 player): 4Go.




- Recommanded required (3 players): 5Go.


- Recommanded required (5 players): 6Go.


To increase RAM:
1. Launch the « Minecraft » launcher and go to the « Configurations » tab.
2. Select the profile on which you want to increase the RAM allocated to Minecraft.
3. Click on « More options » located at the bottom right of the screen.
4. Change the text in the JVM ARGUMENTS section « -Xmx2G » to « -Xmx4G », so you will increase the allocated RAM from 2Go to 4Go.
5. Click on « Save ».
---
---
A large

RPG Map/PVE,

semi-open Solo or Multi (max 5 players).

Over

30 hours

of game time for the main storyline.

A

long main quest

with an original story.

Many

cutscenes

throughout the adventure.

A

wide world

with varied biomes and unusual realm in diverse dimensions.


Magic spell

consuming

Dahäl

can scale on

10 levels

, each based on your improvement and your frequency of using them.

Many

secondary quests

to complete, and an elaborate quest tracking system.


GPS system

pointing the player in the right direction of the chosen quest goal.


Cities and villages

spread across the worlds and inhabited by

many NPCs

with whom you will have to interact with.

A

Role Play

always more entertaining thanks to a

reputation system

according to the responses and actions provided during your adventure.

Hundreds of

achievements

to complete, and panoramas to discover for the intrepid travelers.


Many items

(

Common

,

Uncommon

,

rare

,

Epic

, Legendary,

Mythical

)

to collect.



A

resource pack

adapted to the gameplay, with

customized items

(keys, artifacts, books), new types of weapons (Maces, Knives) and new sounds.

The

original musics

composed entirely for the game.


3 Level difficulties

(

Apprentice

,

Veteran

,

Master

) with a balanced death penalty system.

Evolution of the player by level "

Rising

" by gaining experience (

Hearts

/

Dahäl

/

Skills

).


Skills

to unlock (

Strength, Resistance, Haste etc...

).


Evolutionary and scalable system

of the enemies

depending on

the level of player.

Many battles against thousands of

Monsters, Elites and Boss

.


Riddles, puzzles and jumping

test and event will spice your quest up.

A

checkpoint system

if you die and

Waypoint

to travel more easily.

Thousands of

chests, boxes and secrets

to discover.

A highly developed economy with its own currency «

Chronotons

» and a secondary one, very rare :«

Ecaille Souveraine du Chaos

».


Many shops

(Food, Weapons, Armors, Potions...).


Weapons or armor recycling

easily convertible in

Chronotons

.


A bank

to deposit your

Chronotons

.

An

anti-cheat system

to drastically reduce the player' cheat cravings and to ensure the good functioning of the systems and adventure map during this long journey.




Across The Time 2 data, it's about :




+ 12.000.000

m²

(total area of the map, all dimensions)

,


+ 55,000

Words of dialogue


+ 20,000

Functions


+ 5,000

Mobspawner


+ 3,500

Chests


+ 750

Exploits


+ 500

Scoreboards


+ 400

Unique items


+ 350

Checkpoints


+ 350

Customized Sounds


+ 300

Quest Objectives


+ 150

NPCs


+ 50

Normal Levels


+ 300

Master Levels


+ 50

Side Quests


+ 30

Bosses


+ 25

Spells


+ 20

Original Music




---
Since the events of Across The Time, you have managed to return to your era and a few years have passed. The hero you embodied has resumed to his old habits in the city where he lives: Hill Valley. This town, following the disruptions of the magical source, was able to partly transform it and so, use it as an energy source.

But in this new peaceful life, evil resurfaced. It eats you away since you drank the source of corruption in the Kingdom of Angband in the old days.


This all besides the fact that your heroic acts are completely forgotten in the modern time in which you live, and your new daily habits are driving you completely embittered.
You gradually start losing the control of your mind; nothing seems to have control over this mystical power of the ancient source of corruption.
The person who was the hero of the 7 Worlds seems to have faded and sank into a hellish vortex. You start killing innocents…


This is when a mysterious being appears; the only name that he will give to you is a letter… « S ». A new reason to fight will arise from the threat of this evil energy. 
 »S » will entrust you with a task, a mission in which you will have to wipe out the heroic life you have spent in Ëarndhel and question the people who helped you in the past.
But this new quest might give you the opportunity of making a name in a new world of the past of Tellurön.


You will have to travel the land of Silberländ in order to get rid of the evil in your mind.
This mission, far less heroic from the one you had to save the 7 worlds can seem much less epic as well. This task won't be easy and many things will be revealed about you.
You will travel from one region to another, from towns to villages and also through new dimensions. You will not only learn more about yourself but also about the history of the seven kingdoms. Many more surprises to come…


The hero that you were must avoid chaos and oblivion; you were not the chosen one from the 7 World for no reason after all …
Control the magic of the old days « Dahäl » by learning more spells; master the numerous weapons and armors; help the people of Silberländ; collect you own fortune with the local currency « Chronoton » and climb the levels to become even more powerful.
A new epic adventure awaits you in « Across The Time II – Time for Regrets ».
---
Across The Time 2 is just like the previous one : a RPG Adventure style map PVE with a multiplayer mode: from 1 to 5 players.
You will need to complete a very long journey through a main quest, across a huge semi-open world.
Many quests and challenges await you on the road as well as a lot of battles against monsters.
As in any other RPG you will be allowed to choose your skill and select your answers on some dialogue. In order to improve your abilities and evolve, you will have an evolution system based on your level and a highly developed economy to help you progress.

Also hundreds of items (partly customized by texture pack) are included in the map. They can be available in shops or to collect in the monsters' loots you kill.
A magic system of leveling and power was created for the map, and many things, which will be introduced later on.


Your path will be full of pitfalls and the monsters you meet will always be more powerful than the previous. Normal Mobs like the elites will have a level system according to the player's power. Like that, improvement and progression will sound even more attractive.
Many customized bosses will stand in your way. You will have to fight using all your strength … but also cunning, to beat them.
In open areas, monsters will reappear to enable the players to farm and increase their power.
To fight these dark forces, you can use multiple fighting styles: Distance (Arc), CAC (Sword, Axe, Mace…) and Magic (out of attack or assistance).

The power of monsters relative to the player's level will be indicated by a symbol above the monster's head.

The player will have the ability to increase the power thanks to the experience, chests or quest rewards.
A leveling system appears in Across the Time 2 called "

Rising

". It will allow to define the power of the player compared to the monsters.

Each of these levels you'll win:
-

Additional Hearts

,
-

Dahäl max

,
-

Skill points

.


Sharing of Heart and Dahäl will be done automatically but Skill Points may be spent in different categories at the Weapon Master.




The maximum level that can be reached by the player is set to "

50

".
But we have not neglected the end-game because after this maximum level, additional ranks called "

MASTER

" can still be won.
So the player can continue to evolve and increase in power even after completing the main quest.

During your adventure, you must travel through a very large area, and you will also meet many NPCs.
Besides your long main quest you will have access to additional content to improve your experience. Through side quests you can discover plenty of other areas and awards.
Nevertheless, you can rest assured: monitoring book quests will help you to exactly where you need to go to your main quest and so know where you are in the other side missions, all in a single click.
You will need just to press an icon and each of the quests will be specified in a list in the chat. Then, you will be able to know what the hero must done, what he has completed and what he must be found by clicking on the name of the quest.
Screenshot below to illustrate this system.

Curiosity will be rewarded, don't be afraid to adventure… many surprises await you!




The GPS system is a system very effective. It's work on the principle of triangulations coordinates. Here we serve only a plan in 2 Dimensions (X, Z), it's all that matters because if the player is lost will know the azimut and find the goal he seeks. The height will no longer be a problem after.

The choice of the objective (primary or secondary) will therefore be possible thanks to the help book quests. It will be enough so that the lost player activates the system by a simple click in this help book quest he will then choose in the chat. An arrow will appear directly above his head indicating the precise direction view of the goal. In order to evaluate the distance between the player and the objective, the arrows will have 8 different colours. The red will mean that the player is still far from the goal, then when he comes near it will turn to orange, then yellow to finish by shades of green.


In order to increase your will of traveling to faraway places, the Exploits system resurfaced.
On top of side quests, you will have challenges to achieve along the adventure; you will earn XP and money as you complete them.

During your adventure in Across The Time 2 you will be accompanied by more than secondary objectives whose display is directly linked to the game in the menu.
This will allow you not only to have extra rewards but also to be able to follow your progress of the story very easily, and for those who aim to complete everything and unlock secrets they will have the availability to complete many groups of advancements (adventure, travel , history, fights, etc...).


In addition a new system of Exploit was realized: the Panorama. You can be an explorer and discover all the places and beautiful views of the area.
Through the side quests you will talk to people, conversations during which you will have several choices to make.
Those choices will have an influence on the reactions and the awards you can get. A reputation's counter will constantly calculate: if you do good you will be rewarded in a very distinctive way than is you do absolute evil around you.
The gameplay will be greatly diversified according the choices that the player will make in his evolution.
As in any RPG, the player will evolve by cap of level, and in Across The Time 2 the player will gain points of skills that can be spent in several attributs as you can see in the following picture :
– «

STR

» Physical strength and the damage he will do with the hand weapons and arcs.
– «

RES

» The resistance to the physical damage of enemies.
– «

HAS

» The strike rate of CaC weapons and not ranged weapons.
– «

SPD

» The movement speed.
– «

HER

» Health generation.
–

« DAR »

The rate of Dahäl regeneration points.
– «

LUC

» The ability to find rarer magic items.
– «

HUN

» The saturation of the player's hunger bar.

Obviously this won't be free, in order to unlock abilities you will hate to spend your experience points.


The player can choose different difficulties: "

Apprentice

", "

Veteran

", "

Master

".

In order to stop the player from foolishly running into traps or in a room full of monsters, it will always be sanctioned by a death penalty. But although this penalty is adjustable according to the difficulty, a checkpoint system will always save the last position.



The price of death will be calculated by a percentage of Chronotons according to the chosen difficulty. If you play in a great difficulty you may lose experience.
If you die, your body will reappear on the last checkpoint you checked. You must not forget to validate them since most of them won't be automatic.
Although horses will be available, Waypoints will be very useful to get from one point to another in an instant.
They will be available in each strategic region of the map. In order to use them you will have to find them first and unlock their ability to teleport.


In the kingdom of Sylberländ you will find multitude of items of all kinds and especially some to kit you out to fight evil :


Weapons

(swords, knives, maces, axes)

Armor

of all materials (leather, gold, iron, diamonds) and

shield

.
Different classes of items will also be available: some in abundance and some other on very rare occasions.


Common (Items with malus)


Quests (Items for quests)
Uncommon (Items with bonus)

Rare (Items with enchant and bonus)
Epic (

Items

Powerful items)
Legendary
(Items very powerful)
Mythical (Customize items with unique effects)
Some items will be customized thanks to the textures pack, for example the Epic currency «

Ecaille Souveraine du Chaos

»
.


In addition to the enderchest, we created a system of portable-chest like bags that you can summon whenever you like (for example in a dungeon) thanks to the Dahäl.
Magic spell is based on the incantations with books which is practical thanks
to the Dahäl incantation's tool.
This new item makes it easier to cast the spell, as you can see on the video.

Each spell will be available in Magic Book and may improve according to how many times you used them.
At the beginning the spells that were not used yet will not have much impact, but gradually as the player uses a magic spell, its power will increase. Moreover some spells will see their visual effect change as they evolve.
When a spell passes a level you will need to check it at the Master of Dahäl's place.


There are

10 levels

by spell book, and there will be more than

25 spells

in Across The Time 2.



---
Always important in an RPG-like game is the economy and in particular the currency, here still called « Chronoton » as in Across The Time first named.
It will be used mainly to buy many items in stores that will serve you in your adventure.
Monsters will drop some coins whose number will vary according to their difficulty, and you will have to complete missions or sell the loot from a specialist dealer to gain Chronotons
.

But although Chronotons will be useful, it will not neglect another currency that reappeared in Across The Time 2 « Ecailles Souveraines du Chaos » (or in english «

Scale the Sovereign Chaos

»). This currency is a very rare and legendary item, you can purchase powerful epic items in a store planned for this purpose.



During your journey you will find several towns populated by NPCs including traders who are willing to do business with you.
Each of the towns or villages will have all kinds of shops who you can buy various items with your Chronotons :
– Blacksmith
(weapons and armor)

– Grocery
(various Food)

– Alchemist
(Potion)

– Enchantress
(Clothes of Dahäl)

– Woodcutter
(coal)

– Stable
(Horses)

– Clandestine Market
(Sovereign Object)

– Master of Dahäl
(Books of Spells)
You can also spend some Chronotons to the hostel from the main town to rest and recover quickly all your life.


A bank will be set up in several cities in order
to protect your money in case of death. Indeed when you die you lose a percentage of Chronotons you have on you.
Deposit your money in the bank and during your adventure you will protect your gains.
---


A very satisfying way to immerse yourself in Minecraft adventure is the resource pack, because it allows you to have available to numerous customization.


Especially, add the customized items such as new weapons (knives, masses, legendary weapons), various objects specially modify for this adventure (Sovereign Scale Chaos keys, quest Object). They will, moreover, designed in 3D as you can see in the images below.


Also, the resource-pack allows another presentation of the inventory, including many customs sounds.
Of course not to mention a soundtrack with new original music composed for the map entirely.
The resource pack will now directly integrated into the map.

Here 2 pieces of the original soundtrack already composed for the map (click to listen) :
Finally, as you understand, Across The Time is not a simple map Minecraft. It's a Universe, a Story in its own right! Thundesrtruck who created and writes the story continues to flesh it out day by day. In the map you will find many texts, but many are very long and will be for some diffused on our Internet site.
Other stories of Thundesrtruck are in development and will surely be novels to be unveiled apart from the game in books.
We have already shared a new Lore on our Adventquest site in English:
- The Hunter Of Worlds
---
The construction of this huge map requires much time, resources and technique to build, terraform, or create commands blocks systems and now in functions.
That's why we use a few plugins and software to help us in this difficult task.
To develop and encode in Minecraft functions we use

VisualStudio

.
We have a private server in Minecraft 1.13.2 to work together on the map and using Spigot we guarantee the support of all our favorite plugins such as

World Edit

and

VoxelSniper

.
We also use

MCedit

and

NBTedit

to help us change some technical and internal aspects of the map.
For rendering pictures, we use primarily the shaders

Sildurs Vibrant

directly into play and we will also use the software

Chunky

to make larger photos of the map.
Trailers videos are created with

iMovie

and the music is composed with

Logic Pro X

on Mac.
Regarding the resource pack we use the

paint.NET

software for 2D textures and

BDcraftCubik Pro

or

BlockBench

for 3D.
---

We do not hide behind the ambition that is this project, especially when it is a totally free work for people.
Indeed we do everything, even without benefit of sale, this is why we are obviously open to any financial support by donation you can do to the team (link at the top of the post), we'll be you extremely grateful.




Minecraft is our passion and we hope to share our love of video games, map-making and music to people, but sharing even if it must exist, it must not only be in one direction.
Thank you for your patience and your support.

Team Adventquest




Credits



| | |
| --- | --- |
| Credit | PumpKingFr - PengoPlays - Athena Sigmund - Nico - Bonkoul - Tom - Slapilou - Zercklay - Pig Ninja - DrSallan - Golden Max - Kyraito - BrightBrain |
| Progress | 100% complete |
| Tags | |
62 Update Logs
Update #62 : by Adventquest 03/05/2022 6:33:07 amMar 5th
Hello everyone, after a few months of absence and an article accompanied by not very encouraging information, we are back this time with very good news!
Indeed, we found and took the time to release the new 2.2.0 update on the Across The Time 2 map.
Of course, time is not the only cause, motivation too! Donations continuing to arrive despite our last news, new people arriving on our Discord discovering our work, of course the new Minecraft update 1.18 pointing the tip of its nose, but also gameplay improvements waiting for its implementation since a few months, and finally our dear PumpKingFR continuing to work on the Ultimate ATT2 guide (available in BETA version here).
Many of these parameters have made this update possible.
Initially, thought for minor changes, it finally acquired the status of "major" given the new elements brought to the timelines.
The title of this article will make sense when you read the sequel and the accompanying patch note.
Indeed, one of the major additions of this update is that we have listed all the secrets of the map. This has created a whole new category of Achievements called "Secret" with additional experience rewards when the player discovers the many secrets of the map (some hidden behind the ice have even been added).
But that's not all, the great novelty of 1.18 was to add verticality to Minecraft. Indeed, there has been an expansion of the possibility of building 64 blocks from the bottom and the same from the top. That is to say that we gained 128 of verticality (y axis) in total, and you have surely guessed which dimension benefited from it (see the presentation photo)...
Yes, now Ouranos has the true appearance of what we had originally imagined. The illusion of verticality and immensity of this dimension is even more marked. Please note that this does not mean that this is an enlargement of the playable area, but simply of the viewing distance showing even more than before the repetitiveness of the dimension.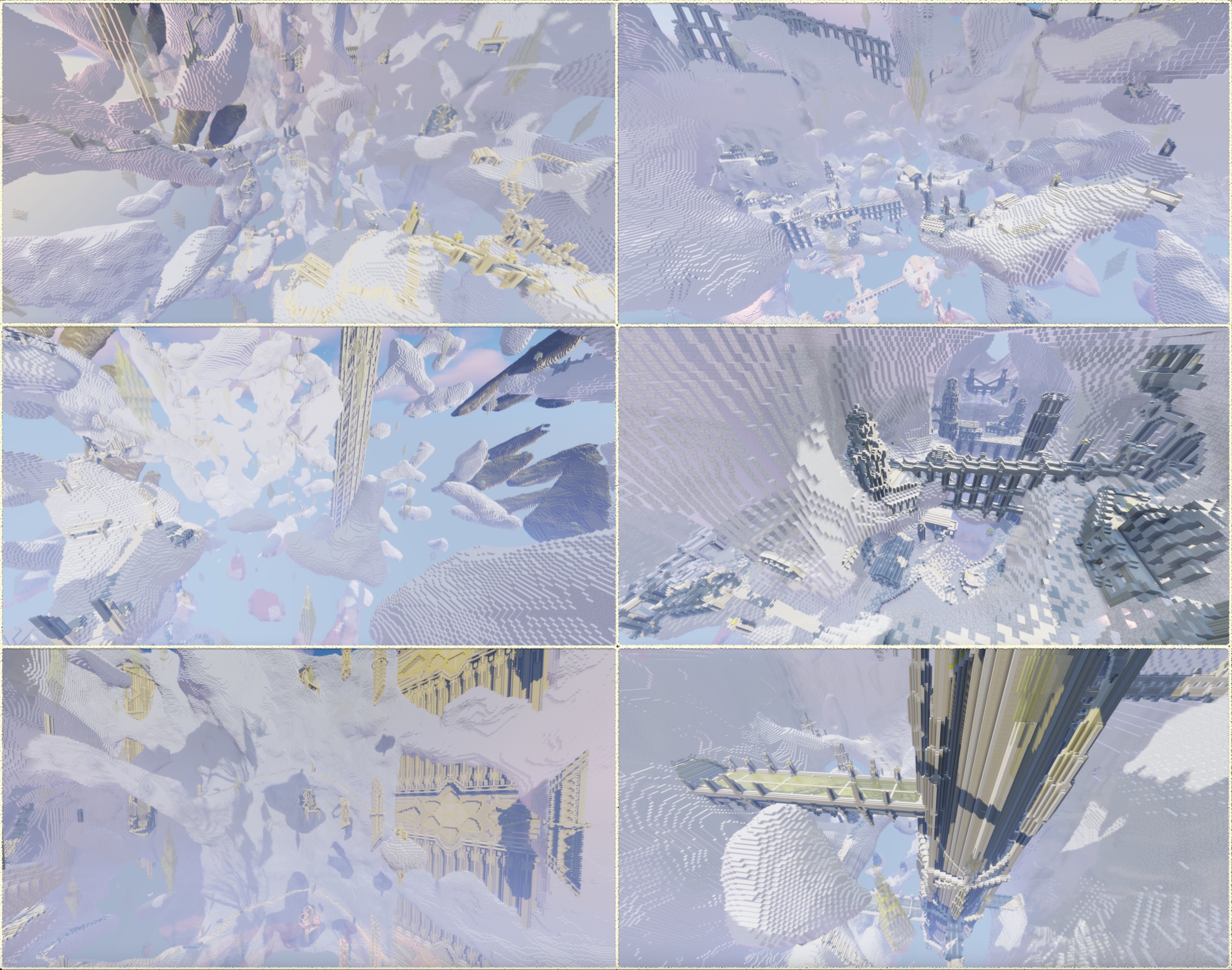 Other visual additions have also been made to certain caves in Sylberländ.
But to end with the major additions, this is a gameplay element. Indeed, a temperature parameter is now present in various areas of the Tellurön dimension.
Depending on the condition of certain biomes such as the snowy mountains of Elcheol, the desert of Kert or Nojélanth, the volcano, etc., the player may suffer several penalties depending on the intensity and the number of clothes he will wear on him.
It's an element that adds a bit of difficulty in certain areas of the game that we found a little too easy.
More details about other minor additions can be found in the patch note below. You'll also see some balancing changes including the HUN ability effect has been nerfed quite a bit.
Of course, we also fixed quite a few bugs.
In short, we hope you will enjoy this update. Unfortunately the map is now only playable with the latest version of

Minecraft 1.18.2

, these changes are not compatible with older versions of the map.
Thanks again everyone and good game!
03/05/2022




RELEASE V2.2.0





Additions and Improvements:


- The map and its resource-pack have been updated and is now only playable on the latest version 1.18.2 of Minecraft.
- The depth of field of the "Ouranos" dimension has been doubled. Now the player has greater visibility of the vertical dimension repeat.
- Some new vegetation has been added in a few biomes.
- "Chronoton" coins on ground are now directly absorbed near the player even if their inventory is full.
- Miscellaneous items can now be sold in units or in stacks for 2 Chronotons per food item and 1 Chronoton per normal arrow.
- In the mountains of "Elcheol", a more significant and progressive "cold" penalty applies depending on the altitude where the player is.
- In the desert of "Kert" and "Nojelanth", a more or less powerful "heat" malus applies depending on the altitude and the location.
- The "cold" and "heat" penalties apply to various ability effects (HUN, DAR, HER, SPD, HAS). These effects can be reduced whether or not the player wears a full set of equipment or leather clothing and can be canceled if he carries the Mythical weapon "Fenrir" concerning cold and "Kinuil" concerning heat.
- Extra food has been added to the rewards of some quests.
- A new tab in the advancements containing around thirty "Exploits" has been added. They list the many secrets found across all dimensions.
- The long dialogues of the main quest all now have a way to quickly skip them.
- Added an option in the book "Conscience" on page 9 of the tutorial, it sends a random message revealing a trick more or less useful for new players.
- Some secrets of chests hidden behind ice have been added.



Balancing:


- Hunger skill effect "HUN" has been nerfed. Now it is more difficult to recover in saturation by increasing this stat.
- The HER ability effect has been increased as a bonus and a penalty.
- The spawn frequency of some monsters in "Angor Palace" has been decreased.
- The "Frenzy" attack and the last phase of the "Serile" boss are more dangerous. "Serile" indeed becomes much faster and more powerful during this phase.
- The boss "La Flamme Noire" is a little more resistant from the "Veteran" difficulty and the boss "Käron" has two additional minions that spawn at the start of the fight.
- The power of the mythical bow "Warlord" has been increased.
- The number of chests to open, needed to unlock their Exploit has been adjusted.
- The total number of Exploits has been adjusted and now stands at 9120 points.



Bug fix:


- Entities no longer spawn infinitely on the NPC "Babbu" when the player has given him more than 2500 Chronotons and is at a certain distance from him.
- The help indicator for the secondary quest concerning Namrïn now points to the correct position of the NPC.
- "Namrïn" NPC no longer has a chance of not appearing in front of the Exiles camp when the player is following it.
- If the player does not have time to get out of the cloud towards the passage of the third tower of "Ouranos", he is no longer TP in a loop while getting stuck.
- Fireballs no longer cause the player to jump high above a certain level of spell power.
- The indications of the bells of "Ouran" boss now remain activated indefinitely as long as the player has not shooted them.
- The shortcut when exiting the boss "Ulkoggumi" no longer opens so that the player cannot chain kill him too quickly.
- Alderion now automatically takes the legendary axe "Nekr Al Felèsil" from the player's hands.
- The count of the number of chests opened now applies to all types of chests.
- At the beginning of the map, if the player has not set his options correctly after pressing the button, he is no longer obliged to re-install the map after having corrected them.
- Some sidequest NPCs if the player chooses to fight them, they are now sensitive to all magic spells.
- All sidequests that have been failed by the player now count towards the total game progress percentage.
- The sidequest given by the NPC "Garret Temeral" can now be failed if the player has not completed it before killing "Flamme Noire".



Miscellaneous:


- Game credits have been updated.
- Musics have been added to the menu.
- Various minor bugs have been fixed.
- Blocks have been added or removed in some places to prevent the player from getting stuck.
LOAD MORE LOGS
tools/tracking
3304798
2
-epic-adventure-rpg-map-19