hong-kong-international-airport
playlist_add
1278153
homingdbs
Level 65
:
High Grandmaster Engineer
Published on
1/11/2014
- 1/11/14 7:07 am , last updated: 10/21/15 11:40:31 am
Update: Ground markings for the middle section (N/S gates)
---
Hong Kong International Airport
An attempt to recreate the world's third largest passenger terminal.
ICAO:VHHH
IATA: HKG

---
Update: Progress of Midfield Concourse and Cargo Apron

---
This is what you really call "massive"
---
HKIA is the main airport in Hong Kong. It is located on the island of Chek Lap Kok, which largely comprises land reclaimed for the construction of the airport itself. The airport is also colloquially known as Chek Lap Kok Airport (赤鱲角機場), to distinguish it from its predecessor, the closed Kai Tak Airport.
The airport has been commercially operational since 1998, replacing the former Kai Tak Airport, and is an important regional trans-shipment centre, passenger hub and gateway for destinations in Mainland China (with 44 destinations) and the rest of Asia. The airport is currently the world's busiest cargo gateway and one of the world's busiest passenger airports.
---

Project consists of:


1998-2014:

Terminal 1 Complex

(70% finished)



North Satellite Concourse

(80% finished)



North Apron Area

(100% finished)



South Apron Area

(70% finished)



East Apron Area

(100% finished)



Taxiways (North)

(60% finished)



Taxiways (South)

(50% finished)



Control Tower and Offices

(70% finished)



Cargo Terminal

(0% finished)



Runway 07L/25R

(80% finished)



Runway 07R/25L

(80% finished)



Terminal 2 Complex

(10% finished)



2015:

Midfield Development Phase 1 

(30% finished)





2023:



Runway (3rd)

(0% finished)



Midfield Development Phase 2 

(0% finished)



Passenger Concourse (3rd Runway)

(0%finished)




---
The airport by 2023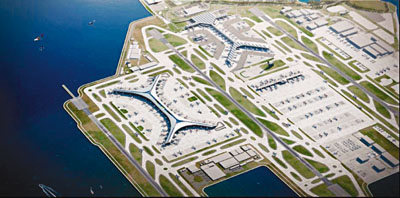 ---
Aircraft List:
See my profile



If you like it, remember to

Diamond

,

favourite

and

subscrbe

!vv
Note: Showing last 25 of 34 logs.
Update #34 : 10/21/2015 11:40:31 am10/21/15
Minor Progress Regarding T1:

Sorry guys I don't have much time to work on this, lately I have started to modify the Transportation hub to make room for the newer, larger Airport Express Train. I am also considering a complete rebuilding of this project after the IB exam in May. 

Progress:
Airport Express Station modifications (in the works)
Added Cathay Pacific A350-900 (New version)
Update #33 : 09/27/2015 12:18:52 pm9/27/15
Midfield update:

moved the whole thing closer to T1
Added4 gates
added road east of midfield terminal under gates
Ground Markings : 09/02/2015 10:07:04 am9/02/15
Let's start with the middle, added ground markings
Update #31 : 07/31/2015 1:54:45 pm7/31/15
Updates to check in counters
Update #30 : 01/11/2015 12:00:23 pm1/11/15
Updates to Airport Express Station
Update #29 : 01/03/2015 11:33:09 am1/03/15
Updates to the drop off zone
Update #28 : 12/14/2014 1:01:50 pm12/14/14
Adjusted planes allocations.
Possible future addition of gates in Terminal 1
Update #27 : 11/29/2014 11:20:13 pm11/29/14
further updated biomes
Update #26 : 11/28/2014 10:34:38 am11/28/14
Updates to the bridges
Update #25 : 11/16/2014 12:34:01 pm11/16/14
Updates to the North-west Passenger terminal
Update #24 : 11/02/2014 10:29:18 am11/02/14
Further Changed sections of biomes
Update #23 : 10/25/2014 10:53:41 am10/25/14
Added seats in the waiting area (departure). Middle section.
Update #22 : 10/19/2014 11:40:39 am10/19/14
Modified Biome settings, but still a lot of work to do. Currently the apron consists of differently coloured grass. Fixing northern Apron area
Update #21 : 09/29/2014 12:15:22 pm9/29/14
added new planes in new liveries
Update #20 : 09/21/2014 12:15:10 pm9/21/14
Added new planes (747-8i) Slightly adjusted apron settings.
Update #19 : 08/28/2014 10:41:45 am8/28/14
Greetings from Osaka. 

Its school time time again, I'll be away for quite a long time.  Here is a few things I might be working on. 

Renew roof
Renew gates
Shops
Midfield continued
Update #18 : 08/21/2014 9:09:21 pm8/21/14
Added 19 new bays (going to be gates) by midfield.
Southwest Passenger Concourse Fixed : 08/20/2014 10:31:13 am8/20/14
I've finally managed to fix the problem of those three gates, which previously cannot hold any plane wider than the 737. Now an extra is added and they can hold 777s
Update #16 : 08/18/2014 12:02:49 pm8/18/14
I've been woring on 2 things: Midfield Concourse and Cargo Apron.
I've built a couple of Freighters set to be posted tomorrow
Update #15 : 08/11/2014 11:55:25 am8/11/14
Progress of the Midfield Concourse
Update #14 : 08/10/2014 11:45:17 am8/10/14
Started construction of the Midfield Concourse !! Stay tuned!
Update #13 : 08/06/2014 1:56:11 pm8/06/14
Replaced more gates with newer ones
The Easy Way : 07/29/2014 11:06:04 am7/29/14
Original Plan By Foster+Partners
Update #11 : 07/21/2014 10:11:26 am7/21/14
Added control tower and more apron spaces
Update #10 : 06/30/2014 10:11:56 am6/30/14
Terminal 2, North Satallite Concourse
Airport Express
tracking
2682707
hong-kong-international-airport
1,165079,329,3672,559826,842002,140820,64651,214207,460644,625964,356071,290694,895971,1030646,15493,171513,336698,476982,98449,817406,1293715,209568,526780,928263,1263961,2177557,1278153