Minecraft Discovery [1.4.4]

21163
Smon
Level 64
:
High Grandmaster Wizard
Posted on
7/9/2011
: 7/9/11 10:52 am , last updated: 12/17/12 3:35:09 pm
Server Info : RID
65842
| | |
| --- | --- |
| | |
| Status: | Offline Pinged: 11/12/13 |
| Location: | Germany |
| Game Version: | Minecraft 1.4 |
| Connect With: | |
| Players: | 0/40 |
| | Submit your project |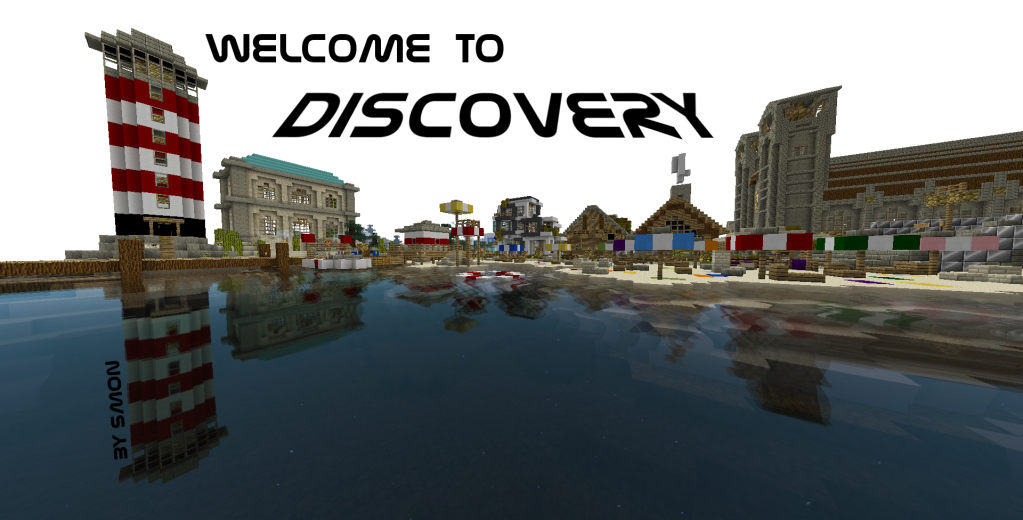 ---
Welcome to Discovery, a multiplayer server where fun, exploring, building, imagination and creativity got highest priority.
Everyone is welcome! We have no Whitelist, so feel free to take a look around or read the rules to get promoted. (The warps do also work when not promoted!)
---
- Server updated:
Version 1.4.2

- New Homepage: Register here now!
-
New Teamspeak IP
:
teamspeak.prosrvs.de:9993



- Server IP:
minecraft-discovery.com
DISCOVERY NEWSSHOW:
Y4suAbQ7wo8
dQU_wVkBX3o
54fSGyU9D6U
Hint:
"Outdated Server"
?

Restart your Minecraft and/or keep trying to connect.
Make sure, that you've got the correct version.
Still doesn't work? - Reinstall your Minecraft.
---
---
SERVER:
Server IP:
minecraft-discovery.com


Teamspeak IP: teamspeak.prosrvs.de:9993
(German and English Channels)
Current Server version is 1.3.1(Bukkit)Hint: For switching between the Minecraft Versions, use this tool!
Click me.
---
PROMOTION:
Read the rules. Firstly you will be a "new" member.
As a new one you can build nearly everywhere but you wont be able to build in towns or join/create factions. If you played for 15 minutes on the server you will be auto-promoted to a
full member. You can now access all commands that are given to each member.
For old members we introduced a little feature.
After 5days of ingame time you will be auto-promoted to a Veteran.
You will be able to access more commands.
---
HINTS:


1. Before
playing - read all the rules! It's in your interest. We won't hesitate to ban Rulebreakers.

2. How to get promoted/building rights?
Read the rules, and find the codeword. Then /msg it to a moderator (or admin). We'll promote you then.


Don not ask: "Any Admin here?", If you didb't found the codeword ask this nway: "Could any Admin please be so friendly and promote me? I've read nthe rules already, but I can't find any codeword."

When there should be no Admin online at the time, write your request in the comments or send me a PM. I will promote you then as soon as I get on nthe server.

3. Where can I build?
We several worlds where you can farm and build your house. At the spawn you can see a lot of warps you can use to get into the worlds.


For building in a town type /town list. There you can see some townnames. You can join some of them by typing /town join . To get there simply type /town spawn. Otherwise there are some other towns in the world you can join. At our spawn you can find a list with townwarps.


Replace the sign and write your personal home name on it.

Use /sethome, to mark your home. Now you can always teleport there with using /home

At last, remember to build something good-looking. =)


4. Where do I get materials and stuff?
With the warps you can get out into the world and start farming. We got some farmplaces too like /warp forest to get wood.

There you can take everything you need. But please don't destroy the nature that hard.

Use /kit wood, to get free wooden tools. (VIP's can also use /kit iron )

5. How to get to the other cities?
Use /spawn, from where you see all the important warps.

6. I saw someone breaking the rules, what can I do?
First of all, we don't force anyone to squeal other players.

Report the Admins ingame with /msg [player] [text], or send me a PM.

8. What to do when I am stucked somewhere?
"Don't panic!" =)

Try to use /spawn, /home, /warp [name]

If that doesn't work, /msg a Admin, and we will teleport you out there.

9. How to get blocks/items, that can't be found on the server?
With gold ingots, can buy nearly everything at the shop ( /warp shop ).

10. What commands can I use? (You need to be promoted to use all!)

/help - Shows a helping list.

/who - Shows, who is online at the moment.

/warp [warpname] - Teleports you to the place.

/spawn - Teleports you to the spawn area.

/kit wood - You get free wooden tools. (Once all 5 minutes.)

/sethome - Marks your home point.

/home - Teleports you to your home point.

/cprivate - To lock your chests/furnances. (Insert the command and right-click on the chest/furnance.)

/lwc - All commands for protecting/managing your chests.

/msg [name] [text] - Sends a private message to that player.


11. I've got a question, which isn't answered here.
Don'tn be shy, and post your question in the comments, send me a PM, ask a Admin or talk to the other players on the server. We love to help!

Or visit our teamspeak server: teamspeak.prosrvs.de:9993


---
RULES:


Do not annoy the admins. Say what you want, or what problem you have.

Be friendly, and so the others will.

Do not use any cheats/hacks/mods. (You can ask, if you can use mods like "minimap". But please ask first!)

Do not advertise other servers or websites.

Do not spam and insult others in the chat.

Do not abuse bugs. (Like Bug-Holes or Torch-Bug.)

You are not allowed to build beyond the bounds of your plot of land. Aboveground AND belowground.

Buildings that look awful will be removed. (Like floating islands, 30x30 towers, unrealistic, pervert things.)

Do not grief! Do not even try to. (Although nearly everything is protected.) We see everything!

Do not steal! Do not forget to lock your chests.) We will not refund anything. Also when you die.

When cutting down a tree, please plant again a sapling. (Or more.)

Cut down the trees completely! Do not leave floating trees! It just looks ugly.

It is forbidden to build inside the cities. Ask for a plot of land. Or when you have a special wish, ask.

Building with lava needs permission from the Admins. Just ask, and we will place it for you.

Trading is allowed. At own risk! (Anyway, we never had problems with that.)

If you do not want other players to enter your plot

Pay attention to the signs!

Do not kill other players. (In putting sand /gravel over his head or in hustling players into lava/deep water.)

Do not abuse "Bridge-Farming"!

Mark your plot of land with signs. Or it will be removed.

Please follow the rules, and we will not need to ban you.
If there will be a missunderstanding, send me a PM.
Do not post it in the comments.
We are no bad people. We just want to have fun with everyone.
If there are questions to the rules, ask, before it might be too late.


PvP:
We got a hole world for PvP where you can create factions and fight with other Peoples.
To get there just follow the signs at /spawn.
You are allowed to build everywhere except in factions-land. TnT and creeper will explode and damage.
Fire will spread and destroy.
It is a hard world where only the strongest ones will survive.
---

RANKS:

Guest

(Newcomers, not promoted.)


Builder

(Building rights, promoted.)

VIP (Special rights, donated.)


Moderator (Helper, no Admin rights.)

Administrator (The Gods of the Server, all rights.)

---
ADMINS:
Green: active/promoted
Black: inactive/demoted


Orange: Current Host
---
MODERATORS:
Minox1991

Hazz_man

MrMinecraft23


XTodX

---
TEAMSPEAK:
IP: teamspeak.prosrvs.de:9993
Our Teamspeak server, where you can talk to each other.
We support
german and english
channels.
---
HOMEPAGE/FORUM:
http://minecraft-discovery.xobor.de/
---
DONATIONS:
What will I get for a donation?
a VIP prefix. (So everyone can see your importance!) =)

you will be able to use Flymods on the server.


Use /kit iron, to get endless iron tools.

With /tp [player], you can teleport to that player. (Ask the player before teleporting.)

You can create more homepoints than others. (use /home [homename])


Admins will be more tolerant with VIP's. (Three warnings before ban.)

You get informations about the server, before others do.

Last but not least, you help the server to keep online, and maybe in inreasing the slot number and/or faster server.

---
That's all important so far.
If there are any questions, just ask, we don't bite. =)
Hopefully we see you on the Server.
Best regards,
Shalyna
---
Additional Notes
Welcome to Discovery, a multiplayer server where fun, exploring, building, imagination and creativity got highest priority. Everyone is welcome! We have no Whitelist, so feel free to join!
Note: Showing last 25 of 30 logs.
Update #30 : 11/18/2012 5:23:16 pm11/18/12
updated to 1.4.5
Update #29 : 11/04/2012 1:34:48 pm11/04/12
Updated to 1.4.2
Update #28 : 10/02/2012 2:02:52 pm10/02/12
New promotion system introduced
Update #27 : 09/06/2012 12:47:50 pm9/06/12
Put in our Minecraft Discovery Newssow
Update #26 : 08/31/2012 8:48:24 am8/31/12
We made a new PvP world where you can build and fight free.
Update #25 : 08/07/2012 12:24:53 pm8/07/12
We updated the server to 1.3.1
Its still not finished but playable.
We update more soon...
Update #24 : 07/22/2012 5:45:49 pm7/22/12
Server is running on 1.2.5

A new PvP world has opened to provide you more fun!

~Shalyna
Discovery News #15 : 03/23/2012 2:11:39 pm3/23/12
Server got updated to 1.2.3! Have fun.

~Smon

Discovery News #14 : 01/24/2012 6:12:40 pm1/24/12
Server got updated to 1.1! Enjoy.

~Smon

Discovery News #13 : 12/06/2011 6:23:08 pm12/06/11
Server runs now with Bukkit 1.0.1!
Discovery News #12 : 12/04/2011 12:56:37 pm12/04/11
We're currently updating the Server to Bukkit 1.0!
So please be patient. The server is offline until the updating progress will be done.

Discovery News #11 : 11/08/2011 11:54:21 am11/08/11
Added 10 new screens!

Discovery News #10 : 11/06/2011 11:31:06 am11/06/11
Discovery News #9 : 11/05/2011 8:56:37 am11/05/11
One important thing:
Get Registered now!
Discovery News #8 : 10/26/2011 5:53:35 pm10/26/11
Some important changes changes:
New Admin staff:
Shalyna



typical_n4p




oOTrinkOSaftOo




Happy5432




New moderator staff:
The current host is: Shalyna. (also known as "Michi")
Discovery News #7 : 10/14/2011 3:51:22 pm10/14/11
15.000

views - Wow. Awesome.

changed some old stuff in the server description, just some small things which were wrong or needed to be updated

something that doesn't relates to the server: I'd just made my entry for the latest PMC skin contest, it would be nice if you'll give me an upvote (if you like). Thanks. Here's the link to the skin page.


Discovery News #6 : 10/10/2011 2:51:58 pm10/10/11
Video added

(there might be a new one soon)


IP added

(ping fixed)

Discovery News #5 : 10/06/2011 6:21:17 pm10/06/11
updated the whole page in general

I won't be on the server for some time, because I'm quite busy with studying. And I don't know yet, when I'll be back there. (More for the fun - building and stuff. I'm afraid, that I won't have enough time anymore, to act as an admin on this server again, but we'll see.)
Nevertheless, I'll be active on PMC, so you can still reach me via PM or comments.
That's all so far.
Statement : 10/02/2011 5:59:46 am10/02/11
Well, I don't know what to say. It all sounds quite sad, but there have been a lot of changes since I've got back. The Server is no longer online/run by me. Going to give more informations later/in a few days.
Discovery News #4 : 08/13/2011 5:35:39 pm8/13/11
Added a lot of new important stuff to the main description

There are some new moderators


Important:

I'll be on holidays for four weeks, so I won't be able to answer any comments or add any new things in the main description.

Please join our TS if there any important things to discuss.

Also check the comments if any other admin added some news. (For example: If we're going to have a new IP or any other server changes.)
Btw, do you actually read the update logs?
/edit: third try to upload this update log. Seems like the server is kinda overloaded. =D
Discovery News #3 : 07/23/2011 12:23:23 pm7/23/11
Our new Server is finished. New IP. Less lags.

Solved the problem with LWC

Uploaded the backup of the map (from yesterday 23:00 GMT +1)

Please check all your chests if they're locked ( /lwc -i )


Discovery News #2 : 07/20/2011 9:24:28 am7/20/11
We bought a new Server, because we had some several lags and Server crashs. If everything works out, we'll configure the new Server this day. The old Server could be offline at the moment because of unknown problems.


We've got a new Administrator in our staff:

oOTrinkOSaftOo



We do also got two new Moderators who help the newcomers:

Kulto

,

pemoma



Added Server commands to the Hints

Built a helproom which contain the rules, the warps, the server commands, and the FAQ. (use /warp help to get there, or use /spawn and jump down the hole)


Back online. : 07/20/2011 9:24:24 am7/20/11
The Server is back online again. This Update log will be deleted in one hour. (Don't need a report because of "update abuse".) This goes to the subscribers.
Testing finished! : 07/17/2011 7:51:21 am7/17/11
The Server works now fine again!

- Updated most of the plugins for 1.7
- Opened shopping mall. where you can buy nearly everything (using tradecraft) /warp buy or /warp ikea
- Built a lot of new plots for new players
Discovery News #1 : 07/15/2011 6:20:05 am7/15/11
New Teamspeak 3.0 Server. Ip: 188.40.37.255:9993 ( We support english and german talk channels. )


Configured Tradecraft for buying materials. Use /warp ikea for buy supplies when there aren't admins for selling,


The final canary b8 is now at 75%, although our server runs smoothly with the crowbuild aswell (2.1.8). We will update the Server as soon as possible.

There's a new wilderness at /warp wild

We will add a desert world soon! (With plots.) And aswell a snow world! (Also with plots.)

At last, we will enable the nether in a few days. (Reachable at the spawn.)

tracking
65842
minecraft-discovery
1,165079,329,3672,559826,842002,140820,64651,214207,460644,356071,290694,895971,1030646,15493,171513,336698,476982,817406,526780,21163