super-fun-time-superfuntimeorg
69657
Posted on
7/21/2011
: 7/21/11 1:54 pm , last updated: 12/14/17 2:55:24 pm
Server Info : RID
84225
| | |
| --- | --- |
| | |
| Status: | Online! Pinged: 12/15/17 |
| Location: | Canada |
| Game Version: | Minecraft 1.12 |
| Connect With: | |
| Players: | 11/1 |
| | Submit your project |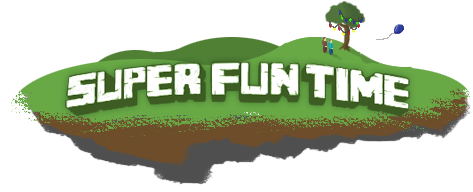 SuperFunTime is a diverse gaming community established in 2010. Our community is not just a place to play games with one another, but one where friendships are made and people are brought together by the things we love - Gaming and meeting new friends.



Our servers:

We operate servers based on custom modpacks which bring our unique flavor of modded minecraft to the world. These servers include SFT Pixelmon, Lost Islands and not only!
In addition to that, we also operate a BungeeCord system, connecting you into our expansive world of non-modded servers, which include survival and creative servers to let your imagination run wild! Joining us for the first time will put you in a lobby server with portals to take you across our network, or just use commands such as /survival and /creative!


Our most populated server is our Survival server, with a bustling economy and multiple game enhancing plugins, such as a proprietary mcMMO replacement, market listings, battle pets and many fun plugins added for our players to enjoy such as a Mob Arena (/ama join default), Battle Arena (/dm join town) and Sabotage (/sab join default). We also frequently host massive server events throughout every day to keep minecraft interesting!

We also have a Pixelmon server based on our own modpack with thousands of +1's. If you would like to know more about our Pixelmon server, please visit this link: http://www.technicpack.net/modpack/details/sft-pixelmon.162655




About us:


We consist of a voluntary staff team of over 100 players, spread across all time zones and server types. Our team is always here to help you out whenever you need. For example, building protections, stopping grievers and hosting events. Our community is also a diverse and ever growing group of people from all walks of life, and we are always looking for new members, looking for you!
Watch to learn more about our amazing community and staff team!


Useful links:


Website: www.superfuntime.org

Twitter: https://twitter.com/SFTMedia

Facebook: https://www.facebook.com/superfuntime.org

Server IPs: play.superfuntime.org | pixelmon.sftmc.org:1337 | bteam.superfuntime.org |

Server rules: http://www.superfuntime.org/serverstats/Survival


Server Hardware Specs:

- Xeon 1620v2 @ 3.7 Ghz
- 64 GB DDR3 ECC
- Enterprise class Intel SSD's
- 1gbps
- Enterprise grade DDoS protection provided by OVH



If for some reason you dislike our servers, we would highly appreciate it if you could leave us some feedback here, or send a message to 'Towelie' (Server Owner) on our forums at superfuntime.org. We accept constructive criticism and feedback, but we will remove/report comments which are a personal attack or do not add value to this post.



Thank you for reading, and we look forward to seeing you in game soon!


Did you know? We also have a Pixelmon Server! Check it out --> here


Credit:
Dpa1991, FearThe1337, saywhat2365
Update #7 : 11/12/2016 8:49:09 am11/12/16
Updated description
Update #6 : 04/13/2016 12:45:17 am4/13/16
- Removed Factions Server
- Added Qwest (questing server)
- Replaced our lobby
- Updated our submission on PMC
Update #5 : 01/25/2015 6:34:13 am1/25/15
A Hungergames server has been added to our bungee cord. Check out play.superfuntime.org for more info!
Update #4 : 12/25/2014 8:58:58 am12/25/14
- Server is running on spigot 1.8.1
Update #3 : 11/11/2014 9:30:48 am11/11/14
- Updated our youtube video
- Updated our description
- Updated images
- Server is running on Spigot 1.7.10 /w 1.8 client support
Update #2 : 08/17/2013 11:47:53 am8/17/13
We have made it easy for you guys to play on our servers. BungeeCord is now powering Super Fun Time and unites all of our minecraft servers in one big lobby. Check out play.superfuntime.org for details
Update #1 : 09/20/2012 3:05:18 pm9/20/12
Two years of Super Fun Time.
So proud!
We have two more servers now:
SFT Factions: pvp.superfuntime.org and
SFT Tekkit: tekkit.superfuntime.org

We hope you enjoy them as much as we do!
tracking
84225
super-fun-time-superfuntimeorg
1,165079,329,3672,559826,842002,140820,64651,214207,460644,625964,356071,290694,895971,1030646,15493,171513,336698,476982,98449,817406,526780,69657