Published
Oct 21st, 2017
, 10/21/17 6:40 pm
3,397

views,

2

today

312

downloads,

1

today
Althestane
Level 64
:
High Grandmaster Narwhal
You know all those pigeons you see in the park?
The ones that swarm around you if you drop just a few breadcrumbs?
They say that they're not all just innocent pigeons.
They say that many of them are controlled by a single mind...
Why else would they all move in the same direction at the same time....
That mind belongs to.... THE PIGEON MASTER.
Few have seen him, but the ones who have are forever terrified of going to the park, or the city square, or wherever large flocks of pigeons gather. What is the Pigeon Master?
Well, some say that it's an old homeless person who used to feed the birds every day. He got to know the birds so well that one day, his mind reached out to the minds of all the birds and they became forever telepathically linked. From that day forward, he was no longer a man, and his mind continued to warp and twist his body into the form of a GIANT PIGEON!
Others say that the Pigeon Master was simply an ordinary bird used for scientific experiments. Either it was fed with radioactive seeds, or it was too close to a radioactive experiment, no one knows, but it grew to enormous proportions and developed telepathic powers. It broke out and flew away, and now it roams the city parks with its flocks of minions, attacking anyone in search of food.
Here's the only known footage of this creature!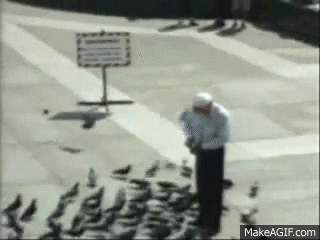 So beware if you walk through parks alone - be sure to always carry a loaf of stale bread with you, or you might just suffer the wrath of THE PIGEON MASTER!!!!
Meh, the skin is a hot mess and kinda weird, but I thought it might get a laugh or two. I think the wings turned out alright though. Enjoy!
| | |
| --- | --- |
| Gender | Interchangeable |
| Format | Java |
| Model | Steve |
| Tags | |
tools/tracking
4035927
5
pigeon-master