Updated on Aug 4th, 2019, 8/4/19 10:38 pm |
2 logs
Published
Apr 28th, 2019
, 4/28/19 8:35 am
Nitgo
Level 75
:
Legendary Sus
Well, Items in Minecraft have been shaped by players for over 5 years now, from simple command block enchantments to complex step by step Actions like releasing Spikes from the floor by jest left clicking, and much much more, but now We will jest learn about this nice website:

-click me-

to see what it means?


FIRST:
lets start with Lore:-
lore is when an item has written words under it, it's displayed above. Its easy to add, jest write the lore that you think is suitable and press the

[​Add Lore]

button, and

[​Remove Lore]

to remove it.


---
Second:
Now its the placement/destroy Buttons:-
Well it's easy to use, jest type the Item name into the empty slot of either

[​CanPlaceOn]

or

[​CanDestroy]

slots and press the Green button next to either one of the chosen slots, and the red button next to it to remove the already added settings. It means that in adventure mode while holding this item you will be able to break the item add with command blocks or when also in the same mode you will be able to place the item

(Block)

onto the block(s) added with commands.
---
Third:
Enchantments :-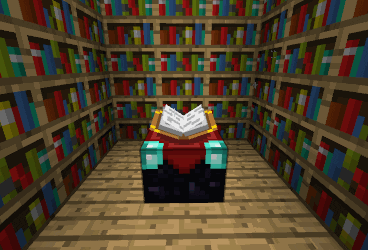 Enchantments are easier than most other commands in the site and it only requires you to chose the wanted enchantment and set its level

(levels can be from 1 to 9999)

also notice these will change if the item is edited. If it doesn't change, well lucky you.


---
Lastly:
We have the item flags:-


Now we have flags:
Flag

[​Unbreakable]

:

It means if an item can or can't be broken.



Flag

[​Enchantments]

: I

t means if the following items will have enchantment or not.



Flag

[​Modifiers]

: I

t means if an item will have "Modifiers" from the modify section or not.

Flag

[​CanDestroy]

&

[​CanPlace]

: They mean if an item can be placed on a certain object in Adventure mode

(object will be chosen by you)

or not and the other means if an item could be destroyed by this item in adventure mode or not.
---
Other things will be discussed in different blogs soon!
Also this was made by: Nit

go

!
2 Update Logs
Update #2 : by Nitgo 08/04/2019 10:38:31 pmAug 4th, 2019
Added more words, and fixed some mistakes, also I may even change the
[Click me]
link in the future!
LOAD MORE LOGS
tools/tracking
4297831
6
how-to-customize-items-for-starters