1112-minewatch--v10--overwatch-in-minecraft
Views,

307

today
Downloads,

67

today
2061982
Posted on
4/21/2017
: 4/21/17 11:08 pm , last updated: 08/19/17 12:51:45 am
Minewatch brings Minecraft and Overwatch together! Overwatch character armor and weapons usable in Minecraft.
Character Poll:
Hey everyone, please take this poll! There are a lot of characters left, and I do not have much time to work on the mod, so I would like to know who I should work on to make the most players happy!
Widowmaker won the most recent poll!
New poll! Poll start: 15 August 2017
http://www.strawpoll.me/13714477
Characters Available:
Each character has a full set of armor, weapon(s), and a token.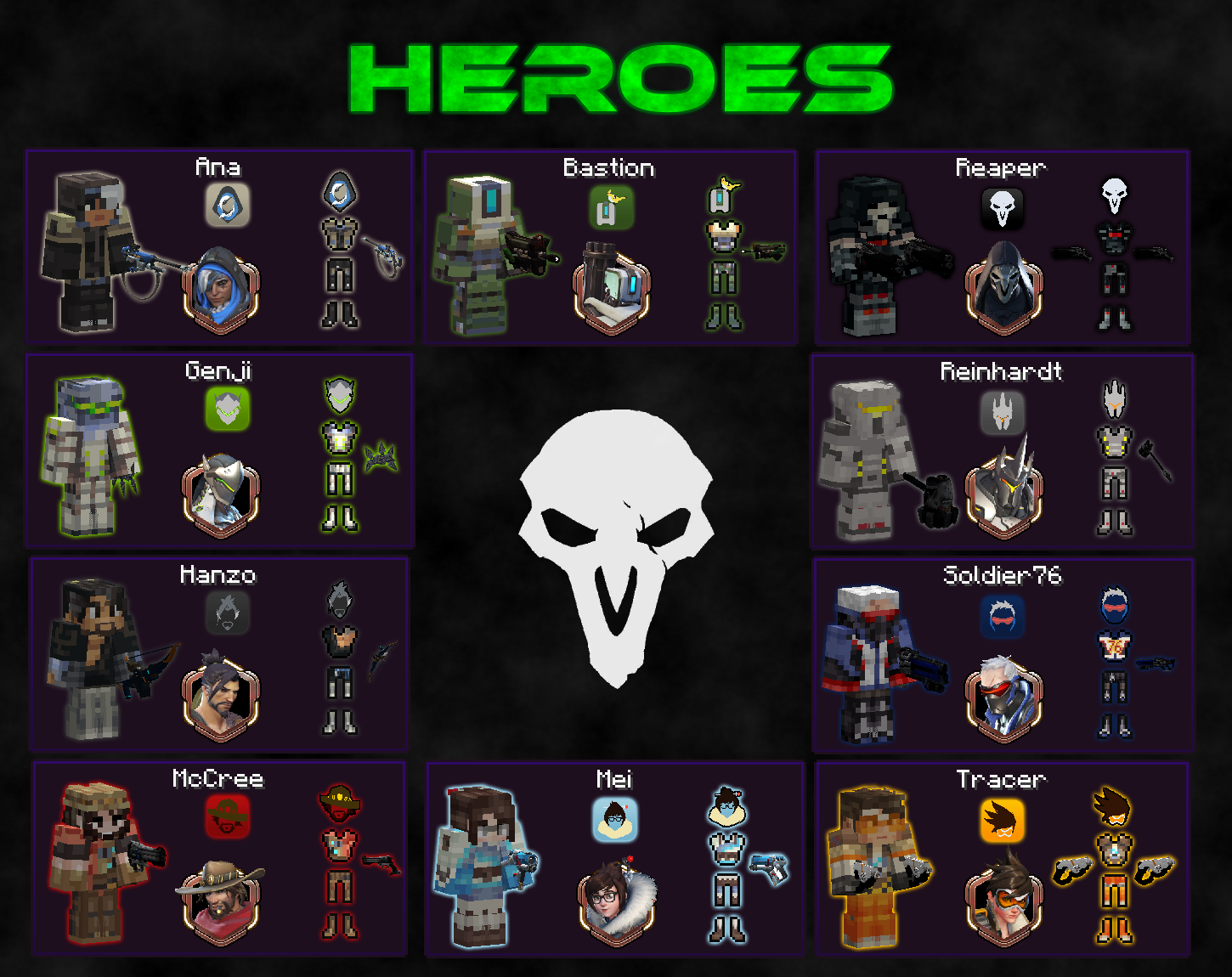 Tokens:
Each character has a token associated with them. The token is used to craft the weapons and armors for the respective character. The weapons are crafted with one token alone, whereas the armor are crafted with an iron armor piece with one token. Tokens are dropped at 1/100 chance from mobs by default (can be changed in config).
Weapons:
DVVUlchY0eE
Commands:
/minewatch <hero> will equip you with the armor and weapon(s) for a hero.
FAQ:
Q: Can you add ____ character?
A: Yes, but it is a slow process so do not expect them all anytime soon. You can go to the poll above to vote for who you want next, so I know who to work on when I get time.
Q: Can you add abilities/ultimates?
A: We're working on them, I promise!
Q: Can you use my Overwatch skin as an armor texture?
A: Absolutely! Send us a message or leave us a comment and we'll add your skin in the next update.
Credits:
All characters, weapons, models, and sounds featured in this mod belong to Blizzard Entertainment, Battle.net, and Overwatch. We do not take credit for any of these features; this mod is solely a re-imagining of Overwatch in Minecraft.
Additional Credits:
Model Credits:
-Reaper Shotgun and Reinhardt Hammer:
www.reddit.com/user/Kamyflex
-Genji Shuriken: overwatch-Genji by LeoZack is licensed under CC Attribution
skfb.ly/6pJrD
-Tracer Pistol Low poly | Tracer Overwatch Gun by Franz Perez is licensed under CC Attribution
-Hanzo Bow: Hanzo Bow by backer is licensed under CC Attribution
-Hanzo Arrow: Overwatch - Hanzo's Arrow by beyondmatter is licensed under CC Attribution
-McCree Pistol and Soldier Rifle by Rexx Art
Armor Texture Credits:
-Tracer, Genji, Hanzo, and Bastion textures: Ringoster,
www.planetminecraft.com/member/ringoster/
-Soldier texture: sixfootblue,
www.planetminecraft.com/member/sixfootblue/
-Reaper texture: Aegeah,
www.planetminecraft.com/member/aegeah/
-Alternate Reaper texture: _Phantom,
www.planetminecraft.com/member/_phantom/
-Reinhardt texture: Kohicup,
www.planetminecraft.com/member/kohicup/
-Ana texture: Drzzter,
www.planetminecraft.com/member/drzzter/
-McCree texture: PlantyBox,
www.planetminecraft.com/member/plantybox/
-Mei texture: mareridt,
www.planetminecraft.com/member/mareridt/
| | |
| --- | --- |
| Progress: | 100% Complete |
| Game Version: | Minecraft 1.11 |
| Tags: | |
| Credit: | Furgl |
v3.1 : 08/19/2017 12:51:45 am8/19/17
New heroes have been added:

Bastion
Mei

New abilities have been added:

Soldier76's Sprint
Soldier76's Helix Rocket
Hanzo's Sonic Arrow
Hanzo's Scatter Arrow

New: Added support for choosing alternate hero textures in the config. Let us know if you have a skin that you want us to add as a hero texture!
Added a Reaper skin by _Phantom
Fix: Reequip animations now play consistently when weapons do not have full durability
Fix: Weapons can no longer get stuck attacking after releasing the mouse
Fix: Soldier76's bullets are now mapped to their texture properly
3D models have been optimized and have a much smaller impact on performance
Reinhardt now continues to swing when left click is held down and attacks in the area in front of him regardless of if he directly hits an entity or not
Added proper sounds for hurting and healing entities with weapons and attacking with Reinhardt's Hammer
Particles have been added to projectiles and Tracer's Chestplate
Left click no longer punches while using a weapon
Projectile lifetimes have been adjusted
Projectiles now spawn closer to the hand that they were shot from (in most cases)
Projectiles no longer have client-server syncing issues at high velocities
Projectiles will now hit targets that are up close properly
Hanzo's arrows have been retextured
The file size of the mod has been drastically reduced

v3.0.1 (1.10.2 only) : 08/08/2017 6:27:36 pm8/08/17
Fixes issue with 1.10.2 not recognizing some texture names
v3.0 : 08/05/2017 10:49:02 pm8/05/17
New: Hero icons, ability overlay, and ammo information has been added when wearing a full set of a hero's armor and their weapon(s)

New: Keybindings have been changed around to be more similar to Overwatch (i.e. guns shoot with left click now)

New: Ammo and reloading have been properly added, along with reloading sounds

New: Each hero now has a hero information screen (shown while wearing set and holding keybind)

Added config options for token drop rate

Added /minewatch <hero> to spawn in sets for each hero

Ana's health icon shows for all nearby entities below max health and follows them more smoothly

Some weapon models have been adjusted

Hanzo's arrows have been sped up

v2.2.1 (1.12 only) : 07/27/2017 6:24:37 pm7/27/17
Fixed Ana's health particle texture.
1.12 Port : 07/24/2017 8:39:17 pm7/24/17
The mod has been ported to 1.12!
v2.2 : 07/12/2017 11:10:35 pm7/12/17
Added Soldier 76.
v2.1 : 06/18/2017 2:36:47 pm6/18/17
Added McCree.
v2.0 : 06/06/2017 6:15:07 pm6/06/17
Added Tracer.
Added 3D models for all current weapons.
Added config option to change between 3D and 2D weapon models.
v1.1 : 05/17/2017 10:57:05 pm5/17/17
Added Genji.
1.10.2 Port : 05/03/2017 9:21:17 pm5/03/17
The mod has been ported to 1.10.2!
tracking
3848492
1112-minewatch--v10--overwatch-in-minecraft
1,165079,3672,559826,842002,140820,64651,214207,460644,290694,895971,1030646,15493,171513,336698,476982,817406,1293715,526780,2061982