soggymustache-s-structure-converter
SoggyMustache's Structure Converter
Views,

4

today
Downloads,

0

today
1896978
Posted on
5/17/2017
: 5/17/17 5:13 pm , last updated: 06/28/17 12:42:23 am
SoggyMustache's Schematic Converter!
.schematic to .java converter 1.8+
Convert .schematic to .java without the hassle of using an old converter and needing to change all the code! SoggyMustache's Schematic Converter converts schematic to java will rotation, color, and variant support!
Support:
V.1: stair rotations, wool colors, wood types : 1.8
How to use:
1: download
2: run executable jar
3: Type in structure name in first box
4: Select open or type your path in the second text box to negate to your schematic file
5: select an output location (directory not file)
6: Select version
7: Click convert!
8: add the .java file generate to your mod

9: Consider donating or leaving credit?
Screenshots: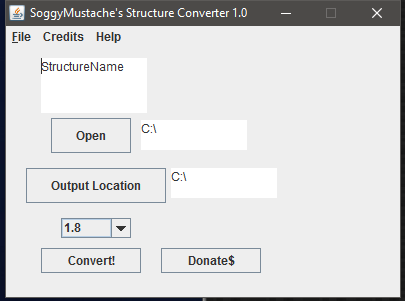 Donate to support development:
here
Planned Features:
-1.9 to 1.10 support-More block variant support
| | |
| --- | --- |
| Progress: | 100% Complete |
| Game Version: | Minecraft 1.8 |
| Tags: | |
1.5 : 06/28/2017 12:42:23 am6/28/17
Added in 1.9 support (first update adding it so it may not work flawlessly)
1.4 : 05/19/2017 10:47:42 pm5/19/17
Vine rotation, sand type, sandstone type, and tall grass type metadata support
1.3 : 05/17/2017 6:22:39 pm5/17/17
exception catching for log type not functioning properly (makes your game not crash if my program is broken)
1.2 : 05/17/2017 6:08:04 pm5/17/17
1.1 : 05/17/2017 6:05:49 pm5/17/17
fixed issue where log, leaf, and planks would be given stair attributes
tracking
3951143
soggymustache-s-structure-converter
1,165079,3672,559826,842002,140820,64651,214207,460644,290694,895971,1030646,15493,171513,336698,476982,817406,1293715,526780,1896978