Updated on Dec 20th, 2016, 12/20/16 7:33 am |
4 logs
Published
Dec 20th, 2014
, 12/20/14 5:33 pm
Durins Builders
Level 48
:
Master Dwarf
Narag-Gund. One of the most hidden, yet beautiful Dwarven Cities in all of Arda. It is so hidden, that only trained dwarves and few men can find their way to the great city of Narag-Gund located in the Mountains of the Wind. The Dwarves of Narag Gund worked for centuries with dedication to perfect their architecture using marble and stone as their basic building blocks for their immense city. Through the centuries of building their wondrous city, designing the most marvelous creations with the nearby mountains of stone and marble. The result of their hard work is a set of beautiful shapes, carvings, details, arches, together with the well-lit halls and the clear air passages creates a wonderful atmosphere in this thriving city. Narag-Gund is one of the most beautiful cities that ever existed in Arda that was created by the like of dwarves.
Narag-Gund is a city full of thriving business and trade. The expansive cave system are full of riches, and every hall is full of splendor and beauty. This hideous kingdom is a great place for refuging dwarves of Arda's easternlands. To guarantee the place's security, no person is allowed out unless the king himself speaks.However, these adventurers that somehow find the hidden paths through the mountains and forests are allowed to stay, but under the same rule. Ironically, this happened during many centuries, and a human city was born in the valley front of the dwarven gates. The human city is nowadays called Kyabetsu, and keeps many strong men who provide food and work to the dwarves, in exchange for their security. If an attack did take place at this great city, the thick and strong gates and walls around the entrances offer a strong protection against any sieges to be laid by the likes of orcs, and the dangers of Were-Worms which lie in countless amounts in the neighboring mountains in this mighty kingdom.
---
Right now we're working our way to get the exterior all done, in order to start the dwarven underground areas. Main parts being worked are : the rich side of the city, the southern farms and mountains, the monastery Bruno convinced us of doing, the riverside areas and the forests we'll have.
---
This is a project that we've started at the end of October / 2014. It is size is very big for sure, but right now we are only doing the exterior (human part), and once its done we'll move to the dwarven side. The current builders are:
-Proton_Gamer (Founder)
-Le0nidas11 (Founder)
-fistfull20 (Steward)
-14aBvtQx
-Naggarothi


-kette442
---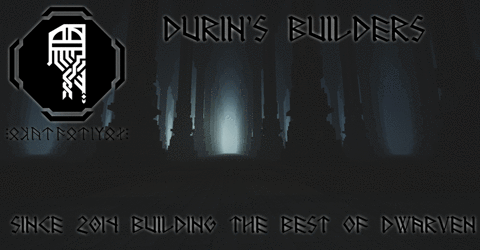 Make sure to visit our

Main Page

for more info :
| | |
| --- | --- |
| Credit | Big thanks to kette442 for doing and improving most of the terrain! |
| Progress | 35% complete |
| Tags | |
4 Update Logs
Update #4 : by Durins Builders 12/20/2016 7:33:57 amDec 20th, 2016
Eh... sorry for all this time without updates... its really a shame we didnt update earlier... but still, NG is so complex and full of plants that many times its hard to take good pictures here and there because plants appear and the pictures look odd xD But now that we're more active im trying to gather more of them and update on a monthly basis... lets see if i can fulfill that e.e

Anyway, progress this time has been huge aswell, our mountains and farm area expanded so much, and now we're mostly just finishing the last of 'em, then there's a monastery that was halfway built we should be finishing... one day xD. The poor area of Kyabetsu is pretty much done, and the rich is on the way, coming along very nicelly... Yesterday we started redoing the temple in the city, so, soon we might have nice pics :D

For the dwarven part... as stated before : only will start working there once we have the outer areas done. Else its too much stuff to do at once and we'll never get sh*t finished xD




Thanks to everyone alot for the help during all this time!
LOAD MORE LOGS
tools/tracking
3179039
2
narag-gund-stronghold-of-the-stonefoot-clan-on-the-mountains-of-the-wind