Updated on Mar 21st, 2015, 3/21/15 2:04 pm |
9 logs
Published
Sep 12th, 2014
, 9/12/14 1:15 pm
Palando
Level 41
:
Master Pixel Puncher
General:
Built by: 100% Palando (100% Made in Bavaria)
Some Renders by:
Fritoeser
(used Texturepack for the exteriors: Misa's)

UHD-Render Download
Server
:
Minevaria - 1.7.10

Server-IP: minevaria.minecraft.gs
If you like this

, please give me a

diamond

, or if you want to be up to date on the progress, you are welcome to

subscribe or favorite

!
History:

Spoiler - click to reveal
Schloss (ger. castle) Neuschwanstein was built by King Ludwig II. of
Bavaria. It is located in the Bavarian region Allgäu, close to the Alps.
King Ludwig became King at very young age of 18, and had to struggle with a
lost war against Prussia in 1866 and later on the war against France in
1870/71, which lead to the Unification of Germany under Prussian reign.
This and his very stubborn cabinet lead to Ludwig's dream of him being
an absolutistic monarch - just like the "Sun King" LouisXIV. of France.
Beucase Ludwig identified himself with the Swan Knight Lohengrin, he started to built his most famous castle Neuschwanstein.
The construction started in 1869, and in 1872 the gatehouse was completed,
so Ludwig could live up there and watch the building of the

Palas

which was finally finished in 1880.
Over the course of time, Ludwig's financial problems increased (he used only
his own money unlike in popular belief), so that in 1886 his own
cabinet unseated and declared him mad. What happened next is a mystery,
but he died one day after his dethronement.
After the King's death the Bowe and the Rectangular Tower of Neuschwanstein were finished in simplified terms,
whereas the Chapel with the Keep were never started at all.
Yet Ludwig II, the "Fairy Tale King" (in ger. "Märchenkönig"), remained
legendary, and Neuschwanstein is visited by 1.3 million people per
annum. Sadly Neuschwanstein reached only the 8th place of the modern
world wonders; this makes it not a part of the list, but still it can be
called the 8th world wonder.
Description:
Gatehouse:

This is the only very colorfoul part of Neuschwanstein, and was built from 1869 to 1872. After the completion, King Ludwig lived here many days being able to watch the building of the palas.
The 1st and 2nd floor contain very sparse furnishings - well, at least for a king. On the other hand the ground floor was completly empty, but nowadays contains a WC, Information Center, ... for visitors of the castle.
Knight's House and Bowe:
Together with the never built castle keep all three should be a tribute to Richard Wagner's work, and function as a scenery for theatre performances. As the Bowe was yet unfinished at the time of the King's death, it was finished in a simplified way.
Both buldings had no determined interior purpose, but there were plans to built some more servant's rooms into the Knight's House and for a Jugendstil gallery in the 2nd floor's passage.
Palas:
Today the guided tour only leads through this part of Neuschwanstein, because the 3rd and 4th floor are completed and fascinating.
The 1st and 2nd floor are only a shell construction, however a Moorish Hall and a Knight's Bathroom were planed, but never built.
The ground floor contains the back then very modern kitchen and the servant's rooms.
The two most notable rooms are:
Throne Room: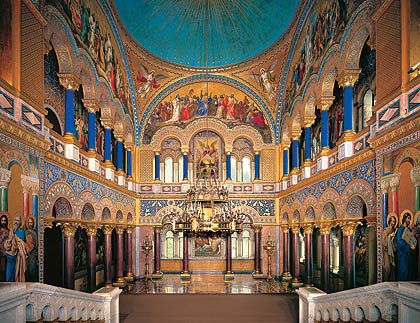 It was built in the Byzantine style and is a tribute to the King of the Holy Grail Parzival.
Furthermore ironically a throne was never intended, because Ludwig II did not feel worthy of sitting under the Messiah and next to holy Kings.
Hall of the Singers: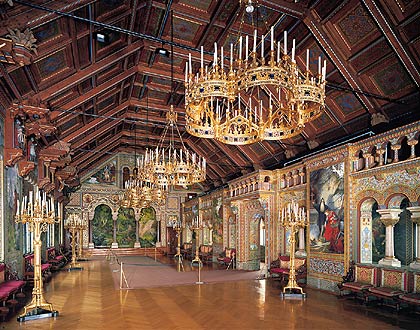 Like so many things this is a direct tribute to the
Wartburg's Hall of the Singers
,
however the one in Neuschwanstein
was never intended to house festivals.
It also contains pictures of the whole Parzival Cycle and a bower for the mythical singer contest.
The King's Rooms:
They are located in the 4th floor of Neuschwanstein's Palas, and contain a drawing, dining, study, ded - and dressing room, as well as a grotto and conservatory
How to visit:
You can visit Neuschwanstein on the
Minevaria
server if you have bougth Minecraft. Server adress:

mv.trafority.de
Here is the
Nitrado map
and the
dynmap
, too .
For

faster travel

you can type ingame:

/warp neuschwanstein
To-do list:
Measures:
Maximum Height: 160 Blocks (compared to entrance)
Length: 475 Blocks
Width: 120 Blocks
Blocks:
Over 300,000 Quartz as Marble
About 20,000 Sandstone
About 40,000 Cobblestone as Roofmaterial
and many more...
Used Tools and Plugins:
WorldEdit
Voxel Sniper
Sources:
neuschwanstein.de
(pictures)
If you like this

, please give me a

diamond

, or if you want to be up to date on the progress, you are welcome to

subscribe

!
| | |
| --- | --- |
| Progress | 100% complete |
| Tags | |
9 Update Logs
Penultimate Update : by Palando 03/21/2015 2:04:37 pmMar 21st, 2015
This is the penultimate update, which already contains everything a full tour of the real one contains. The next update will also come with a video (waiting for Sponge 1.8 ...).

Update list:
Knight's Bathroom - entrance located at the ground floor of the palas


Furniture for the Bedroom and Oratory


Furniture for the Living Room


Furniture for the Study Room and the Secretary's Room


Furniture for the Dining Room


Furniture for the Dressing Room


Finished the Courtyards in the 1st, 3rd and 4th floor and the end of the main stairs


Built the unfinished Courtyard and Passageway in the 2nd floor; the floor was intended to house Richard Wagner


Built the main kitchen and the chef's room in the ground floor of the palas


Built the servant's rooms in the first floor of the palas


Built the King's Rooms in the Gatehouse, in which Ludwig II waited for the finish of Neuschwanstein


Some stairs for the Square Tower and passageways


LOAD MORE LOGS
tools/tracking
3072381
2
schloss-neuschwanstein-3072381