Updated on May 2nd, 5/2/23 5:14 pm |
4 logs
Published
Apr 24th, 2020
, 4/24/20 2:11 pm
1,996

views,

5

today

43

server score

3

Votes this month
Traizel
Level 9
:
Apprentice Crafter
| | |
| --- | --- |
| | |
| Status | Online! Pinged: 06/03/23 |
| Location | United States |
| Game Version | Minecraft Java BungeeCord 1.8.x-1.19.x |
| MOTD | Could not request status from target server. |
| Connect With | |
| Players | 0/100 |
| RID | 4566375 |
Discover TraizelCraft: a massive Network with an RPG Survival Server, a Factions Server, and a Mini Games Server. We offer Crossplay and CrossVersion so you can play from almost any device or version, even Bedrock! We are an 11+ year project that started on the Xbox 360! You will find a ton to do here! Join us today!
Discord- discord.TraizelCraft.net
IP- TraizelCraft.net
Port (If needed)- 2072


Welcome to TraizelCraft!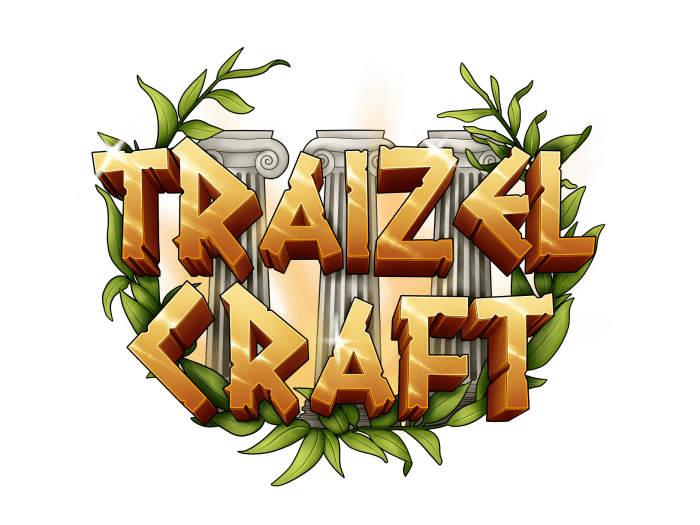 We are an 11+ year project that started on the Xbox 360! Our current server is CrossPlay and CrossVersion meaning you can play on both Bedrock and Java, and can play any version from 1.9 up to the current version! We currently have an RPG Survival Server, a Factions Server, and a Mini Games Server.


These are some of our Key Features:


Our RPG Survival server has a vast open world to explore, collect loot, complete quests, find secrets and Easter eggs, learn about our massive story, and defeat powerful enemies! We have a ranking system so players can unlock new areas as they level up with even better gear, secrets to find, and mobs to fight! Complete Quests, complete new mazes and parkour, create or join a Guild, unlock more areas to become Legend!





The RPG Survival maps are 100% custom terrain maps with custom mobs and drops! There are Nether and End Survival maps as well for gathering dimensional resources as well as resource gathering in the zones to help gather certain resources, since our main map is custom terrain!






On ALL Servers, we have a large selection of carefully made and quality Parkour that ranges from Easy mode for beginners to Expert mode for hardcore Parkour masters! All parkours grant money, XP, or class levels on completion!





The RPG Survival has challenging Dungeons that range from basic "Guns a Blazin" dungeons to Objective based Dungeons. There are also Incursions that are extremely difficult dungeons with a big boss! Level up your Dungeon Rank and unlock newer and harder Dungeons that are more rewarding!





On the RPG Survival, we offer a very COMPLEX RPG and Character Leveling system! Choose a class, level up your character, and unlock new skills and abilities! There are 5 Classes to choose from, each with unique stats and gear to unlock! We also have a wide range of custom gear and weapons with special abilities that can be earned in activities or crafted in the Forge!





We have tons and tons of custom Loot and Mobs! There are over 10 different mob factions/species and over 400 different kinds of mobs! All of them level up and become harder to kill! Using the world scaling mechanic, the further you wander from spawn, the higher level mobs you will find, and the better loot you will find!





The RPG Survival Server has an extremely complex RNG loot system! With over 300 unique weapons and 50 sets of Armor, you will never stop the grind! This system is similar to games like Destiny, where every item you get is rolled with different stats and abilities. Try and get a God Roll! We also have a ton of crates and kits that can be bought! Use these to help you along your journey, and maybe find something really cool!





We use a plugin that integrates our Discord Chat and our In Game Chat so you can talk with Discord and vise-versa! It is very useful when you are not online and want to talk with online players. Players can also show off their items, inventory, and more in game and on Discord using a fancy chat item plugin! Join the Discord at discord.TraizelCraft.net!





Our Factions Server is NEW! Join the server, create or join a faction, participate in hourly events, and right again other factions and rise to the top of each seasonal leaderboards!





We also have a Mini Games Server that is currently in an open beta! Play different games with friends like Sky Wars and Mob Arena. Earn Elite Shards to be spent on other servers!





We have a TON of cosmetics on ALL Servers! Your cosmetics are shared between all servers, buy once and get access everywhere! Go to our store, or just be active and vote daily to get some coins and save up!



On top of all of this, we also have:
- Mazes (RPG ONLY)
- Tutorials
- 700+ Quests
- Minions and Automated Farms (Factions ONLY)
- Hourly Server Events
- Casual and Competitive PvP Arenas
- RTP System
- Gambling Games
- Auction House and Lottery
- Daily, Weekly, and Monthly Rewards
- Discord Events ran by Traizel and other Collabs
- A great community that has been growing for over 5 years
- 11+ Years of experience, perfection, and history

In the future, we plan to add:
- A Full Story Campaign - Coming Soon to the RPG!
- More game modes, mechanics, and servers!
Join the community! Discord- discord.TraizelCraft.net
Current Server Version: 4.4.6
4 Update Logs
Update 4.4.6 : by Traizel 05/02/2023 5:14:58 pmMay 2nd
TraizelCraft Update 4.4.6
The

NEW

Factions Server is in early access
[RPG] TONS and TONS of bug fixes
[RPG] survival maps were RESET
[RPG] Adjusted mob health at lower levels so the are not so easy to kill
[RPG] Upgraded to Dungeons 2.0
[RPG] Removed the Combat Log plugin
[RPG] Removed kits in preparation for future updates
[RPG] Added new Pets plugin
[RPG] Added cooldowns for /down, /sit, /ride, /point, and /distance
[RPG] Removed item name tag from any rewards and loot. Players can just use

/itemname

now
[RPG] Set a enchant limit of 5, per weapon/armor. Players with ranks have a higher limit, see

/learn

in game for more info
[RPG] Improved the rewards of parkour and mazes
[Mini Games] Now in open beta
Added new menus for Bedrock clients!
Servers now support up to 1.19.4
Added a new Booster role for players who boost on the Discord
Find a full list of our updates and changes on our Discord!

Discord.TraizelCraft.net
LOAD MORE LOGS
tools/tracking
4566375
3
the-traizelcraft-hub