-|MC Ultimate Apocalypse|- 16x | From 1.12.2, to 1.5!
Views,

18

today
Downloads,

1

today
896490
Lexline
Level 52
:
Grandmaster Blockhead
Posted on
8/13/2014
: 8/13/14 7:19 am , last updated: 10/18/17 3:47:21 am
TLDR; It's a "as realistic as possible" RP with the original 16x texture size intended to make the game more realistic while not running slower than vanilla. It's kinda apocalypse themed, but you could also call it a withered or weathered pack with darker, higher contrast textures to make the overall appeal more "serious" if you want.

Please check the spoiler bars for a preview of certain elements and extra features!

---

This is the continuation of our very popular texturepack FallenEarth, which due to some copyright issues had to be taken down.
Now: Featuring the best textures from the original FallenEarth pack along with a growing number of new and improved textures.

Enjoy!

-----------------------------------

This is a resourcepack that aims to bring a apocalyptic-survival feel to the game. While staying true with the 16x minecraft pixel style, my main intention is to create as realistic of an experience you can possibly get with minecrafts native 16 by 16 pixels per square meter. Whether i've succeeded or not is up to you the user!


For better immersion, i have added a custom english language pack, if you want to use it look for:
"Minecraft Ultimate Apocalypse (The Wasteland)", next to English(UK), in the language selection menu.
---
The Pack is currently containing most common blocks, along with some items, a custom font and most of the gui interfaces!
Some of the textures in the pack will be and have been changed multiple times to make sure that people get the best experience using the Ultimate Apocalypse Resourcepack!
Ideas are appreciated, and might be added to the pack, so please come with constructive criticism, or ideas for textures! :)
Rotating gifs of some mobs/entities V, (currently New villager textures)
---
Villagers
---

Browncoat villager skin: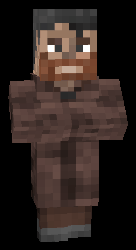 ---
Butcher villager skin: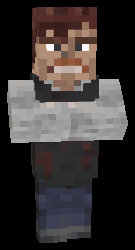 ---
---
Install Optifine for the best experience!
NEWS:
"Im working on a new and improved lightmap, which should create a more realistic lighting in the world, including darker nights, and brighter light sources." "
Additionally, i recommend enabling optifines dynamic lights function
, so that you will be able to see at night or in caves by holding a torch or other light source in your hand."
---
The resourcepack is meant to be used with optifine or mcpatcher, allthough all textures will work without this, more variations and extras can be seen with either of these installed, including: custom lightmap, randomized and connected textures for blocks and mobs, as well as animated textures +++

Ultimate Apocalypse has support for Optifine(which now has all mcpatcher features in it) fans, who like to see some variation in the textures along with some connected textures, and overall better appearance.
Randomized textures: Dirt, Stone, Endstone, Spruce leaves, Birch log top+sides, Diamond/Lapis/Redstone ore, Grass top and Sides snowed, .
Connected Textures: Glass, Bookshelfs, Sandstone.
Many more will occationally be added*

Example for stone:


The effect is subtle but effective, and makes it look way better.

Finaly back into minecraft again, and full with inspiration! And long overdue, updates will start rolling out again.

If you like the work i put into this, please share it with your friends and leave a diamond, it keeps me motivated!
Please respect:
This work is licensed under a Creative Commons Attribution-NonCommercial 4.0 International License.
I will allow use of my textures for non-commercial purposes. But please ask for permission first anyways. Thank you!
Credit:
Rotating gif's created with novaskin | ullert.
Progress:
50% Complete
Game Version:
Minecraft 1.12.2
Resolution:
16x16

Armor

Environment

Font

GUI

Items

Mobs

Particles

Terrain
Note: Showing last 25 of 25 logs.
V1.11(for mc 1.12) : 10/18/2017 3:47:21 am10/18/17
-Fixed and updated new 1.12 main menu logo (no longer overlapping with old design)
-Fixed missing crafting book in survival inventory gui and crafting table gui
-Diamond block test sprite
----
V1.09: : 05/26/2017 10:37:55 am5/26/17
-Added texture for placed sign and item
-Added carved stone bricks
-Added villager butcher & farmer
-Testing new cobblestone textures with two variants (Not optifine dependant)
-Removed cloud texture due to clipping and flickering textures
-Fixed texture for dropped/held sand
----
V1.08 : 04/16/2017 4:04:16 am4/16/17
-Added a custom lightmap!
-Fixed missing textures for:
oak-, birch-, spruce-, and dark_oak leaves.
-Ore's as items:
coal-, iron-, diamond-, and emerald- ore
----
V1.07 : 04/14/2017 4:57:42 pm4/14/17
-Edited Mycelium top and updated mycelium side
-Added new spruce leaves with 9 random variants
-Tweaked spruce logs
-Worked out how to edit realms only textures, and changed notification icon on menuscreen.
----
V1.06 : 01/23/2017 6:01:54 am1/23/17
-Added coarse dirt
-Updated path side and top
-Updated podzol
-Updated grass_side_snowed, and added two random variants
----
V1.05 : 01/21/2017 2:39:10 pm1/21/17
-Edited stone textures
-Added more variants of birch side/top and optifine/mcpatcher random features to birch logs
-Edited reeds(sugarcane)
-Edited Water still and flowing
----
V1.04 : 01/18/2017 3:20:53 pm1/18/17
-Changed grass_top and added 3 variants for random textures
-Changed grass side
-Changed dirt, working on more variants
----
V1.03 : 11/06/2016 11:23:15 am11/06/16
-Tweaking of the tnt sides, top and bottom.png files as well as
tnt_side.png.mcmeta to ensure a more realistic animation
-New stonebricks, cracked_stonebricks and mossy_stonebricks
-New torch animation and texture

Fixed:
-Iron bars model changed to newest
-Torch texture is now correct length
----
V1.02 : 08/20/2016 7:01:48 pm8/20/16
-Added New texture for flowing water!
-Added more fancy splash-texts to the menu screen

--NB!(Needs optifine/mcpatcher to work)--
-Added lightmap to make sunset and -rises give off a more orange light, meant
to further increase the realism/apocalyptic feeling.
----
V1.01 : 07/14/2016 6:42:24 pm7/14/16
-New handmade still-water animation
-changed speed of water animation to better fit new texture
----
V1.0 : 07/13/2016 6:23:41 pm7/13/16
Added:
-Custom English language pack(en_MCUA), for better immersion, look for:
"Minecraft Ultimate Apocalypse (The Wasteland)", next to
English(UK), in the language selection menu.
-Added New Wolf and Angry Wolf textures, edited tamed wolf slightly
-Added New Main Menu panorama shoot
-Testing new way of animating water, hope to fix small errors in cming updates

Changed:
-Made changes to environment textures:
grass.png, foliage.png, and clouds.png

Fixed:
-removed unused textures from /blocks directory, and redirected model files to new locations
(diamond and iron redirected to /blocks/ores/diamond, and /blocks/ores/iron. Sand texture moved to /blocks/ground/sand)
-removed gold and emerald from wip folder
-Also moved leaf1.png and leaf2.png to main /blocks/ folder
-tried fixing emmersion breaking sand tiling issues.
----
V0.99 : 06/24/2016 6:37:47 pm6/24/16
Made 8 new textures for both emerald- and gold_ore, might
add randomization like the coal, iron or diamond in the next
update.

Added:
-Gold_ore
-Emerald_ore
----
V0.98 : 06/23/2016 6:20:04 pm6/23/16
Updated main menu logo to fit the theme
Created new Mojang startup picture.
Realised shortly after that they removed the feature of changing the mojang logo.
Feeling kind of let down.

Added:
-Birch_leaves
-Dark_oak_leaves
----
V0.97 : 06/22/2016 6:05:59 pm6/22/16
Edited/Fixed missing gui elements
-Added glow on language mouse-over button
-Retextured lock difficulty button
-Fixed second-hand gui element
-Retextured item selection box
-Small edit on item bar texture

Updated stalk_potato.png, it's now shaded
Small saturation change for potato leaf textures
Moved potato textures from "WIP" folder to "crops"
Assigned textures for the new potato model particles
(stalk_potato: for model 0, under_leafs: for 1-3,
and leafs_top: for 4-7)


Removed unused files from "WIP folder"
----
V0.96 : 06/21/2016 6:41:11 pm6/21/16
New in 0.96:
Added:
-Custom models for each of the potato growth stages(8x)
, with 4 additional textures for these models
-New sun texture
-New rain
Custom model created with MrCrayfish's awesome model creator!
Link:
https://mrcrayfish.com/tools?id=mc
----
V0.95 : 06/20/2016 5:30:06 pm6/20/16
V0.94 : 06/18/2016 2:32:02 pm6/18/16
Changed:
-Coal ore
-Iron ore
-Redstone ore
-Diamond ore
-Lapis ore
Notes: Added new textures for these ores based on the newer stone texture. Each ore has 8 different versions, meaning a total of 40 new textures. (currently implemented for mcpatcher, looking into Vanilla implementation to make it easier for users of the pack)
V0.93 : 06/10/2016 4:47:12 pm6/10/16
Added all new textures.

Removed some old gui elements that no longer work with newl ayout in newer versions of minecraft, including: inventory.png, enchanting_table.png, brewing_stand.png. Along with tab_inventory.png(for creative),

Note: will eventually redo gui's when most other textures are completed

Added new title screen.
updated widgets.png to include new buttons

Changed all block and item models to work properly with 1.10
V0.92 : 06/06/2016 2:55:52 am6/06/16
Updated to 1.9
Update #6 : 02/24/2016 6:39:44 am2/24/16
Updated to 1.8!
 -Added all new textures or 1.8
 -fixed some issues and bugs, also somem cpatcher things.

Note**  The game crashes when trying to open the creative menu with the game patched with mcpatcher.  Trying to resolve this issue as fast as possible!
Update #5 : 08/24/2014 11:45:53 am8/24/14
Updated: StoneBricks, Cracked Stonebricks, Mossy StoneBricks and Carved StoneBricks
Update #4 : 08/19/2014 2:09:11 pm8/19/14
Added: stick, blaze rod and brewing stand

Testing: Currently testing some ideas with the leather armour*
Update #3 : 08/18/2014 10:05:30 am8/18/14
Added: acacia wood, acacia leaves and ladders.
Fixed: oak leaves and oak leaves "opaque".
Slightly changed: menu background and enchantment glow.
Update #2 : 08/14/2014 6:50:09 pm8/14/14
Fixed Connected textures for bookshelfs and sandstone.
added random texture endstone and 3 more varieties of dirt.
Fixed random textures bug with big red mushrooms.
Added a pack picture.

added a download link for mcpatcher in the description.
Update #1 : 08/13/2014 6:22:53 am8/13/14
Repost of our Resourcepack! :D
Added more screenshots
Changed paintings
Fixed some mcpatcher bugs
tracking
3032566
mc-ultimate-apocalypse
1,165079,329,3672,559826,842002,140820,64651,214207,460644,625964,356071,290694,895971,1030646,15493,171513,336698,476982,98449,817406,1293715,209568,526780,896490