Updated on Mar 9th, 2017, 3/9/17 4:29 pm |
3 logs
Published
Jan 13th, 2017
, 1/13/17 4:27 pm
30,894

views,

1

today

1,931

downloads,

0

today
Tschipp
Level 63
:
High Grandmaster Modder
Just Build It, or JBI for short, adds many unique building Blocks to the game. The Blocks are designed in a way that they fit nicely with vanilla Minecraft. All Blocks can be made in Survival Mode. It also adds Stairs and Slabs for some existing Blocks.

Blocks

Spoiler - click to reveal
More Stones

Spoiler - click to reveal
JBI adds a bunch of new stones to the already existing Granite, Diorite and Andesite. It also re-textures said blocks because I found that they, especially Granite, looked pretty ugly. It also adds Cobblestone, Polished and Brick Variants for all the Stones.

These new Stones are:
Marble, Limestone, Basalt, Sandstone (smooth),
Red Sandstone (smooth), Acherite and Terminochite.
There is also a Polished Variant for Stone and End Stone,
and a Polished Variant and Brick Variant for Netherrack.



You craft the Polished Variants like in vanilla, using 4 of the base Block:



Note that the Base Block for the Sandstone Blocks is crafted like this:

The Brick Blocks are crafted like this, using 4 of the Polished Variant of the Block:



All of the new Stones, except for Acherite and Terminochite, spawn in the Overworld like the other Stones. Basalt spawns deep down in the World, Marble in the higher parts of the world and Limestone somewhere in between. Acherite spawns in the Nether, similarly to Magma. Acherite spawns in a different
form than on the pictures, it spawns as "Blazing Acherite".
It is so hot, that if you step on it, you burn yourself. This can be avoided by sneaking. To transform Blazing Acherite into regular Acherite, you have to drop the Item into a block of Water.


Terminochite generates in the End, it is somewhat rare. When you break it, it has a chance of teleporting you around, which can be quite disorientating. It has a nice, deep purple color.

There are also Slabs and Stairs for all the new Stones, but only for the Cobblestone (if available) and the Brick Variants.
You can also get the Base Block by smelting the Cobblestone in a Furnace.
Bricks

Spoiler - click to reveal
There are two new types of Brick added:
Cotswold Bricks and Aged Bricks.
Vanilla Bricks have also been re-textures and renamed to Mixed Bricks to fit better into the game.
Also here, there are Stairs and Slabs for the Bricks.

Concrete

Spoiler - click to reveal
The
mod adds a couple of types of Concrete. Firstly, it adds Wet Concrete, the raw form of Concrete. When you smelt it in a furnace you get Hardened Concrete.


Also, a picture of blazing Acherite.

Hardened concrete has a pretty smooth Texture, similarly to Clay. This can be further used by dyeing it.
But Wait! Not only 16 Colors! More like 16 Million Colors!
You craft it like this:


By default it is white. But you can dye it like Leather Armor in a Crafting Table!


You can also re-dye already dyed Blocks!


If you craft a colored Concrete together with a white concrete, you clone the color. The colored Block doesn't get used up.


Keep in mind though, that these are Tile Entities. That means that they lag more than normal Blocks. They don't lag as much as regular Entities, but if you have lots of them in your World they can cause some Problems. So keep that in mind!


Here are a couple of basic colors.

But what do you say? You want even more Possibilities? No worries! The mod adds the Concrete Tile. Have a picture to explain a bit better:


The tiles can also be dyed individually!
That means there are over

281 TRILLION

different combinations! Now that sounds good! They are crafted like this, using already dyed Concrete.


You can combine them however you like!

Overgrowth

Spoiler - click to reveal
Have you ever wanted to make a build look overgrown or ruined? Then this block is perfect, if used together with some leaves!


As you can see, it works similarly to vines, but that it attaches to all sides that are not air, meaning up, down, north, east, south and west! It is crafted like this:


When broken by hand, it doesn't drop. You need shears to harvest it. It also works with biome colors, so depending on what biome you're in, the block will have a different color!
Gravel Path

Spoiler - click to reveal
When breaking Gravel, you can occasionally find Pebbles. The pebbles can then be placed on Grass blocks to make for a nice Path. When the Grass Block is broken it also drops some Pebbles.

Config

Spoiler - click to reveal
JBI provides an extensive configuration file, which can be found in .minecraft/config/JustBuildIt.cfg. In there you can edit every aspect of Stone Generation in the world, some Crafting recipes, OreDictionary features and some other random stuff. It looks something like this: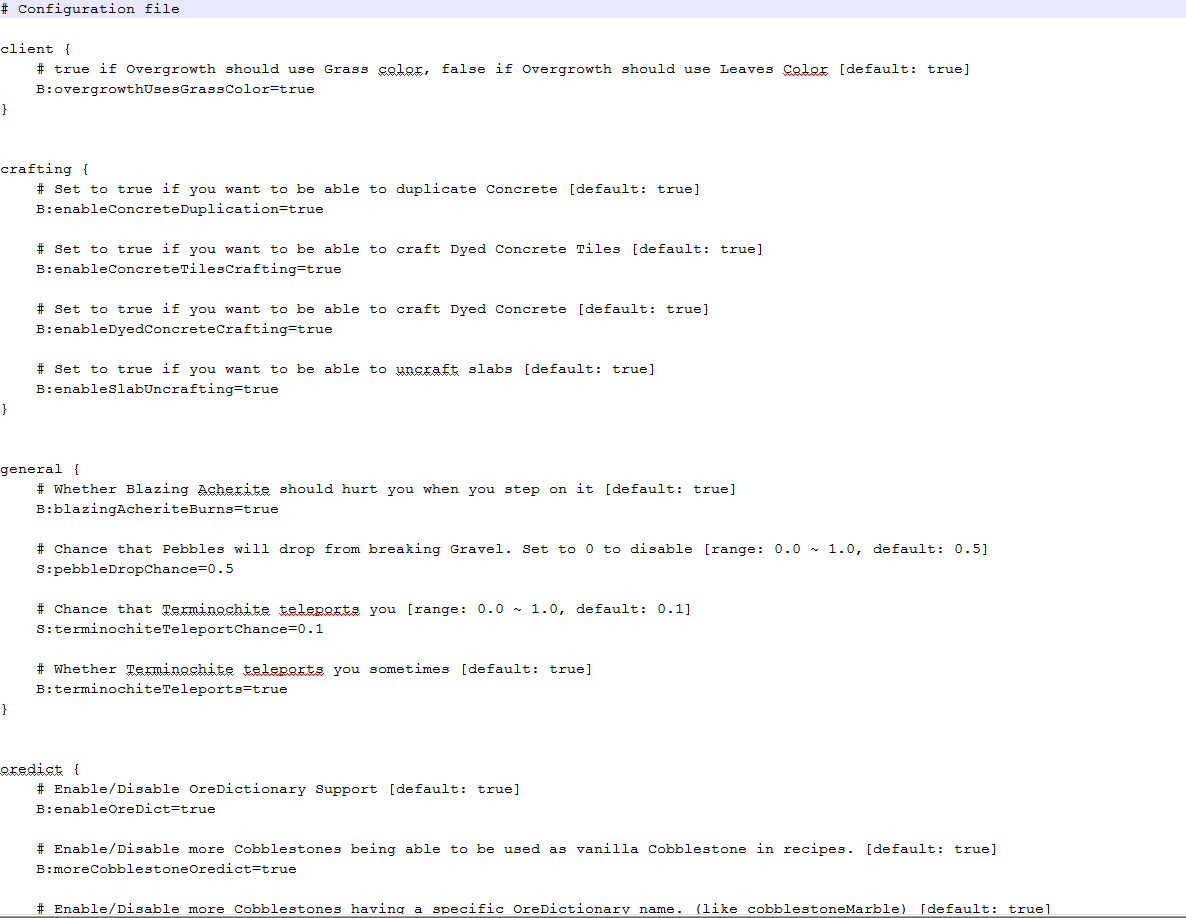 Credit

Spoiler - click to reveal
Not all of the Ideas were my own Ideas. While thinking of Ideas, I watched some popular videos to see, what the community wanted. Grian's Minecraft Ideas were great for this purpose.


As you can see, I also adapted some of the textures, just because they are really nice.

I also want to Credit Openblocks, as I based the Dyed Concrete Block on their Canvas Block.

And last but not least, I want to credit the wonderful people at minecraftforge.net, for helping me with my weird Problems
License

Spoiler - click to reveal


This work is licensed under a Creative Commons Attribution-NoDerivatives 4.0 International License.


Modpack Information

Spoiler - click to reveal
You may only use this mod in a

public

modpack if it is hosted on Curse, and the Download is from Curse. Don't download it from any external links.

Resource Pack

Spoiler - click to reveal
There is also a resource pack that contains the Granite, Diorite, Andesite and Brick textures from the mod. The resource pack can be used without the mod, in vanilla and for versions from 1.8 through 1.11 (Just discard any error messages when selecting the pack in a older version)
You can download this pack here

Reviews

Spoiler - click to reveal



Let me know what you think and if you have any more Ideas!
Please Post Bug Reports on GitHub

If you like the mod, why not leave a Diamond!
If you really loved it, leave a Favorite!

Have fun with the mod!

| | |
| --- | --- |
| Progress | 90% complete |
| Game Version | Minecraft 1.11 |
| Tags | |
3 Update Logs
tools/tracking
3883933
7
just-build-it-1102-adds-unique-building-blocks