Published
Nov 7th, 2019
, 11/7/19 2:01 pm
15,779

views,

17

today

1,094

downloads,

1

today
Mnesikos
Level 28
:
Expert Procrastinator
For a very, very long time the cats of Minecraft have been neglected. This mod aims to change that, breathing a whole new life into the soft little fluff balls of hate.
As of this moment, the mod is fairly bare boned! You will find a ton of different colored cats, even right down to their eye color, but they don't do anything except breed like bunnies. Shouldn't the saying be breed like cats anyways? If you have any interest in the future of this mod, please feel free to take a look at the trello board! There is also a wiki with some important tidbits of information.
Trello board:
https://trello.com/b/VoIFA2M1
Wiki:
https://github.com/Mnesikos/SimplyCats/wiki
Discord:
https://discord.gg/8gRHcgJ
Getting Started
The very first thing you want to do is craft yourself a pet carrier or two... or more! Pet carriers will not break and do not stack, but they will only hold one pet at a time so make sure you have plenty to bring your adopted cats home in! Cats do not follow you by themselves, so these pet carriers will keep you sane trying to get home from a village.
Now you can set out on your mission to find these adoptable cuties! In almost every village, you will find a new structure that we will call the Pet Shelter. With this new building comes a new villager as well! You can easily tell them apart by their cute yellow smock with a golden paw print on the front.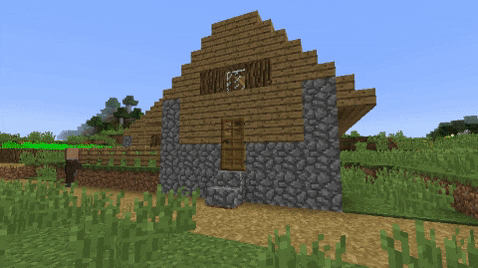 This villager has extra special trades for you that will cost a certain number of raw fish or bones! Cats from the villager trade are never spayed/neutered, so they will breed if given the opportunity to. Remember, the carrier these pets come from are only temporary and will disappear once you release the pet inside.
There are also a few shelter pets inside! 1-3 dogs and 1-3 cats, all available for adoption with this mod's adoption certificate. Crafted with one paper and one ink sac, you can use it on the cat or dog you'd like to adopt! Shelter pets are always spayed/neutered, which means they cannot breed.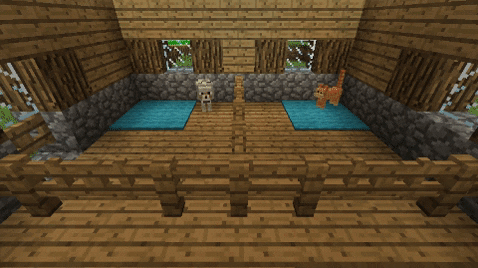 Congratulations! That's all there is to it. Now be sure to read up on the wiki for special item uses to get more information about your cats, and the most important section:
breeding
!
Cat bowls for both food and water in stained clay colors, litter boxes in stained clay colors, and scratching posts in vanilla plank variants!
Keep track of
this github issue
for more features coming in the next update!
| | |
| --- | --- |
| Progress | 70% complete |
| Game Version | Minecraft 1.12.2 |
| Tags | |
1 Update Logs
v0.0.3.1 : by Mnesikos 08/14/2020 2:55:45 amAug 14th, 2020
[1.12.2-0.0.3.1] - 2020/08/14
Added
- New ticked tabby texture for homozygous ticked cats, slightly edited texture for residual-ticked cats as well.
- Bobtails!!! They're so cute and stumpy (and rare).
- Cat Sterilization Potion! No more snipping... with shears...
- Animania chickens and certain species' babies have been added to the prey list.
Changed
- Cats now have 14 health! (New cats from 0.0.3.0 already saw this change, now pre-existing cats have been fixed.)
- Instead of using a stick to get information on your cat, give them a name and sneak while looking at them!
- Certificates are no longer limited to 1 item stack sizes! This was annoying.
Fixed
- Removed extra space in the nametag recipe, now it's truly 2x2 craftable.
- Cat names in the book gui actually centered now (lol whoops).
- Prevents possible TE crashes now.
- Catnip seeds can be planted on modded farmland.
tools/tracking
4433585
7
simply-cats