Published
Jan 30th, 2021
, 1/30/21 7:32 am
7,487

views,

9

today

851

downloads,

1

today
InnovaCreation
Level 50
:
Grandmaster Architect
Preface



In five years
Open WorldPainter countless times
Completed one terrain work after another
Sometimes, thinking again
The terrain that we did
What is it to do?
...
This time,
Return to the beginner's mind
Carol tia480 million cubes
Salute to our beloved nature!
Created by @Po_er from InnovaCreation
Video


Strongly recommended before reading this post!
Youtube link


Intro


Clydia is a land that is said to have been created by the mother of Gaia and existed in parallel, covering a vast area from the equator to the poles.
Among them, Charlemagne Plain and Longmorn Mountain are the most suitable places to live.
Charlemagne Plain has a temperate maritime climate.
Charlemagne River runs through the east and west, nourishes the Charlemagne forest, grassland and flower fields along the way.
Longmo Mountain belongs to monsoon climate, low latitude, comfortable climate, belongs to the east coast of the mainland a rare livable area.
To the south, close to the equator, the east coast of the continent is nourished by monsoons, creating a vast area of Tehya rain forest, rich in mineral and natural resources that many explorers have come to.
To the south, the vast tidal flats of the rain forest are matched by the mangroves of Mantis.
At the southern end of the continent, the Crane Peninsula, from east to west, gradually decreases in precipitation, and there is a horizontal transition from rain forest to monsoon rain forest and then to savanna.
In the southwest of the continent lies the vast Habli Desert.
The dry bed of the Kongque River in the center of the continent attests to the fact that the northern part of the desert was once a prosperous landscape.
Today, the chain of oases on the northern edge of the desert is a relic of that prosperity.
Transverse sitting on desert plateau in the north, respectively called rand, Zaire, Newman and Iraq,
among them, the land area of the youngest, and the most broken, Zaire plateau is a vast grassland,
the flat, Newman of plateau area is smaller, covered with short coniferous forest, and the plateau belongs to the rainforest,
Iraq, Iraq is outspread, damp climate, forest landscape is still significant.
Between the four great plateaus and the Charlemagne plain, there are vast coniferous and broad-leaved forests, while in the east, Giant's Pillar is full of stone pillars, shallow soil and sparse vegetation.
Looking to the cold north, the largest and relatively warm area is the Great Northern Hills, where a small amount of taiga can be allowed.
Because of its slow growth and good wood, many loggers take risks for their livelihood, and many of them are buried here.
Due north, the Labrave Moulders, perhaps due to climate change, remain intact with many giant rocks, but it is also colder here.
The coldest part of the whole Calutia continent, the southeastern part of the Dragon's Claw is a perennially frozen plateau, which the inhabitants of Charlemagne Plains figuratively call "Winter's Crown."
In addition, Kalutia has a well-developed underground cave system, as long as you find and memorize, you can quickly get rich in minerals! Sometimes you come across giant cave formations.
Features


Size: 8192 * 8192
Powered by WorldMachine, WorldPainter and Geocontrol
Suitable for Java edition 1.12, 1.13 and later
Good for RPG map makers! Say good bye to vanilla terrain!
Map


The map without legends



Cave map, red circles indicate the approximate location of cave entrances
Coordinates


Warning: not suitable for playing survival mode!
A list of coordinates of notable places are given below.
Do note that they are not "recommended places".
Spawn Point(1.12 save only)/ tp 5877.5 133 7867.5

Mantis Mangrove Edge/tp 6264.5 45 7417.5

Mantis mangrove hinterland/tp 6544.5 32 6862.5

Manvue peninsula (rainforest part)/ tp 4247.5 72 7306.5

Manyue peninsula (monsoon rain forest part)/ tp 3875.5 32 7626.5

Crane peninsula (savanna part)/ tp 3285.5 50 7237.5

A coconut grove in the Tehia Rainforest/tp 5106.5 37 6643.5

Tehia Rainforest Hinterland/tp 5924.5 59 6005.5

North River Confluence, Tehia Rainforest/tp 6233.5 58 5582.5

South plain of Longmo Mountain/tp 6723.5 43 5600.5

North Plain of Longmo Mountain/tp 7172.5 60 4729.5

North Plain of Longmo Mountain 2/ tp 7631.5 36 4839.5

Giant Crystals of Colossus Pillar/tp 6424.5 69 4359.5

Giant Crystals of Colossus' Pillar 2/ tp 6025.5 71 4190.5

Broad-leaved forest at the centre of map/tp 5245.5 55 4291.5

Large coniferous forest/tp 1825.5 37 4076.5

Large coniferous forest with lake/tp 3855.5 47 3829.5

Rand/tp 604.5 67 4071.5

Zaire Plateau/tp 2206.5 214 5074.5

Zaire Plateau with Rivers/tp 2885.5 201 4677.5

Newman Plateau/tp 4536.5 232 5157.5

Tehia Plateau/tp 5645.5 142 5902.5

East section of peacock dry riverbed/tp 3560.5 42 6618.5

West section of peacock dry riverbed/tp 1992.5 33 6267.5

A chain-like oasis in the northern margin of the desert/tp 1510.5 59 5457.5

Another oasis/tp 2274.5 89 5539.5

Waterfalls pouring into an oasis/tp 3896.5 65 5874.5

Habli Desert hinterland/tp 1992.5 78 6860.5

The Edge of the Habli Desert/tp 2391.5 70 7159.5

Charlemagne Flat Sunflower Fields/tp 4552.5 64 2629.5

Charlemagne Plains World Tree/tp 5280.5 39 2716.5

Charlemagne Plains Rose from/tp 5264.5 49 2490.5

Charlemagne Plains lilac bushes/tp 6060.5 60 2420.5

Charlemagne Flat Blossom/tp 6551.5 50 2428.5

Charlemagne Plains Peony Blossoms/tp 6654.5 47 2809.5

Charlemagne Plains Point Rose Brow/tp 6574.5 53 3111.5

Charlemagne's Son/tp 6174.5 45 2975.5

Winter Crown/tp 2178.5 56 2422.5

Octopus Mountain/tp 1462.5 141 1957.5

The Labraff Stonehenge/tp 3878.5 141 1366.5

Great Northern Hills/tp 6603.5 68 1276.5
Demo Picture
Great northern hills with sparse taiga forests



The Labruff Stonehenge, next to the North Sea ice floes



The southern cliff of the Winter Crown



The prosperity of Charlemagne Plains



Longmo Mountain and the fertile plain at its foot



Overlooking the Longmo Mountain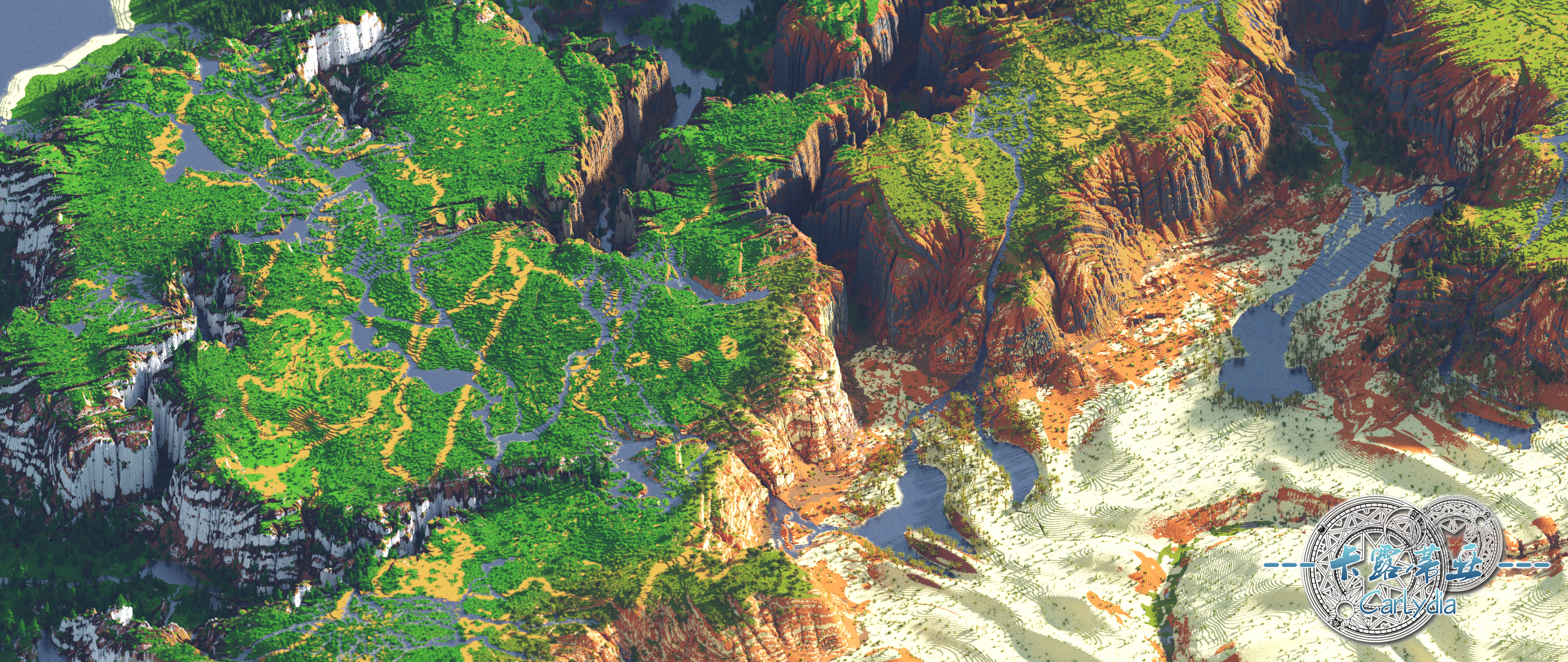 Zaire Plateau and Oases Below
Trade routes in the habri desert and the manvine peninsula to the right



A deep valley between the Newman Plateau and the Zaire Plateau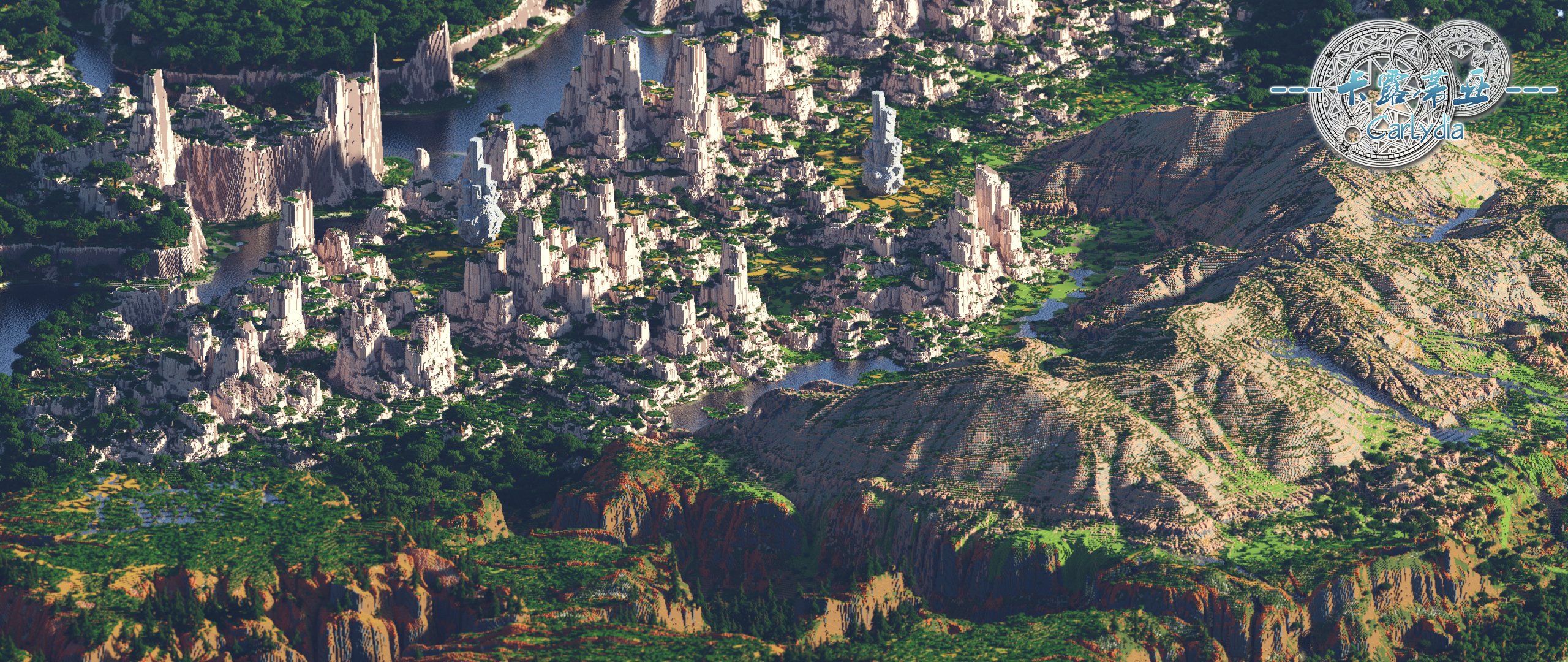 Colossus pillar and the giant crystal in the distance



Author's words


Please be sure to watch the video again, it is quite tiring to edit it so well


This time of Carlydia, can be said to be the end of all kinds of doubts and self-denial

In addition, I return to the original intention of creating terrain -- architecture can both create and survive while paying tribute to nature

After all, how long has it been since we, as modern humans, have really been in touch with nature?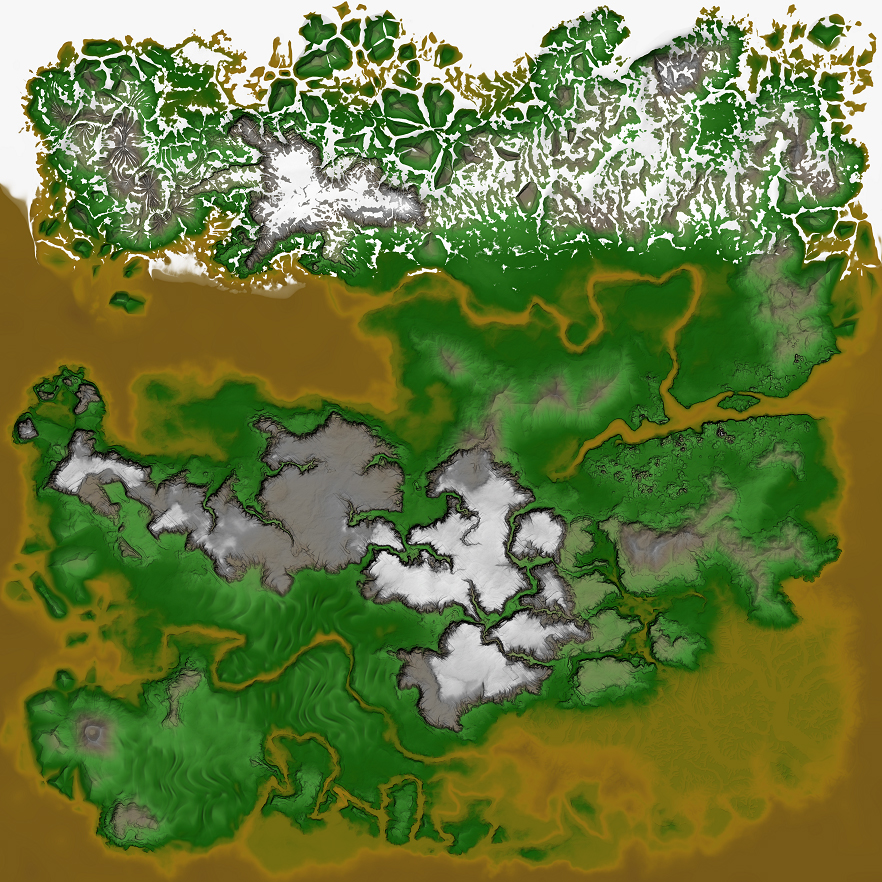 The final preview of Carlydia in WorldMachine



Screenshot of Carlydia's WorldMachine project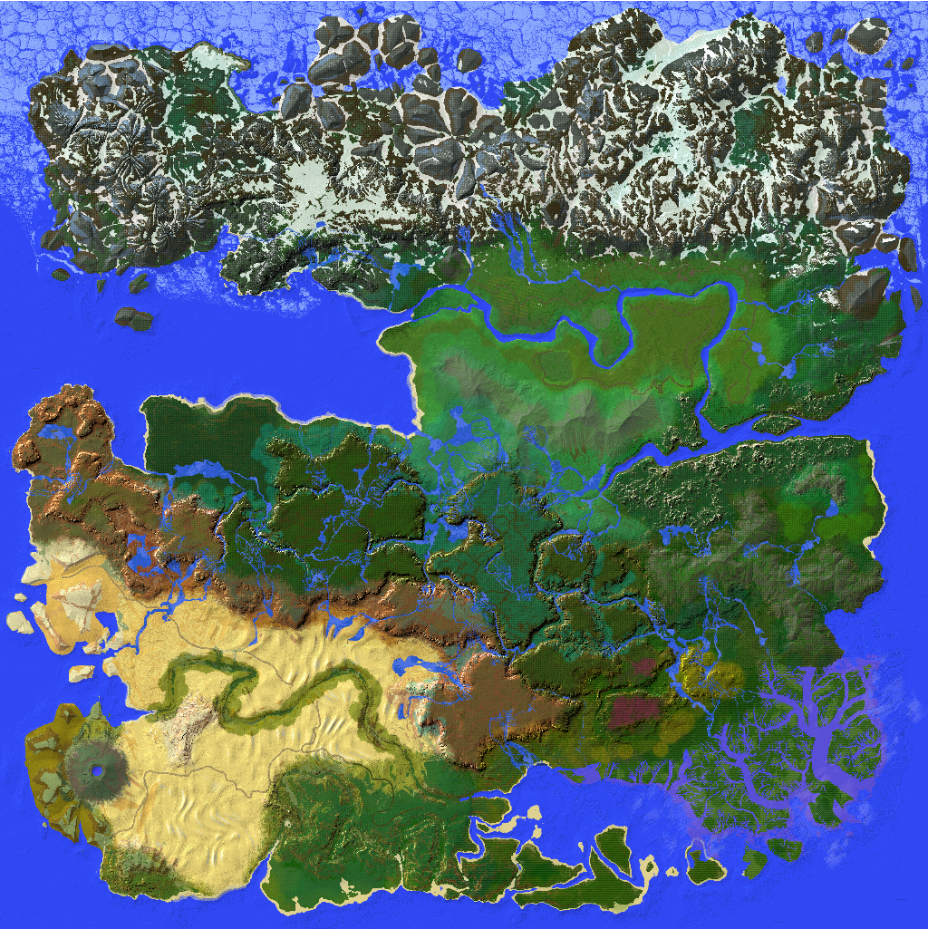 Final preview of Carlydia in WorldPainter
Credits
NEW66, 起哒火 and 雨落雨归 for video editing
LocusAzzurro for modpack
Nord for rendering
锯子 for terrain export
243 for crystal model
Version:1.12,1.13+
Please use the 1.12 to enter the game (heavy use of concrete blocks)
The download link provides a version for 1.13 1.14, the sea will brush kelp coral reef, but only for survival
I personally recommend the 1.12 save over playability and enjoyment
Official website
Twitter

Discord
NonCommercial-ShareAlike 4.0 International(CC BY-NC-SA 4.0)
| | |
| --- | --- |
| Progress | 100% complete |
| Tags | |
tools/tracking
4632422
2
carlydia