Updated on Dec 18th, 2021, 12/18/21 11:34 pm |
18 logs
Published
Apr 6th, 2019
, 4/6/19 3:22 pm
23,342

views,

34

today

5,104

downloads,

9

today
aRussianPotato
Level 45
:
Master Architect


Reichstagsgebäude
The Reichstag or Reichstagsgebäude building was the seat of the German parliaments

between 1849-1944, in the Tiergarten (Mitte district) in Berlin / Germany and still is today, albeit in a different way.

Designed by Paul Wallot, its construction began in the times of the Second German Empire, in 1884 and ended in 1894, the same year it was inaugurated, it underwent different changes during different times, such as the Reichstag fire in 1933, the bombing during the Second World War in 1945, and its reconstruction with which it accommodates its current appearance during 1960 and 1990 designed by Sir Norman Fuster.
Kroll Opera House
The Kroll Opera House (Krolloper or OpernHaus)

was an opera building in Berlin, at the western end of Konigsplatz (now Platz der Republick)

, opposite the Reichstag. It was built in 1844 as a music hall for the Joseph Kroll restaurant and years later it would be transformed into an opera house (1851). Throughout his life he would go through several spare parts, remodeling, critical and boom situations, and under different administrations until reaching the Nazi era, when after the Reichstag fire, he would be chosen as the seat of sessions instead of the Reichstag. until being seriously damaged by an allied bombing in 1943. Finally the building would be demolished in 1951. thus fulfilling a long operational life as a theater and multi-service place.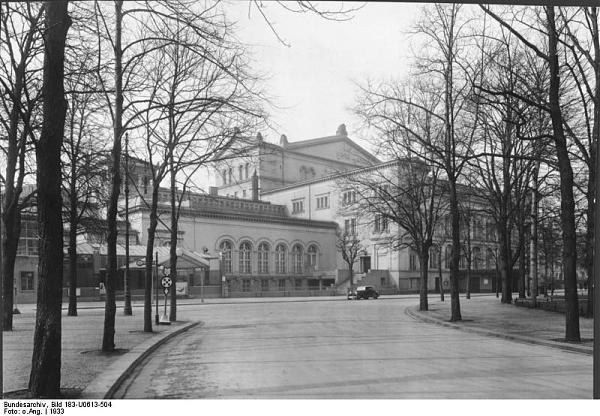 previus link:
www.dropbox.com/s/xuyu04quu7jklq6/BerlinMC%2004-09-21%20%281%29.rar?dl=0
The map is setting in the era of Nazism, so there may be offensive images or content for a specific audience, take this into account, thanks!
The objective

: the Reichstag and the surroundings of the Reichstag (Berlin) during the German National Socialist era (1933-1945)
started in March 2019, it was meant to be a short project for a mod called CTB2, however due to its length and how difficult it was to accurately recreate the Reichstag as it really was, I decided to give it a future, along with the great help From my co-worker Pumerang during June of that same year and the recent support of Clawergrap we seek to recreate Berlin in the vain times of Nazism, clarifying that it is only for historical visualization without any political purpose, which will be divided into two phases, before and after After the 1945 destruction, we are now emerging from an early stage before the bombing, and we have big plans to re-enact the Battle of Berlin!, patience...
soon I will probably adapt it to 1.12.2+ to avoid problems, for now it is only for

1.7.10 (without mods)

due to its beginnings, thanks!
CREDITS:
-Credits and special thanks to

Pumerang

who from the beginning helped me around the Reichstag and served as a point of inspiration for many decorations!

-Credits to

Clawergrap

who offered her help to the project, making the buildings of the northwest section



-and to you and some members of Call to Battle, for giving me moral support in this, thank you all very much!
--------------------------------------------
current note: Unfortunately the present content is not 100% accurate but it is done respecting that rule, which is in every place on the map, almost no corner is done without first seeing a photo or document about that site.

Anyone is invited to help me in this, providing any type of documentation that can be considered useful in my recreation (Berlin 1900-1944.), I would greatly appreciate it!
It is free to use my map for external uses, as long as you give me notice and credits of it in the event that it is of great magnitude such as videos, editions, commercial use, etc.
| | |
| --- | --- |
| Credit | @Pumerang |
| Progress | 65% complete |
| Tags | |
18 Update Logs
Update #18 : by aRussianPotato 12/18/2021 11:34:15 pmDec 18th, 2021
Neue Reichskanzlei Update (Part One)

-added the base of the exterior and interior of the Reich Chancellery building
-Worked part of the interior of the Reich Chancellery
-added Street wilhelmstrasse and hermann goering strasse .
-Added the street "VoBstrasse"
-worked the Reich Chancellery surroundings.

-worked the western part of Lehrter Bahnhof.

The Neue Reichskanzlei area is unfinished so this is a preview as a little hiatus from the project will be taken after weeks of continuous work.
LOAD MORE LOGS
tools/tracking
4286804
2
reichstag-1932