Age of Dragons Minecraft Mob Skin Contest : Now Complete!
Congratulations to the winners and participants of the Age of Dragons Minecraft Mob Skin Contest!
We received 89 entries!
Each and every one of you will find a custom contest token on your member profiles.
Stay tuned for the next contest!
Theme chosen by the community in
this poll
.
Banner by
Cyprezz
&
DinowCookie
Imagine...
One morning the sound of alarm bells awakes you. Prepared for yet another Pillager attack, you jump out of bed, quickly grab your shield and sword and as fast as you possibly can, you storm through the front door and run toward the gates to defend the village. But then you hear a panicking villager running toward you scream
RUN FOR YOUR LIFE!!
The next moment you hear a bone-chilling screech, followed by the crisping sound of a flame. You look up at the sky and there you see:
A gigantic, fire-spewing dragon!
Create a Minecraft Ender Dragon MOB skin for the theme: AGE OF DRAGONS
In this contest, themed
Age of Dragons
it is up to you to design your own dragon using the Ender Dragon mob skin model.
While the little anecdote above can serve as inspiration, it is completely up to you to imagine what your dragon looks like and which universe it is from.
Dragons can be magical or elegant looking beings, mythical, terrifying or even repulsive beasts. But they could appear entirely different too. Plant dragon? Ghost dragon? Robot dragon? Sure! As long as you create a dragon, only your imagination is the limit!
Entries must be Ender Dragon Minecraft textures, default resolution.
This contest
accepts only Ender Dragon MOB skins at default resolution
. Future mob skins contest themes, might allow multiple models but for this particular contest theme, Ender Dragon models only. In addition, to keep a level playing ground, we are not accepting HD skins. It would be difficult to compare a HD skin to a lower resolution default skin and vice versa.
CREATIVE FREEDOM | TRANSPARENCY
This is our first Mob skin contest and it's also limited to the single most complex model in the game. We're expecting entries to use the full potential of the Ender Dragon model. We're okay with a few parts of the model being partially or even completely transparent for creative freedom purposes but not to cut down on work, completely diverge from the theme or simply get a participation badge.
THEMATIC RELEVANCE
Of course we want to see Dragons in the Age of Dragons contest. However, it's okay to re-imagine the model into something other than a Dragon but it should use the potential of the Dragon Model. Keep in mind that we have "Thematic Relevance" & "Creativity & Uniqueness" as separate judging criteria. We want to allow as much creative freedom as possible but we also want to keep things fair / comparable when it comes down to rating finalists. If you have an amazing alternate skin that uses the Dragon Model, feel free to express that but it might be at the cost of a few "Thematic Relevance" points going down and "Creativity & Uniqueness" going up... so it could balance out or even pay off.
As always, contests are about inspiring creativity and having fun. Have some. :P
How to make a MOB skin in PMCskin3D.

PMCskin3D
allows you to create various MOB skins.
To start a mob skin in PMCskin3D, go to the top-left menu and click file > new skin
Then you select the mob-skin model you wish to create a texture for
To make working on the model easier, you can toggle (turn on/off) parts on the left side of your PMCskin3D editor. This allows you to look behind parts.
Another useful tool could be the 3D/2D preview combinations that are available to the top-right of the editor.
Now you know what to do to start pixel-painting your dragon!
View
this page
for more info on how to use PMCskin3D!
Entries must be new and made for this contest

Any entry must be entirely newly made by yourself after the announcement date of this contest. We don't accept remixes, copies or reposts textures created before the contest's announcement date. This includes your own.
Do not submit copies or paint-overs of default textures from the minecraft.jar - for this contest, this means
no edits of the original Ender Dragon texture
will be accepted as entries. The entirety of the Ender Dragon model must be colored in by yourself.
Entries that do not comply with the general
rules of Planet Minecraft
will be
disqualified
and
removed from the site
.
One entry per user
Each user can submit one Ender Dragon mob-skin in this contest.
You may edit your entry for as long as the contest submission period is open. To do this, use the "update submission" button on your active submission and save the updated texture file over the old one. You may also switch around your submission entirely before the submission deadline.
This contest will run for about three weeks
Post dates must be made after today's date,
March 6th, 2020 @ 12:00 PM EST
. The contest will end about three weeks from today, on
March 23rd, 2020 @ 12:00 PM EST
. Entries submitted after this date will not be accepted.
After this time the contest will be put into a review period of three days before we move into the judging stage.
Take your time, and make it fun!
Put some imagination into your mob skin! The possibilities are endless. Make it unique and awesome!
Judges will appreciate submissions that include more thought and creativity. Writing a bit about your creation in your submission's description helps viewers understand it better. Remember: you have plenty of time to carefully craft your entry. Because of the three day review period after the submission deadline and a board of competent judges, getting your submissions in early will not increase your chances of winning. Meaning there's no need to rush to get an entry in right away. Take your time!
If you're unsure about your entry, feel free to contact one of the judges listed below or the
PMC
support account. They should be able to help you.
8. Judging Criteria
Creativity & Uniqueness:
How creative, interesting or unique the skin is. Wow factor.
Technique & Execution:
How well executed the skin is technically. Factors include overall readability, color palette & theory, shading & highlighting and impact of the final composition.
Thematic Relevance:
How well the skin concept and description match the contest theme.

Submit a skin as you would normally, but check the box indicating that your skin is for the contest.
1st Place
$50 Steam wallet credit!



A Contest Themed,

Gold, Pixel Art Trophy

for Member's Profile Trophy Case.

Profile Featured on PMC - 1 Week.

2nd Place
A Contest Themed,

Silver, Pixel Art

Trophy for Member's Profile Trophy Case.

Profile Featured on PMC - 1 Week.

3rd Place
Contest Themed,

Bronze, Pixel Art

Trophy for Member's Profile Trophy Case.

Profile Featured on PMC - 1 Week.

All Participants
A Contest Themed,

Pixel Art Badge/Medal

for Member's Profile Trophy Case.

If you do not know how to make skins, or have an idea but have never attempted it before, here are a few things you should know.
1. Skins must be saved as a .PNG file. No other file format will function properly.
2. The most popular tools for editing Minecraft Skins are: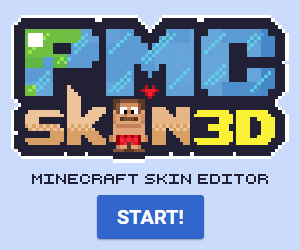 We're biased but must recommend using:
PMCSkin3D : Free Advanced Minecraft Skin Editor
!
or MCSkinEdit, an application developed by a user named Swedman. You can download it from the official forum post,
here
.
You may wish to use a more advanced editor for certain effects. GIMP and Paint.net are free applications that will give you access to better tools for editing.
3. If you need help or want some tips for making nice skins, many of our top skinners have made tutorials outlining the processes and techniques they use for skinning. Check out these ones by
Roobus
and
Leostereo
Judges will be encouraged to participate, but will be disqualified from winning prizes.