Castle Lividus of Aeritus - Watch me build or tell me what you want to see! at www.twitch.tv/KyleCRat

Views,

273

today
Downloads,

35

today
8222
KCRat
Level 76
:
Legendary Engineer
Posted on
4/15/2011
: 4/15/11 3:40 pm , last updated: 11/15/13 9:13:09 pm
Castle Lividus of Aeritus by KyleCRat is licensed under a
Creative Commons Attribution-NonCommercial-ShareAlike 3.0 Unported License
.
Twitch.tv
Come check out my builds live on
twitch.tv/KyleCRat
I'm using this as a form of motivation to actually complete the overhaul and my newer builds! come by and give suggestions or let me know what you think!
Offical (Beta) Server
Castle Lividus is now viewable on my beta server with my newest build. Check out my project if you want to see it.
Click Here for more info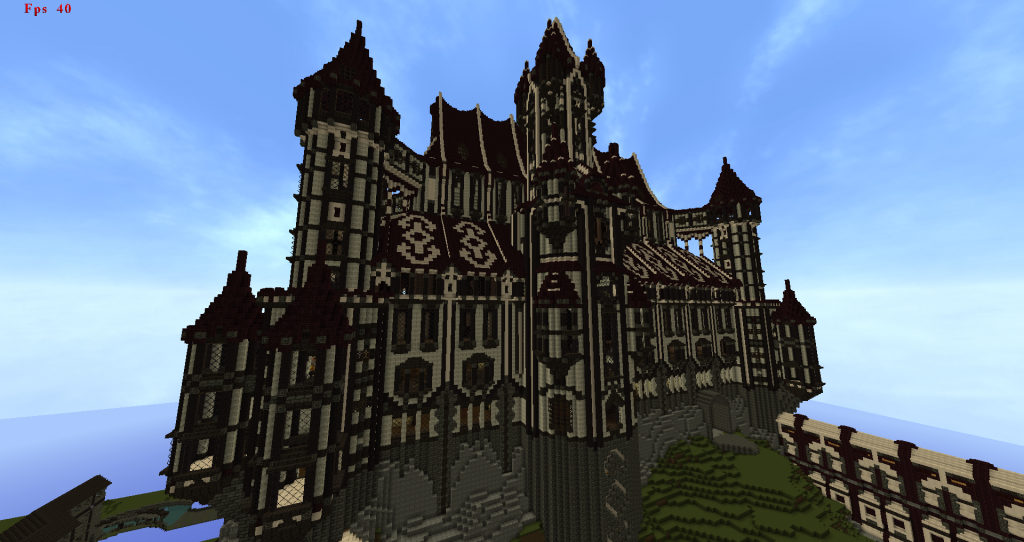 The Beginning of the complete overhaul of Lividus.
Things to do:
Houses / Shops Structure - 10/18
Houses / Shops Detailing - 0/18
Houses / Shops Interior - 0/18
Colosseum Battle Floor Redstone - Done!
Colosseum Structure - 75%
Colosseum Detailing - 5%
Castle Overhaul
Ships / Airships redone - 25%
Sewer System upgraded -
Courthouse Overhaul - 50%
Additional Notes
Old Download:
Before Feb 22nd -
www.mediafire.com/?66ri4w8p4mb1qrr
Before March 13th -
http://www.mediafire.com/?llthndkem8lmi25

Before Snow Biome Fix -
http://adf.ly/6KkwU
Snow Biome Fix -
http://adf.ly/9oz4D
Extra Information:
- Spawn is located at x147, y 70, z 202
Credit:
KCRafted, KyleCRat, KCRat
Progress:
100% Complete
Note: Showing last 25 of 35 logs.
Update #35 : 11/15/2013 9:13:09 pm11/15/13
Added twitch.tv info to the page and title. Announced updates.
Update #34 : 04/04/2013 12:59:11 am4/04/13
The Beginning of the complete overhaul of Lividus.

First Screenshot posted of the start. Front houses exterior completed.

Things to do:
Houses / Shops Structure - 10/18
Houses / Shops Detailing - 0/18
Houses / Shops Interior - 0/18

Colosseum Battle Floor Redstone - Done!
Colosseum Structure - 75%
Colosseum Detailing - 5%

Castle Overhaul

Ships / Airships redone - 25%

Sewer System upgraded -

Courthouse Overhaul - 50%
Update #33 : 06/20/2012 7:34:48 am6/20/12
Updated Information.
Update #32 : 06/18/2012 4:10:24 am6/18/12
Changed the biome around Lividus from a Snow biome to a plains biome. Snow should no longer accumulate on Lividus .
Update #31 : 06/17/2012 5:41:34 pm6/17/12
Added some new info to the page and cleaned up some hyperlinks.

Castle Speire now has a download available.
Update #30 : 04/01/2012 3:08:00 pm4/01/12
Added a Donation Link, Donate if you are feeling generous and awesome.

I will add your name to a "Thank You" List if you do :)
Update #29 : 03/15/2012 3:40:39 pm3/15/12
Changed to mediafire once again instead of dropbox.
Update #28 : 03/13/2012 8:42:28 pm3/13/12
Completely redid the cathedral, and fixed up the library.
Fixed a lot of walls being inconsistent in texture.

Updated to 1.2
Update #27 : 02/27/2012 4:05:31 pm2/27/12
Updated the world download link to an ad.fly link.
Update #26 : 02/22/2012 3:58:44 pm2/22/12
Fixed:
Fire's

Changed walls to Stone Brick

Needs to be fixed:
Leaf Decay

Fix walls

populate on top of mountain

Fix bridge in front

random little things


Update #25 : 02/13/2012 2:01:44 pm2/13/12
Announcement: Update soon!
Update #24 : 08/25/2011 7:12:59 pm8/25/11
Updated the server to Shadows Of Gazamo
Update #23 : 08/21/2011 3:53:03 pm8/21/11
Removed the world save and schematic until Shabbyhalo removes it from his server.
Update #22 : 07/26/2011 12:42:43 pm7/26/11
Fixed the Donation Button.
Update #21 : 07/22/2011 4:47:16 am7/22/11
Changed the help wanted description to tell the new release date of the server. the 29th! we had to push aback a bit due to people not being quite finished with the major parts of their capitals.
Update #20 : 07/19/2011 2:40:25 am7/19/11
Added a picture of the MCShadowville World Map.
Update #19 : 07/12/2011 12:50:17 am7/12/11
Released the initial pictures and description of my new project, Castle Speire. Check it out :)
Update #18 : 07/02/2011 10:16:27 pm7/02/11
The new server, located at: play.mcshadowville.com is now partially open!

Our Freebuild has been released, come on and build and talk with us while we finish up the main world!
Update #17 : 06/27/2011 7:55:26 pm6/27/11
The Castle is complete!
The courthouse finished

Some more houses behind the courthouse

Added a lot of senery

(All the insides are not furnished 100%, I'm sorry, I'm giving you all some creative freedom! make it your own!)

THERE IS A SECRET SPOILER OF MY NEW PROJECT! ITS BIG :D


Update #16 : 06/26/2011 9:30:25 pm6/26/11
Lividus is very close to completion!

Everything is done except for the Castle Interior!

I am working hard right now to get the updated castle imported into a old castle's world, Thus making the updated castle again on a small world save!

I am going to estimate Lividus being 100% complete by the end of this week!
Update #15 : 06/23/2011 5:21:19 pm6/23/11
Posted the specs that will be used on the new server!

pretty much nthe best you can get atm processor wise, and 24 gigs of ram will do us nwell for a good amount of time, as well as you gotta love the SSD.
This is a 100% dedicated server for us ONLY.

More information will be posted as the time gets close to release! Still need builders!
Update #14 : 06/16/2011 2:31:04 am6/16/11
A Small update of three pictures showing some new things in the castle.
Courthouse

Gallows

Hot Hair Balloon


Update #13 : 05/28/2011 4:23:03 pm5/28/11
Changed the worldsave link to mediafire, Dropbox suspended my public folder due to high traffic.
Update #12 : 05/27/2011 9:52:26 pm5/27/11
Another update today!
This update includes:
A worldsave with NO FIRE!


NO updated schematic

The drydock has been removed and replaced with a area of land for furture construction

A more complete uppermountain castle wall

A Plantation a little ways out of town

Update #11 : 05/27/2011 12:43:18 pm5/27/11
This updated includes:
The start of a racetrack outside the castle walls

Mostly finished castle inside still needs some work though

More houses and a lighthouse in the outer parts of town

Sylvanus updated

The start of a castle wall around the top of the mountain

an Airship port (placeholder airship atm until I build a better one.)

Updated Download

SCHEMATIC!


ALL LIGHTSENSORS HAVE BEEN CHANGED TO FALSEBOOK! it should work as soon as you start up the server if you install falsebook. Things included within the falsebook use are:
All gates now work, close at night, open during the day

the Spiral Symbol in the market square now changes to glowstone at night

Within the ungerground city, you will find a Dungeon, it is kind of like a zelda type dungeon which is more of a challenge. if it doesn't work head over to play.MCshadowville.com:25565 to try it on the server.

Another dungeon is underway.

tracking
9447
castle-lividus
1,165079,329,3672,559826,842002,140820,64651,214207,460644,625964,356071,290694,895971,1030646,15493,171513,336698,476982,98449,817406,1293715,526780,8222