Updated on Mar 27th, 3/27/22 5:32 pm |
11 logs
Published
Feb 9th, 2020
, 2/9/20 6:39 pm
35,633

views,

281

today

8,200

downloads,

74

today
BlueMeanial
Level 42
:
Master Crafter
Now updated for 1.18.2!


As Minecraft has evolved, the number of blocks has become larger and larger. There used to be a few downloadable test worlds for looking at a pack, but over time these are much more unwieldy. Which leaves a test world with a choice between completeness, compactness, and being able to see things with enough room.
RestWorld
squares this circle by looping. Blocks and mobs that are similar take up a small space, and within that space, the variations are looped. For example, all the ores take up one block, which changes from coal ore to iron ore to gold ore and so on. Each is shown for a couple seconds (you can adjust the timing). And you can stop the looping at any time to focus on a specific ore texture. This means you have all blocks and mobs within a space that you can traverse. You can also compare how related blocks look. For example, if you want ores to look the same, you will notice errors much more easily when you can see the offending ore switched to from another one.
Here's an example, which shows looping through villagers.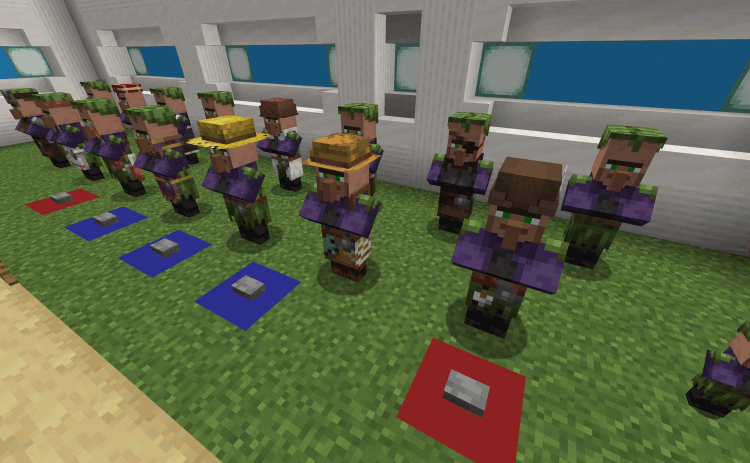 A lot more information is on
the RealWorld website
, take a look! The site also has some downloads for older Minecraft versions.
If you use this to create a pack or evaluate one, I'd love to know about it, please add a comment below!
Obviously this takes a lot of commands and functions, but I won't bore you with the details (unless you ask).
So
download it
and tell me what you think!
| | |
| --- | --- |
| Progress | 100% complete |
| Tags | |
11 Update Logs
Update #11 : by BlueMeanial 03/27/2022 5:32:36 pmMar 27th
New release: 1.18.2!
Added biomes for new cave biomes




Fixed reported bugs
LOAD MORE LOGS
tools/tracking
4487215
2
restworld-a-complete-resourcepack-testing-world-for-1-15-2