check_circle

Art

check_circle

Environment

check_circle

Mobs

check_circle

Terrain
Updated on Jul 14th, 2015, 7/14/15 7:27 pm |
10 logs
Published
May 4th, 2014
, 5/4/14 5:33 pm
136,272

views,

6

today

30,023

downloads,

0

today
PitchBlackPL
Level 88
:
Elite Creator
SORRY FOR NOT UPDATING IT SO LONG!
I'M ACTUALLY WORKING ON 1.8 VER.
AND NOW I'M TRYING TO DO IT MORE SURVIVAL THAN CREATIVE

LAST UPDATE: 7/15/15
CURRENT VERSION:

0.0.5.1 - MC 1.7 and 1.8
THIS IS STILL WORK IN PROGRESS
Version with Bump Mapping HERE
Hello,
I'm actually working on high quality texture pack based on a game Borderlands/Borderlands 2. I'm trying to recreate original game as much as I can.
I've created and replaced more than 120 texturepack files so far.
First I wish to finish this pack and then I'm planning to create lower resolution packs like 128x and 64x(?}
I hope you like it as much as I.
If you have any questions leave a comment.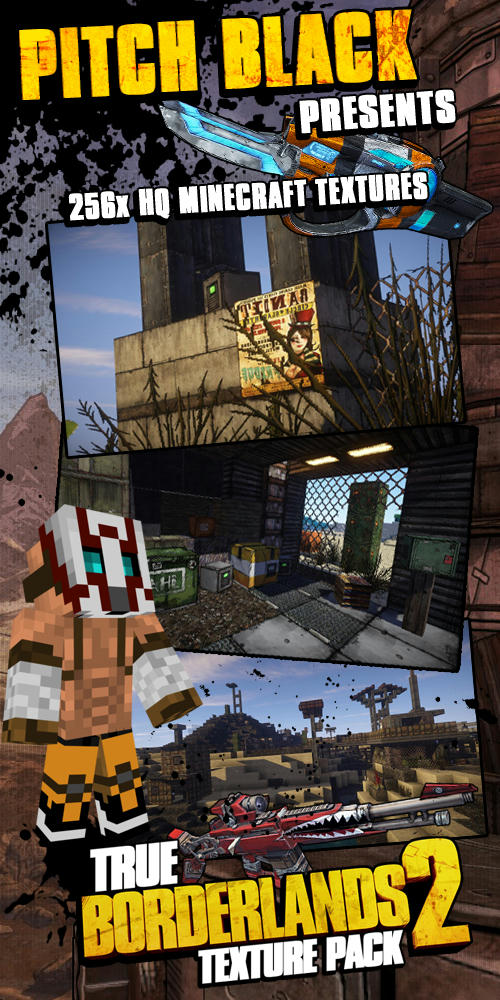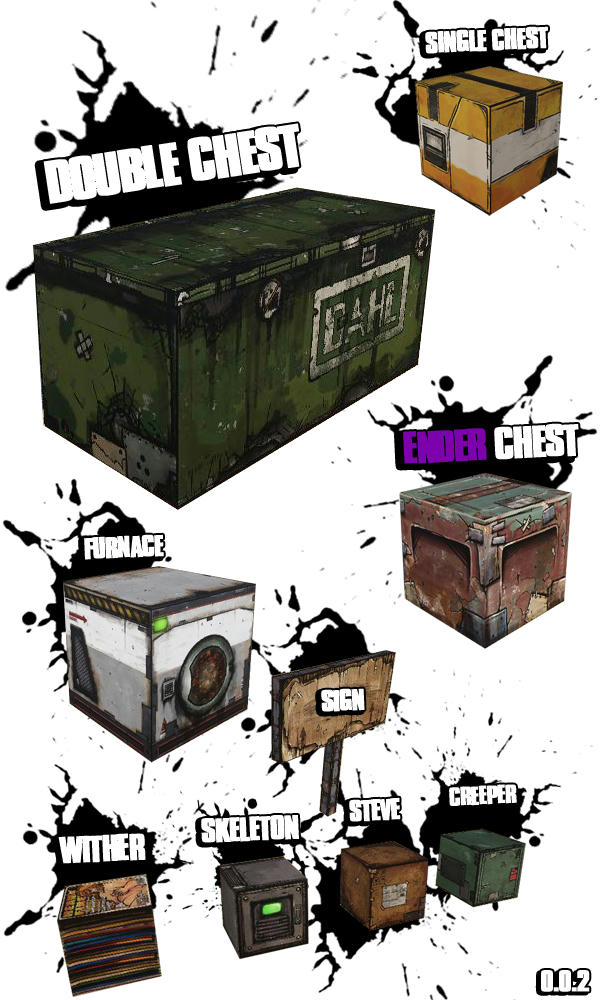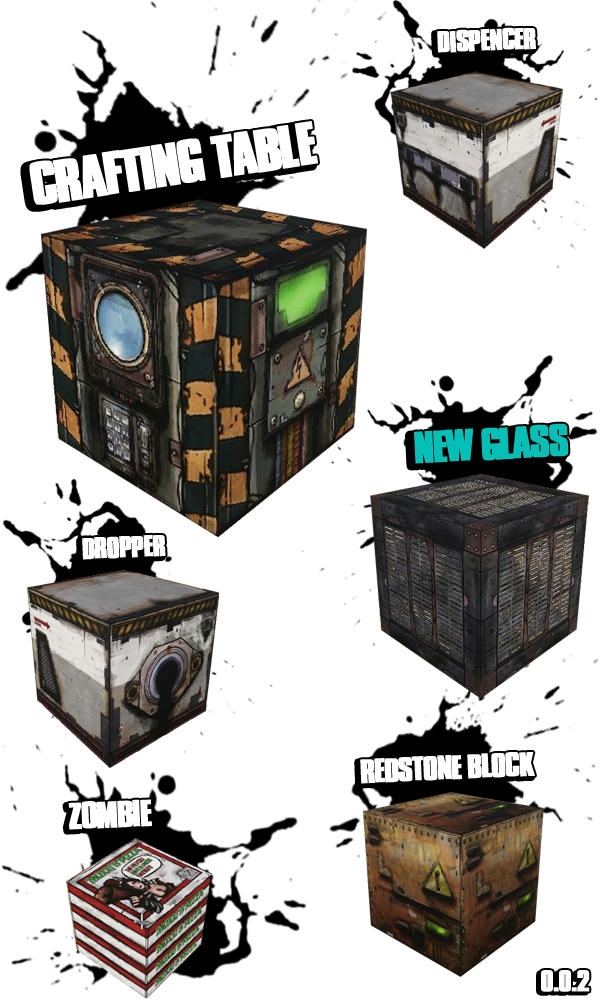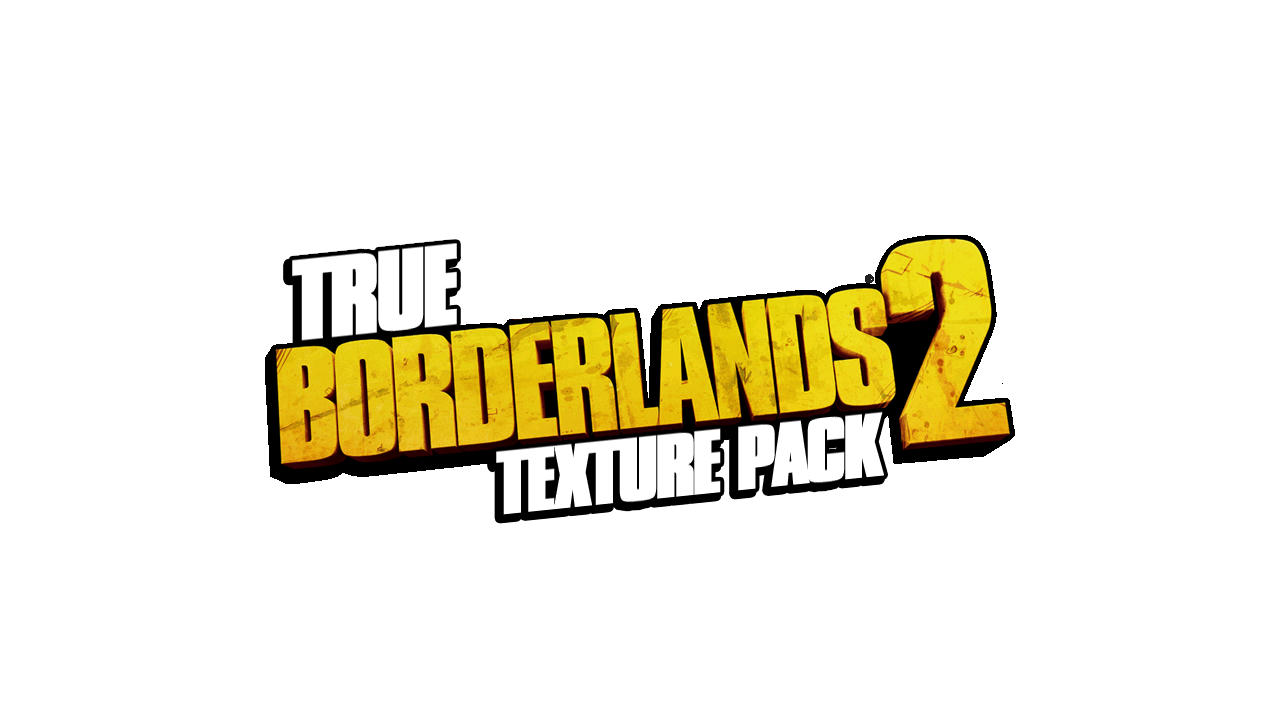 OLD VERSIONS:

1.7/1.8 - 0.0.5 -
DOWNLOAD
1.7.4 - 0.0.4 -
DOWNLOAD
1.7.4 - 0.0.3 -
DOWNLOAD
1.7.4 - 0.0.2 -
DOWNLOAD
1.7.4 - 0.0.1 -
DOWNLOAD
------------------ POLISH ----------------
Aktualnie (dodatkowo) pracuję nad swoją pierwszą paczką tekstur, którą chciałem stworzyć od bardzo dawna.
Motywem przewodnim jest gra Borderlands / Borderlands 2 i ze względu na chęc umieszczenia jak największej liczby detali, zdecydowałem się na rozmiar tekstur 256x.
Do tej pory stworzyłem już ponad 120 oryginalnych tekstur wyjętych prosto z gry.
Po skończeniu tej paczki planuję wydać wersje o mniejszej rozdzielczości tj. 128x oraz ewentualnie 64x.
Mam nadzieję, że podoba Ci się moja praca i to ile serca w nią wkładam :)
Kocham Borderlands i Minecraft - stąd ta paczka tekstur.
Jeżeli masz jakieś pytania, śmiało pytaj.



| | |
| --- | --- |
| Progress | 50% complete |
| Game Version | Minecraft 1.8 |
| Resolution | 256x |
| Tags | |
10 Update Logs
Update #10 : by PitchBlackPL 07/14/2015 7:27:21 pmJul 14th, 2015
TREES UPDATE:
All tree logs and leaves updated
Improved grass texture
New Double Grass texture
LOAD MORE LOGS
tools/tracking
2883870
4
true-borderlands-2-256px-high-quality-texture-pack