check_circle

Advancements

check_circle

Functions

check_circle

Loot Tables

check_circle

Predicates

check_circle

Recipes
Updated on Nov 13th, 2020, 11/13/20 10:47 am |
7 logs
Published
Jul 25th, 2020
, 7/25/20 7:34 pm
15,940

views,

7

today

513

downloads,

1

today
Wyvernity
Level 72
:
Legendary Sus
Dislocators

is a datapack that adds a way to teleport between selected locations.
Using this datapack with a recipe unlocker datapack is NOT recommended.
---
How to install:

Copy

dislocators-v1-6.zip

into your save folder's datapacks folder.

Be sure that the zip folder has data folder inside.

You can both add it before or after the world generation. If you are adding it after the world generation, please run

/reload

command. A message will show up when installed successfully.

Don't forget to download the resource pack!
---
What this datapack adds into the game:

Dislocators

: It is an item that can be used to teleport selected coordinates and dimensions.
- Right click the dislocator while sneaking to save your current coordinates and dimension into the dislocator.
- Right click to teleport to the saved location.
- Everytime you use the dislocator, remaining uses of the dislocator will be decreased by 1.

There are 2 types of dislocators:

Normal Dislocator

:
- Has 8 uses. Can be bound to a location only once. It will break when remaining uses is 0. Can't be charged again.

Advanced Dislocator

:
- Has 8 uses when crafted first. Can be bound to a location more than 1 time. It won't break when remaining uses is 0. Can be charged again. To charge, hold ender pearls in your offhand and sneak. All ender pearls will be added to the dislocator. Each pearl adds 1 use. To add all ender pearls at once, run

/trigger ChargeAllPearls

while holding advanced dislocator.
To upgrade existing dislocator:


- Hold the dislocator in your mainhand and a nether star in your offhand. Sneak to upgrade your dislocator to the advanced version.

There are also

new advancements

added with this datapack. Complete them for various rewards!


---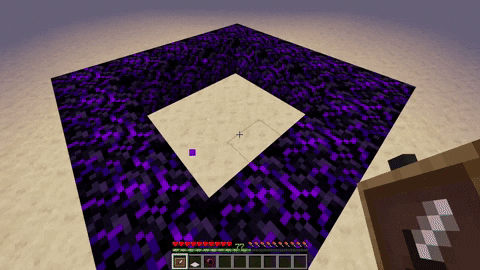 - Make a 5x5 horizontal square from crying obsidian(Corners are optional)
- On any side, put an item frame on top of the center block
- Put heavy pressure plate on the same block and press on it.
- Put your dislocator inside of the item frame.
When the particles appear, your portal is ready!
Teleporting this way doesn't decrease dislocator remaining use.
Custom portal is only available for 5x5,

for now

.
---
Please check the images for the recipes.
Custom dimensions are not compatible automaticly, but can be added manually. If you are playing in world with custom dimensions, please reply. I will return.

Thanks to

Teorik Redstone'cu

for suggesting teleportation fix.


---
---
Licence - You automaticly accept by downloading
This work is licensed under the Creative Commons Attribution-NonCommercial-NoDerivatives 4.0 International. To view a copy of this license, visit https://creativecommons.org/licenses/by-nc-nd/4.0/legalcode.
An exception is made for video content, which can be monetized. However, video creators must give appropriate credit and provide a link to the license
| | |
| --- | --- |
| Compatibility | Minecraft 1.16 |
| Tags | |
7 Update Logs
Version 1.6 - Custom Portals : by Wyvernity 11/13/2020 10:47:32 amNov 13th, 2020
- Now
custom portals
can be created with crying obsidian!
- Added
/trigger ChargeAllPearls
command to add all ender pearls in inventory at once while holding advanced dislocator
LOAD MORE LOGS
tools/tracking
4692807
119
dislocators-1-16