Views,

223

today
Downloads,

49

today
242500
Seppon
Level 69
:
High Grandmaster Explorer
Posted on
11/23/2013
: 11/23/13 11:30 am , last updated: 07/01/14 9:18:25 am
Description
This mod adds:
A character creation screen(F12) to change your model

The ability to change into any mob

More animations(/sit, /dance, /wave, /sleep, /hug)

Chat bubbles

The first item in your bar show on your back

Tooltip about the item you are holding

Information
Bukkit
For bukkit servers there is a plugin which they can install to enable players to see their animations and models. Anyone that has the mod installed will see eachother properly
Bukkit page here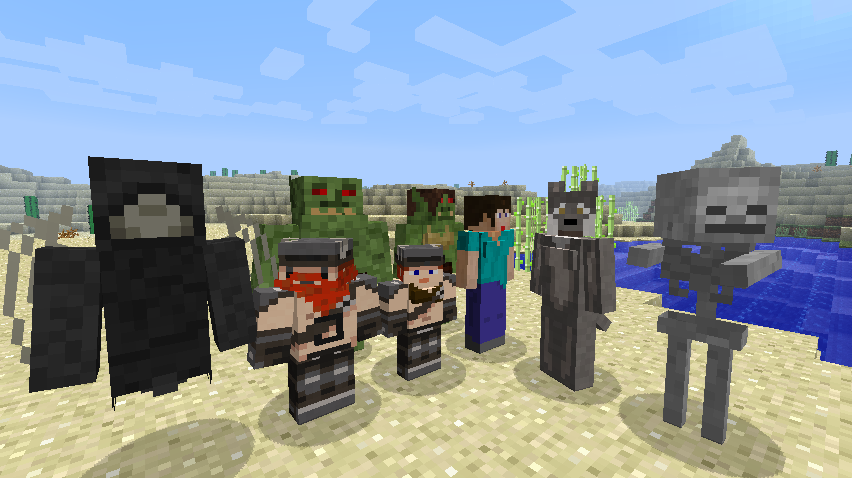 Progress:
100% Complete
Game Version:
Minecraft 1.8.9
1.7.10 Update : 07/01/2014 9:18:25 am7/01/14
1.7.10
Added bull horns (with thanks to Zera_Fox)

Added rodent tail (with thanks to Zera_Fox)

Added fin tail (with thanks to Zera_Fox)

Added skin url. You can basically upload an image and use it in the mod to quickly change skins.

Added goblin male sounds

Added human male sounds (these I will probably replace in the future)

Couple of bug fixes

F6 button changed to F12

Update #2 : 02/11/2014 9:32:51 am2/11/14
update to 1.7.2 no real changes
Update #1 : 12/12/2013 11:46:49 am12/12/13
Changelog 12-12-2013
Added option to turn on female sounds when attacked, dying and scoring critical hits


Added more body parts


Added digitigrade legs


Added fin


Added squireltail


Added more hairs


Added more beards

Added more animations

/cry to cry


/wag to wag your tail


/bow to bow


/angry to show that you are angry

Cape fixes


Added /gamerule mpmAllowEntityModels false, to disable transforming into entities for vanilla servers (bukkit has a new permission)


More bug fixes

If you use this version on a bukkit server, that server needs to update the plugin as well.
have fun,
~Noppes
tracking
2598129
more-player-models-2598129
1,165079,329,3672,559826,842002,140820,64651,214207,460644,625964,356071,290694,895971,1030646,15493,171513,336698,476982,98449,817406,526780,242500