Sinus Girl, But A Contest [Skin Contest]
49
emeralds
•
99

replies
•
856
views
Sinus Productions
started 05/14/2020 10:09 am
Perfections
replied 06/01/2020 4:24 pm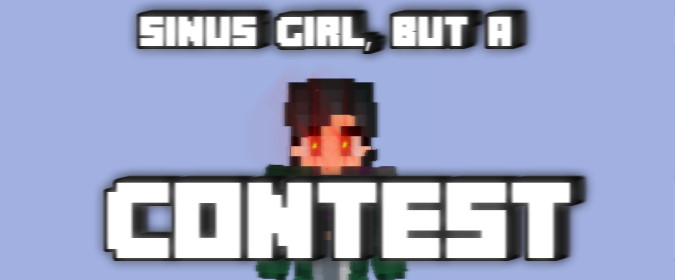 Sighs in Sinus Gorl


In this contest, you have to make a sinus gorl
that's it
What Is a Sinus Gorl????


Sinus is the name of my OC/Persona.
A few weeks back, I asked
chhlo
to make a female version of them
She did, and she made a clothing base as well
Then people put it on anything and everything
it's a meme
here's the collection
www.planetminecraft.com/collection/67606/sinus-but-a-gorl-gang/
What Do we have to do for this contest?


Make a player (or mob skin if you really want to) that has these specifications:
purple, green, white or black shoes/feet
blue pants, shorts, skirt or whatever you wear on your bottom half
black top with purple accents
a green piece of clothing on top of that.
that's all that's required for this. you can put it on anything you want.
Judging & deadline:

Me,
chhlo
, and
Artemis-
are the judges
Your entry will be judged on the concept, creativity, quality, and execution, and how much you have adhered to the specifications
The deadline is JUNE 4, 2020
No extensions will be given


Rules:

1. Follow all of PMC's
rules
2. You can only enter 1 skin
3. You must NOT use
chhlo
's base for this skin, or any base.
4. If you have previously made a Sinus Girl, you are allowed to enter that as long as it works with the specifications (and it was made to be a sinus gorl)
5. Entry must be appropriate, and non-offensive.
6. Must be a usable player model or mob skin
7. Please be nice to the other participants.
8. Tag the mob with "SinusGorl" and Mention me in the description or comments of the skin

Prizes:


To Be determined.
Posted by