Updated on Dec 19th, 2021, 12/19/21 11:02 pm |
12 logs
Published
Sep 12th, 2021
, 9/12/21 5:45 pm
ZappyGru
Level 61
:
High Grandmaster Lego Builder
(Not to be confused with

PMC Fighter. Coincidentally, someone already made something with the same name. I highly recommend checking it out if you're interested!)
Welcome to Super PMC Fighters! So what is it? Well, it's basically an art gallery, but with a twist. Instead of your usual image and caption, I've decided to turn it into a Super Smash Bros. Style! If you see a PM that says "Super PMC Fighters", congratulations, you've been invited to the submission! (I added the "sample" text so that I can catch those who try to steal it.)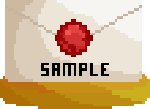 We're nearing the end of this event! :D
| | |
| --- | --- |
| Credit | Everyone who was invited to the submission. This also includes all the artists who created some of the artwork. |
| Tags | |
12 Update Logs
Fighters Pack #13 : by ZappyGru 12/19/2021 11:02:15 pmDec 19th, 2021
Cyprezz and PMC have joined the battle!
LOAD MORE LOGS
tools/tracking
5297290
6
super-pmc-fighters